No need to wait for a livestream – with the NEW Send a Gift feature (now available on Android and iOS), you can send your fave Kumu creator virtual gifts anytime!🎁✨
For content creators, the creative process is the reward itself. But a show of appreciation from their community is always a welcome boost in confidence. 
Do you want to give your favorite Kumu content creator a real token of your appreciation? Aside from regularly consuming and engaging with their content, here's something else you can do – send them an offline gift!
At Kumu, we're all about championing Filipino creators for them to grow both creatively and financially. That's why we've made our Send a Gift feature even more accessible and convenient for the Kumunity. With the updated Send a Gift feature – now available on the Android and iOS app – no need to wait for your favorite kumu creator to go live. Just go to their profile or post whenever you want to and send a virtual gift with just a click.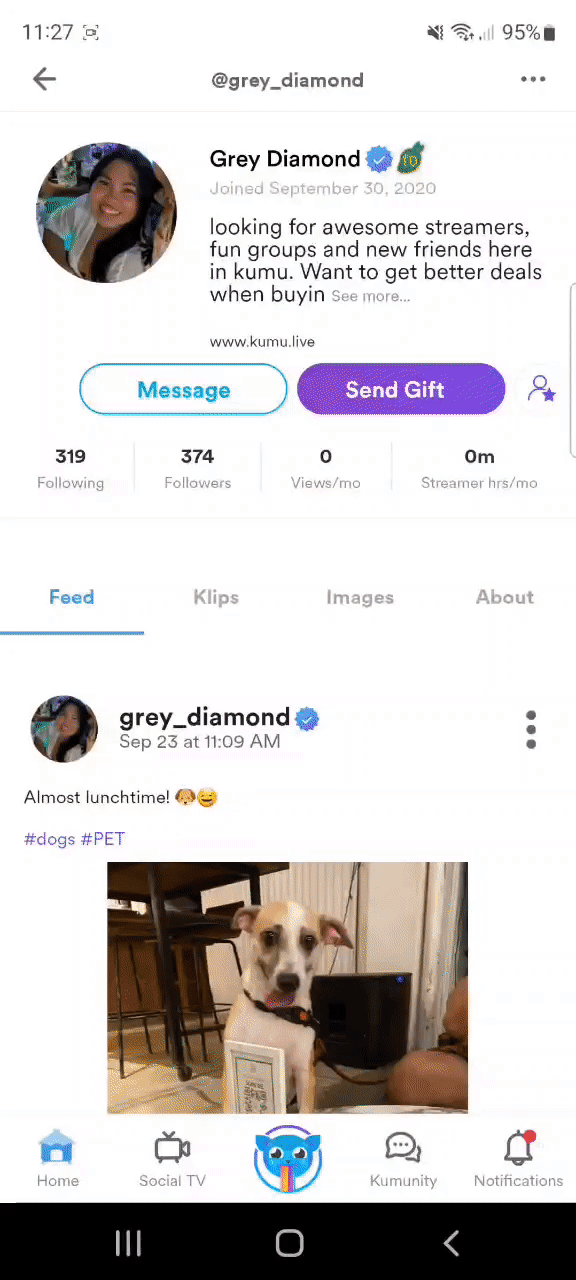 Why Send a Gift Via Profile or Post?
Our creators make up the heart and soul of Kumu, so we want to support them in more ways than one. One way we can do so is to make sure they can earn from their talents and creativity. As a supporter, you can encourage your favorite Kumu star to keep posting non-live content by sending them virtual gifts.
The new Send a Gift feature allows anyone with a Kumu account to send (and receive!) gifts even outside of a livestream— so start posting those Klips and build a following now!
Before Sending a Gift
We know you're excited to send a gift to your fave, but before you do so, make sure you have enough coins. 
Check if you have Sufficient Coins 
Go to My Wallet.

You will find My Wallet at the top left corner of your app on your Profile.

Click on My Wallet to check your coin balance.

Buy Coins.

Click on the "Buy Coins" button to make your purchase.
For more information on how to purchase coins, click here.
Subscribe to Kumu Coins 
Get a Kumu Coins Subscription (available on the app iOS and Android versions) so you won't have to manually top up your coins every time you want to send a gift. At P49 a week, you get a package of 1,000 + 100 coins which you can use to purchase a virtual gift to send to your favorite Kumu creator. We're coming up with more packages, so stay tuned for an update on this exciting feature.
Learn more about the Kumu Coins Subscription here.
How to Send a Gift 
After topping up your coin balance or getting the Coins Subscription, you're now ready to send a gift. There are two ways to do so – one via creator's profile, and the other directly on a photo or Klips post.
Send a Gift via Profile
If your favorite Kumu creator hasn't posted or streamed in a while, let them know you're excited for their next post by sending them a gift.
Go to the profile page of the Kumu user you want to send a gift to.
Click the "Send Gift" option which you'll find below the profile description.

Select the gift you want to send.

You'll find the gift's corresponding price in Kumu coins during your selection.

Click "Send Gift" to confirm.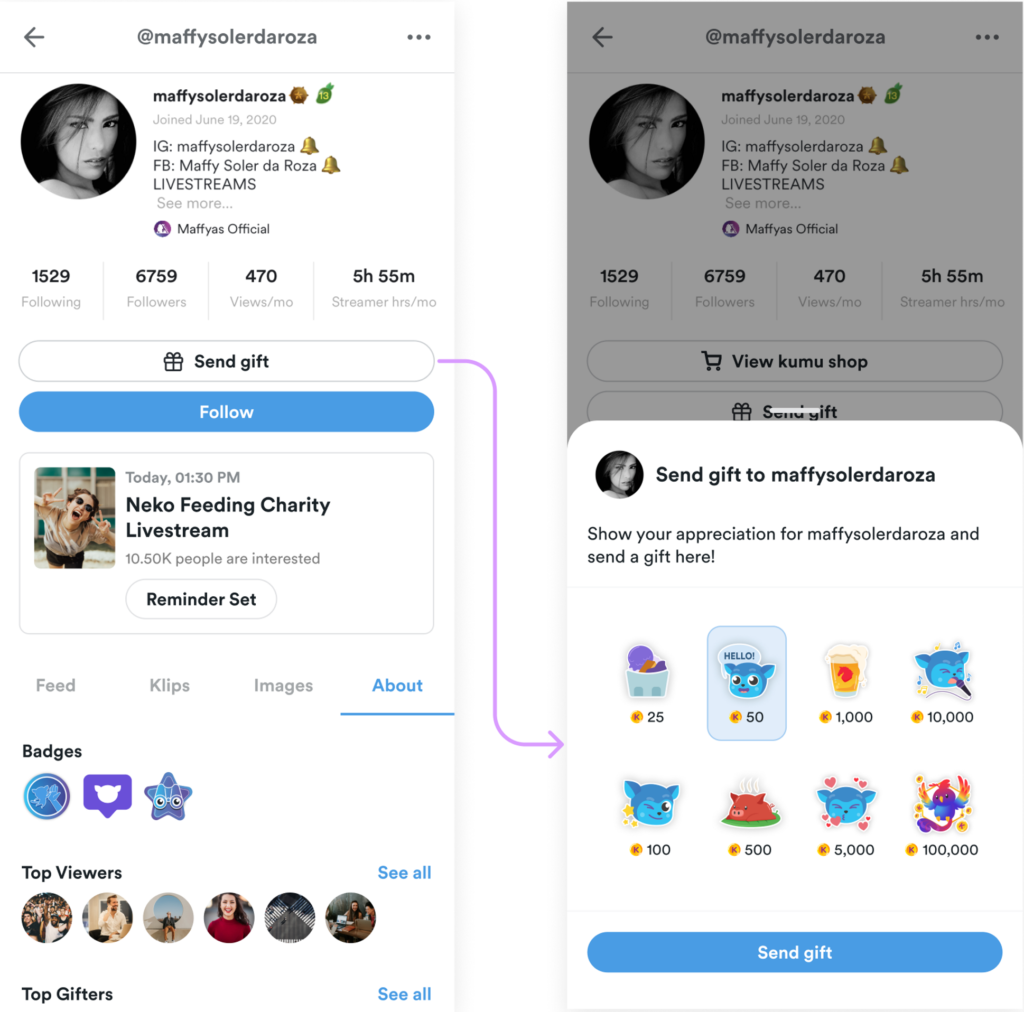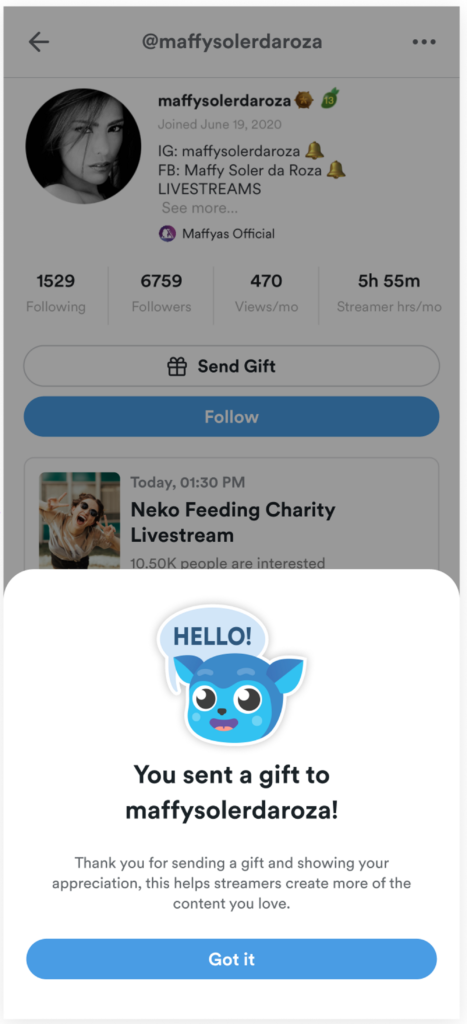 Send a Gift via Post
Enjoyed a particular post? Show your love by sending a gift through the post itself. (Note: Send a Gift to post will be available for iOS in mid-Feb) 
Go to Posts/Klips in the Following Tab.
Click the "Send Gift" button at the bottom of the post.
Select the gift you want to send.

Each gift has a corresponding price in Kumu coins.

Click "Send Gift" to confirm.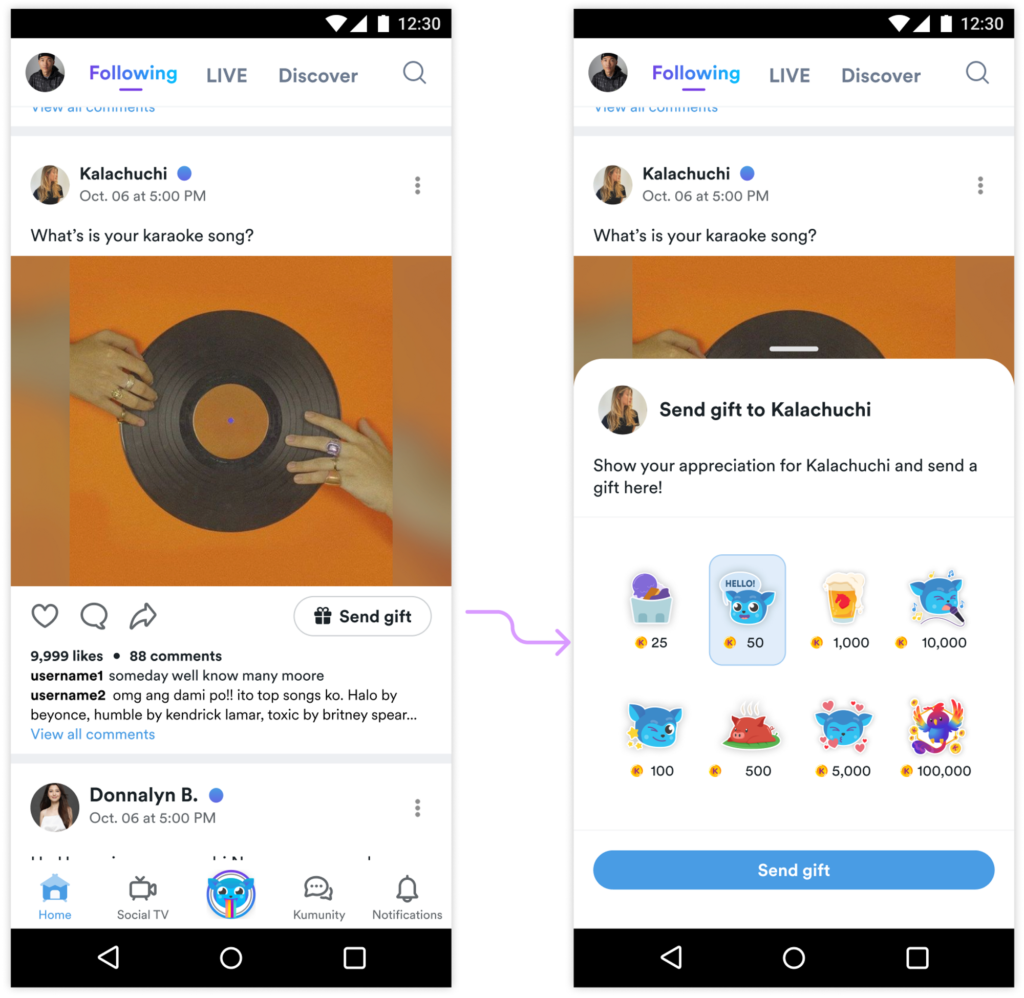 Once you've hit "Send Gift", you will receive a confirmation saying that your "Send a Gift" transaction has been successful. Your Kumu coin balance will also be updated in the My Wallet Screen, Livestream Gift tray, and Send a Tip tray.
For Kumu Creators: Got a Gift?
Earn from your hard work, authenticity, and creativity on Kumu. Keep on posting and engaging with your followers so you can earn more diamonds– which you can then convert into real cash.
How to Check if You Got a Gift
Virtual gifts sent by followers are reflected as diamonds on Kumu. To check if you got a gift offline:
Go to My Wallet. 
See the Recent Transaction logs. Tips will be reflected as Diamonds Added – from [username of gifter]

You will also get updates on the Notifications Tab.

The format of the notification will look like this: [username of gifter] sent you a gift to your post/profile.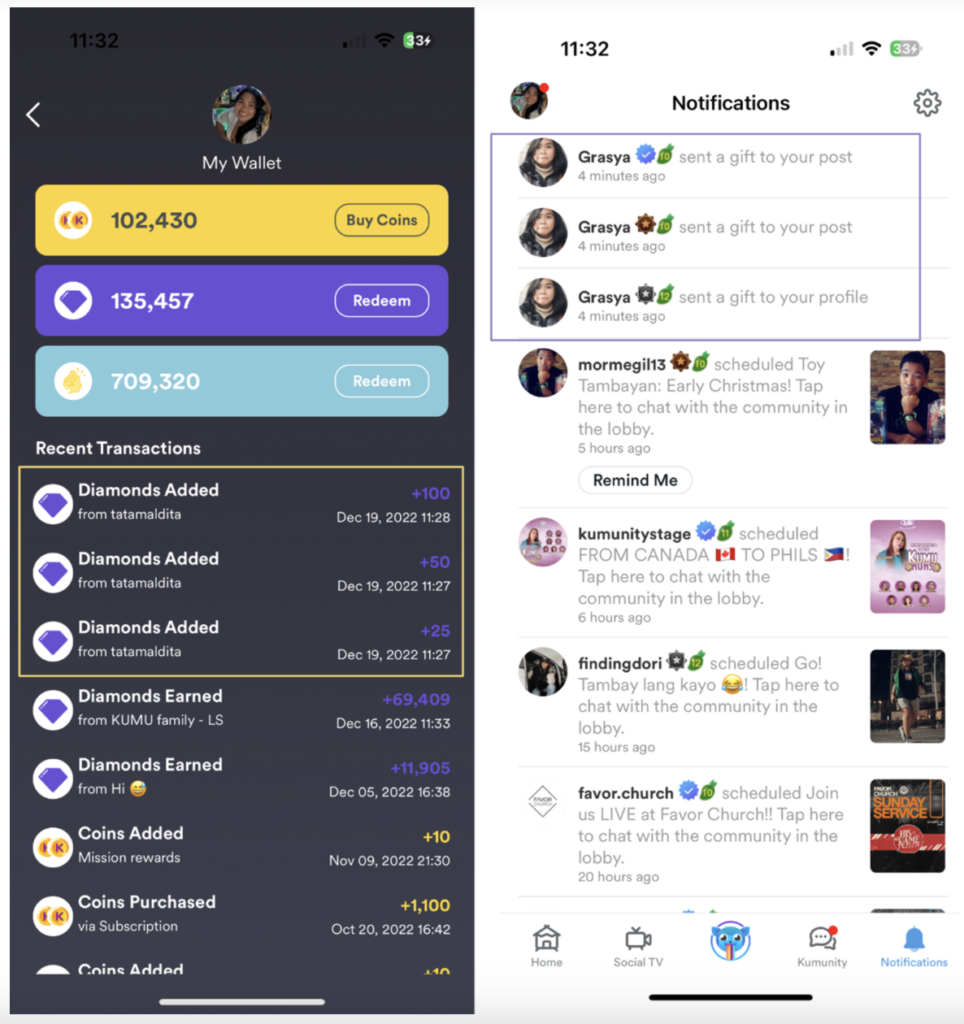 How to Convert Your Diamonds Into Real Cash
Receiving tons of gifts from your supporters? Check if you've hit the minimum balance of 50,000 diamonds so you can claim them as real cash! 
Get more detailed information on how to cash out your Diamonds on the Android app and iOS app.
Building a healthy creative community, we must all support one another in all the ways that we can. That includes investing in the talents we believe in and allowing them to make a living through creativity.
Send a gift to your favorite creator today and be a part of their growth on Kumu! 💌
---
Follow @kumuph on Instagram, Facebook, and Twitter to keep up to date with all the latest events, and surprises from your favorite Pinoy livestreaming platform.