Capture people's hearts and dress up your profile with fun unique items from Karlito's Store: our digital items shop! 🛍️
Update your Kumu app now to enjoy this feature✨
At Kumu, we love to celebrate self-expression in many ways. This goes beyond our livestreams and Klips. Share and express your personality, mood, and feelings on our platform without a single word and captivate the entire Kumunity at a glance. How? Well, for this Love Month, come and join us for the grand opening of Karlito's Store.
What's in Karlito's Store?
We know that every Kumunizen, at heart, is a creative individual with a big and unique personality. We want you to show that off for all the world to see, whether you're livestreaming or not. That's why we've opened Karlito's Store– Kumu's very own Digital Items Shop, where you can purchase digital items you can use to make you and your profile truly stand out in the platform.
What items can you purchase from the store? Check out what's available this February. Get it now at our introductory prices: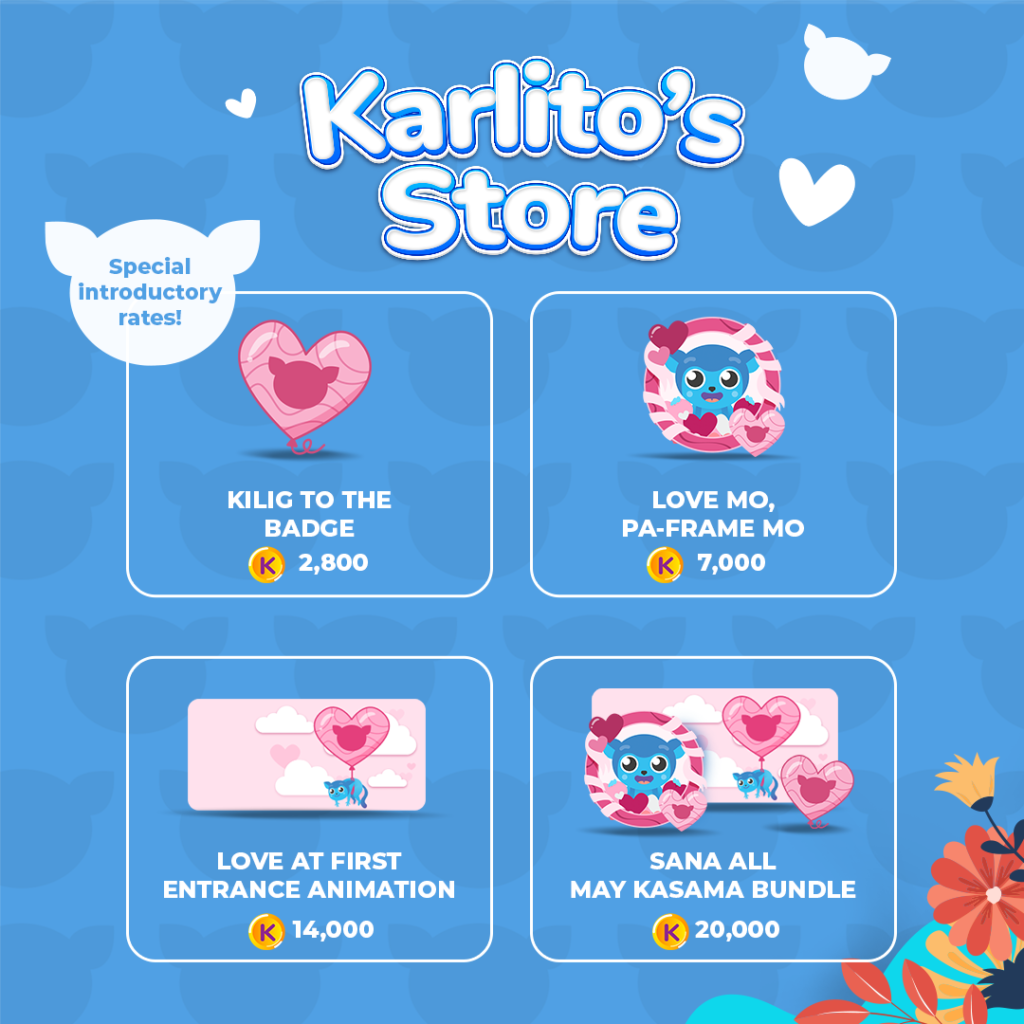 Kilig to the Badge

A cool ID badge background to highlight your username

Love Mo, Pa-Frame Mo Profile Frame 

A fun and colorful illustrated frame for your display photo that everyone in the Kumunity can see.

Love at First Entrance Animation 

A special animated sticker that announces your entrance in any stream.

Sana All May Kasama Bundle

A special bundle of all three items: Kilig to the Badge, Love Mo, Pa-Frame Mo Profile Frame & Love at First Entrance Animation.
Dressing up your profile to show off your authenticity is one of the best ways to catch the Kumunity's attention and gain recognition. So get yourself a signature Kumu look and boost the look of your profile. Browse our current digital items and watch out for more designs to come as we update our store offerings. We're working on adding more unique designs in the coming months. Keep topping up those Kumu coins and get first dibs on our cool items the moment they arrive!
How to purchase from Karlito's Store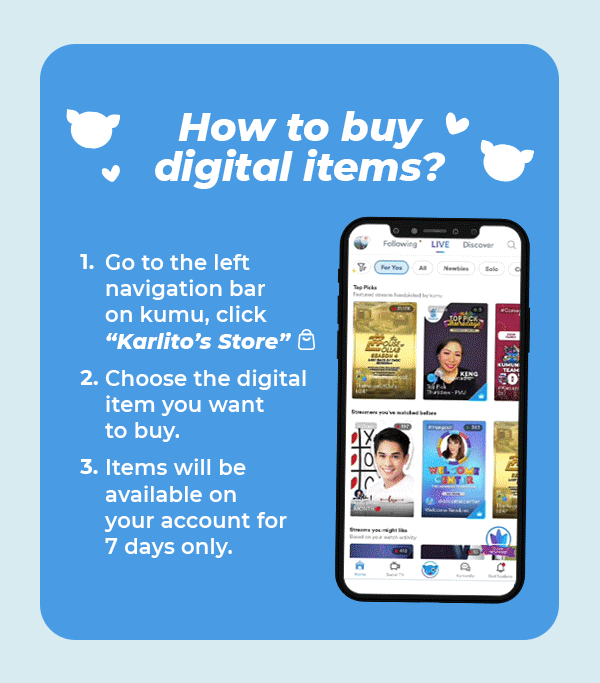 Click on your profile at the top left corner of the app

Find Karlito's Store right below Buy Coins

Click on Karlito's Store. You'll find a handy counter for your available coins at the top of the page

Choose the digital item you want to buy. The price (in coins) is indicated beside each item.

Click the Buy button to finalize your purchase. 

Awesome! Once your purchase is successful, you will find a Purchased button beside your bundle/item in the store.

Each item lasts for 7 days. You can easily extend your digital displays by repurchasing the same items in the shop.
Not enough coins in your wallet to get the digital items you want? Be sure to top up. Click here to learn more about how to purchase coins on the Kumu app (available on Google Play and App Store), Kumu.live/coins, and other payment platforms (GCash, Paymaya, CodaShop, Razer Gold/Silver, Share Treats, and SEAGM).
But wait, we're not done yet…! 
Because we love our Kumunity so much, we're preparing a series of special surprise treats for the month of Love. Here's a sneak peek at what we've got in store:
Especially for U GTS Users: Be A Secret Admirer!
If you're a Golden Tarsier Society member, you can send the Sana All May Kasama bundle to your favorite non-GTS Kumunizen via our exclusive WhatsApp channel. This includes all digital items and will be available on their profile 48 hours after your purchase. This is a special pre-selling feature exclusive for GTS only so if you're one, join the Whatsapp channel and buy now! Promo period is from February 5-9.
Haul For You: A Special Something For the Karlito's Store Suki!
Purchase the Love at First Entrance Animation consecutively for 4 times and win the Sana All May Kasam bundle for FREE! Promo period starts February 9, and will last for 4 weeks only.
Love at First Shop: Falling for Kumu for the First Time
Ready to take the first big step with Kumu? It's the best time to fall in love with Kumu because we're treating all first-time coin purchasers this Valentine's season: purchase at least the PHP 999 coin bundle and get a FREE Sana All May Kasama Bundle. Love at First Shop promo will be available starting February 10 and will only last for one week. 
These are just a taste of our February treats for you. Excited much? Make sure to stay tuned for more updates, or keep checking Karlito's Store for our special offers.
Discover more to love at Kumu and catch every one's fancy this Happy Hearts' Month. Be a heartthrob on Kumu by letting your profile shine with our special profile photo frames, badges, and entrance animations. Come one, come all — Karlito's Store is NOW OPEN. Shop around — we've got plenty more in store. 
---
Follow @kumuph on Instagram, Facebook, and Twitter to keep up to date with all the latest events, and surprises from your favorite Pinoy livestreaming platform.