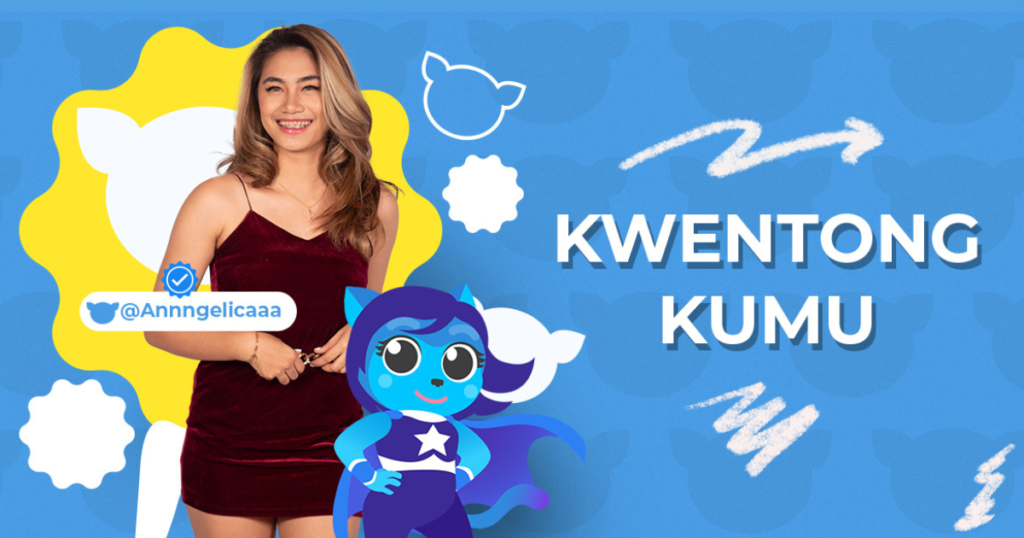 Meet the content queen that's taken social media by storm– Angelica Gegante, aka "Angge" (@Annngelicaaa). This Pinay influencer and power streamer has stolen the hearts of her audience with her heavenly voice, captivating confidence, and relatable humor. Drawing from her personal experiences, Angge creates content that not only entertains but also resonates with her followers on a deeper level, leaving them hooked and tuned in more.
Angge's journey to online fame took off when she joined The House of Collab, an online reality show that brings together content creators to live, collaborate, and create together. During her time on the show, Angge gained online attention raking in millions of views with her videos mostly consisting of dance clips and lip-syncs with fellow creators. With the support of her talent management, Fairfax Entertainment, and with Kumu stepping in as THOC's official collaborator providing 24/7 livestreaming and audience engagement segments, Angge found yet another avenue to connect with her audience.
For over a year now, Angge has been streaming on Kumu, with her streams consistently reaching 2,000 to 3,000 live viewers each time. Her deep connection with fans allows her to bring along followers from other platforms to discover the unique livestreaming viewing experience and community – a safe space for creators to express themselves and seek out authentic online interactions.
Her stream style is as diverse as her audience, ranging from singing, dancing to giving advice, and of course, just tambay (chilling) with friends. When asked about her most memorable stream so far, Angge mentions her birthday stream (February 8, 2023) where she received a shower of virtual gifts making her feel like a queen! She got the coveted Diwata virtual gift (worth 500,000 Kumu coins) dropped 4 times in a row, and even reached 5M diamonds just a few minutes into the stream (that's well over Php100,000 worth when converted to cash)– an impressive feat for any Kumu creator. 
From earning around Php 3,000 for posting videos to making Php 40,000 just by going live, Angge's growth as a content creator is undeniable. Livestreaming has given her financial stability, allowing her to support her family, fund her sibling's education, and continuously share blessings with her family thanks to the prizes she can score through Kumu Campaigns. (Campaigns are livestream contests on Kumu here creators go live to earn virtual gifts for prizes like gift certificates, unique experiences, and more. Click here to learn how you can join!)
But more than just financial success, Angge is able to explore her potential as a content creator, gain hosting gigs, act in challenges, collaborate with brands, and ultimately, create a community that never fails to empower one another.
"As a content creator naman natulungan ako ng livestreaming para mas gumaling ako makipag interact sa mga tao and mas nahasa ako sa pag eentertain. Nawawala din yung pagiging shy type ko, kasi para hindi ma bore yung mga viewers ko I make sure talaga na ibibigay ko 100% ko to entertain. And sobrang dami ko din na gain na opportunities sa pag sstream ko like kinukuha ako ng Kumu to host and collaborate with brands din. Naging sunod sunod din yung pagiging Top 1 streamer ko every week."
(As a content creator, livestreaming has helped me become better at interacting with people and getting more used to entertaining. My shyness also starts to disappear, because I make sure to give my 100% to entertain so my viewers don't get bored. I gained a lot of opportunities from streaming, like Kumu getting me as a host and [getting to] collaborate with brands too. I also achieved being named the Top 1 streamer a few times in a row.)
She recently shared on her Instagram yet another life milestone: receiving a car as a gift from supporters. "My supporters mean a lot to me. They are one of the reasons kung bakit ko naabot yung mga pangarap ko, so I'm really thankful sa mga supporters ko… I love each one of them." 
Through her passion for creating content and connecting with people, Angge is able to find success, thrive as a content creator, and make a significant impact on her financial well-being. 
If you're looking to grow as a content creator, check out Kumu for yourself! Connect with your favorite content creators and friends in real-time. Kumu is also committed to creating a safe and inclusive space for everyone. Give it a try and join the live streaming community today!
Also, The House of Collab (THOC) just launched a brand new season on March 15, 2023, with more twists and challenges! Expect an all-new cast of content creators, new and highly engaged fan experiences, and the most aggressive brands in the digital space to watch out for. Get ready for some major content! Watch THOC's content creators collaborate and produce daily content while living in the biggest content mansion in the Philippines streaming LIVE 24/7 @thehouseofcollab247 on Kumu.
---
Follow @kumuph on Instagram, Facebook, and Twitter to keep up to date with all the latest events, and surprises from your favorite Pinoy livestreaming platform.