The iconic quiz show has just raised the bar for mega wins! kumu's "Game KNB?" (@gknb) segment has just unveiled its prize pools for the upcoming weeks, with July 16th having a whopping prize pool of 1 million pesos! It's an exciting road to the 1 million cash pool prize ahead, and the gameshow-loving Kumunity is definitely going to be extra-competitive. 
Dubbed the "pambansang gameshow", "Game KNB?" is one of the most iconic gameshows in Philippine TV history. In October 2020, it was announced that the gameshow was having its digital comeback in kumu, with Robi Domingo as the mainstay host. It has since been a Kumunity-favorite, with hundreds of viewers tuning in to the livestream weekly. "Game KNB?" on kumu is also simultaneously broadcasted on Jeepney TV, with airings on The Filipino Channel (TFC) IPTV and Myx Global. Viewers can also watch "Game KNB?" on the Facebook pages of kumu and Jeepney TV.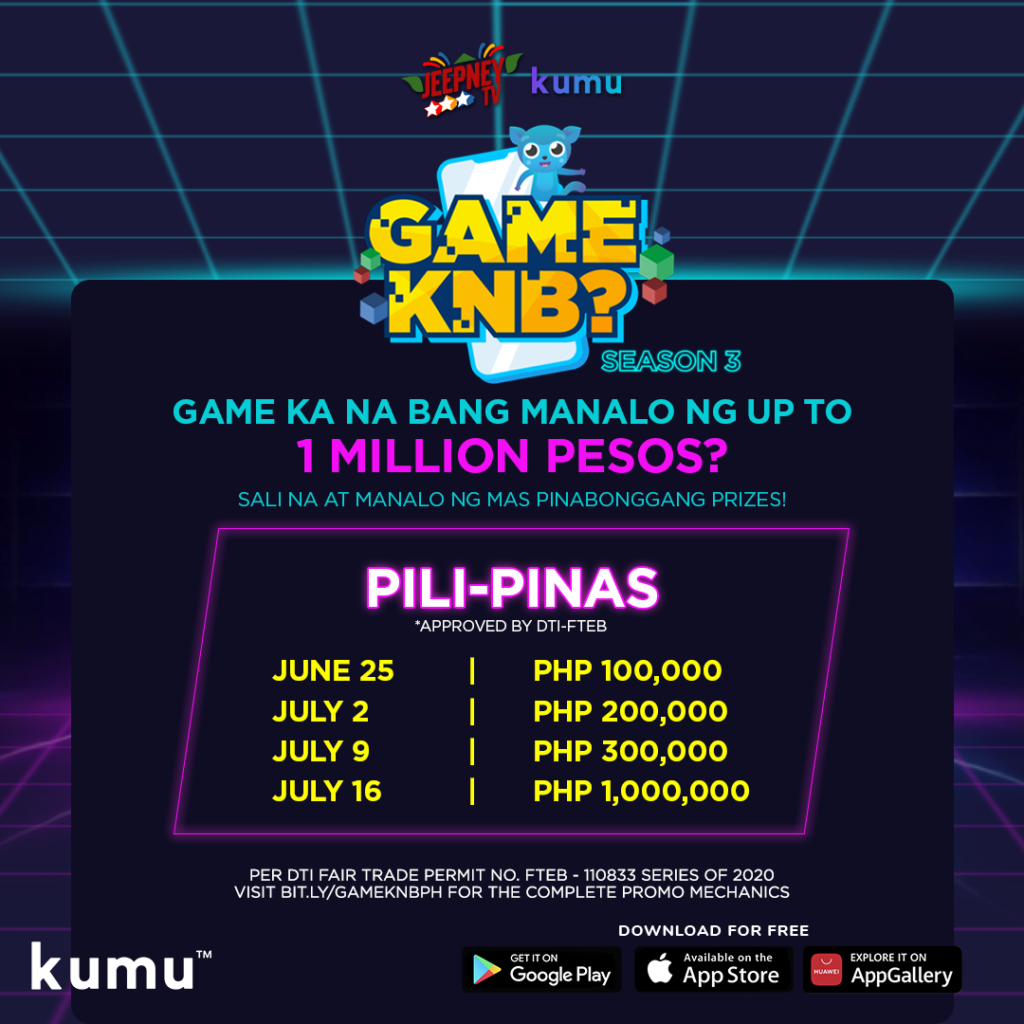 Now on its 3rd Season on kumu, "Game KNB?" is as strong as ever, and with many happy winners taking home generous cash prizes. But as the Kumunizens already know, kumu likes to keep things interesting, upping the ante on rewards and opportunities for its users. In just the past 2 months, 1 million pesos cash prizes have been listed in kumu Social TV's segments, including last May's "QMK: 1 Million Drop", and the ongoing "Talentadong Waley" show, which features a grand prize of 1 million pesos to "the most useless talent" winner. 
So, want to try your luck on winning big? Tune in at kumu's "Game KNB?" now! 
"Game KNB?" with Robi Domingo is on kumu Social TV, with the official account @gknb. Regular programming is on Monday to Friday 12nn, with daily cash prizes. Keep up with the latest innovations in social entertainment, follow @kumusocialtv on kumu and Instagram now. 
More shows and surprises are coming your way. Be sure to follow @kumu.ph on Instagram, Facebook, and Twitter for all the latest livestream entertainment.  You can also check out the kumu blog for all the latest happenings in the Kumunity. 
Don't have the kumu app yet? It's easy! Download the app at Google Play or the App Store, and start adding to cart! Visit our website kumu.ph for more information and insights into the exciting world of kumu.