The results are in, and we're so excited to announce the 3 winners of the #PBBkumunect campaign! In case you missed it, we at kumu have a special collaboration with Pinoy Big Brother, so Kuya is on the lookout for Aspiring Housemates via kumu. The past few weeks have been intense, as we eagerly anticipate who will be the official housemates coming in via #PBBkumuauditions and #PBBkumunect. 
View this post on Instagram
Ready to join the fun? Download the kumu app now, click here. 
The #PBBkumunect began on December 6, and ended on Decemeber 26, 2020. In total, 117 contestants participated in the campaign, going live on the kumu app and earning diamonds. According to our data, the #PBBkumunect raked in a jaw-dropping 1,107,881,850 diamonds in total! Needless to say, the month of December has been an exciting frenzy for us! 
Finally, after weeks of intense livestreaming, interviews and challenges, we're proud to introduce to you the winners of #PBBkumunect, these 3 Housemates will be moving in sa Bahay ni Kuya by January 2021! 
Amanda Zamora
From "MATATAG" Group
View this post on Instagram
The first #PBBkumunect housemate is Amanda Zamora (kumu account @amandazamora), age 19 years old, from the "MATATAG" group. Daughter of Francis Zamora, Mayor of San Juan City, Amanda is an experienced fashion model, having walked many branded runways and fashion week gigs. Currently, she's hard at work studying Marketing Management in DLSU. 
Amanda won the leaderboard with a whopping 71.8 million kumu diamonds! Check out her #PBBkumuaudition!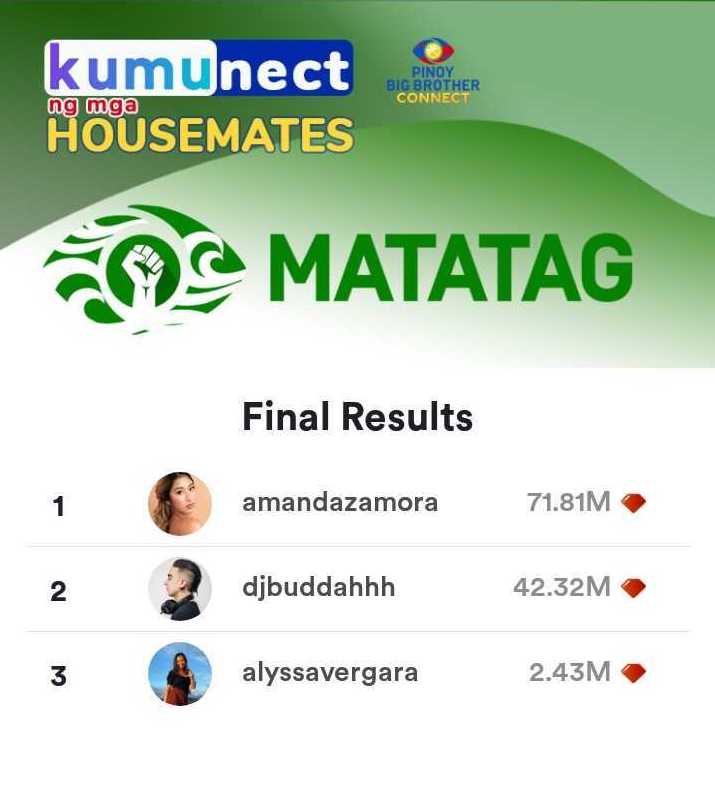 Glenda Victorio
From "MADISKARTE" Group
View this post on Instagram
The second #PBBkumunect housemate is Glenda Victorio (kumu account @missglenda), age 23 years old, from the "MATATAG" group. Glenda is the CEO of Brilliant Skin Essentials, Inc., and her rags-to-riches story as a Pinay entrepreneur is well-known in the industry. In 2018, she was officially dubbed as one of the youngest CEO's in the Philippines.
Glenda won the leaderboard with 95.99 million kumu diamonds! That's the highest diamond count for #PBBkumunect! Get to know more about Glenda and her amazing story in the #PBBkumuaudition klip below!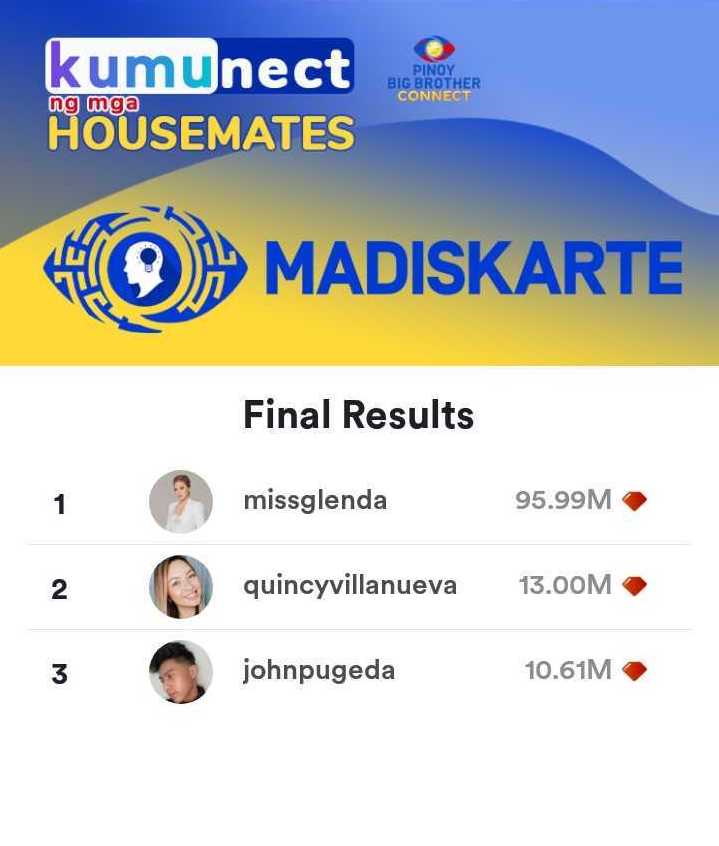 Gail Banawis
From "MALAKAS ANG LOOB" Group
View this post on Instagram
The third #PBBkumunect housemate is Gail Banawis (kumu account @struggail), age 24 years old, from the final group "MALAKAS ANG LOOB". Gail is a vivacious singer, podcaster and all-around online creative. In 2015, Gail hit international recognition as the official singer for the Philippine national anthem during the Pacquaio vs. Mayweather boxing match. 
Coming in fresh from Christmas, Gail won the leaderboard with 79.53 million kumu diamonds! Based on her #PBBkumuaudition klip, Gail promises to add some New York flavor to the house.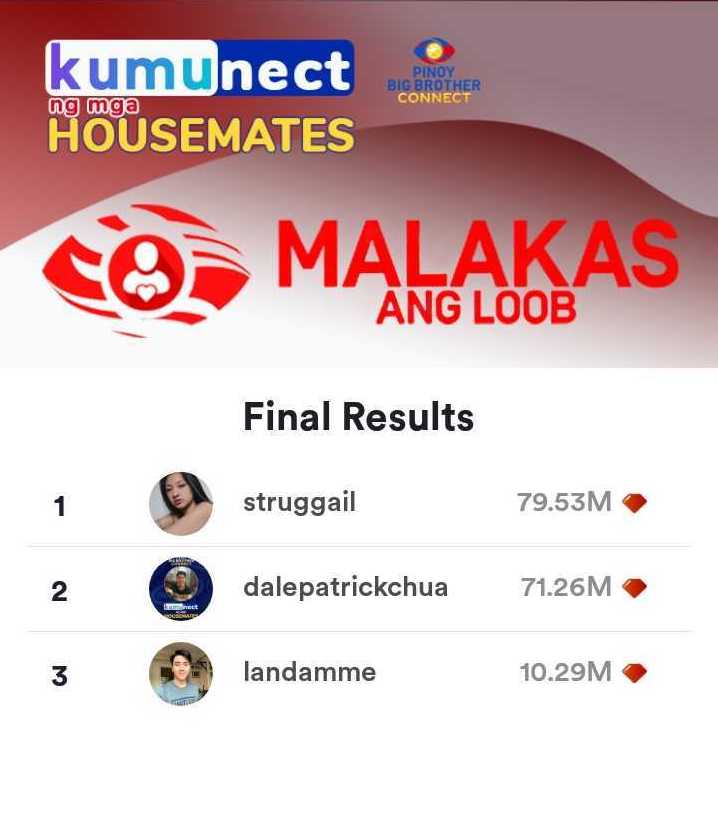 Catch these amazing #PBBkumunect ladies soon at Pinoy Big Brother! You can definitely catch them at the 24/7 Pinoy Big Brother livestream at kumu. Don't forget to follow @pbbabscbn on kumu to catch all the latest news and updates for this season's Pinoy Big Brother: Connect. It's definitely PBB year like no other! 
Don't have the kumu app yet? No worries, we've got the app link here for you to make this download quick. You can also follow @kumuph on Instagram, Facebook and Twitter to keep up to date with all the latest events, and surprises from your favorite Pinoy livestreaming platform. Tara na! Kita-kits sa kumu!