In celebration of International Women's Day, kumu gives a special salute to all the ladies out there. Whether you're a student, or hardworking mom, a business owner or dedicated professional, this one's for you; because we all know that, regardless of what we do, women inspire a sense of leadership in their respective communities. 
To inspire more of these conversations, we sought the insight of 3 notable women entrepreneurs from Shopkumu, especially in light of the "new normal" we all face. Take it from these ladies, for every challenge there is an opportunity. 
Kris Bernal, Founder and CEO of SHE Cosmetics. 
What's the secret to setting up a successful beauty business? Actress and entrepreneur Kris Bernal attests to this: "Produce quality products. Quality is what will bring your brand to places." 
True to her word, Kris has spent the past few years developing perfect beauty formulas for the modern Filipina, a mission that has built the ethos of SHE Cosmetics. Established in 2018, SHE Cosmetics is set to innovate beauty staples for the Philippine market, including liquid cushion lipsticks that's perfect for Pinay skin tones. In 2020, Kris also sealed a partnership with Korean cosmetic company Nuni Busher to create a 4-in-1 dual cover Crystal Skin Cushion set, packed with everything a girl boss could need for a busy day. 
"SHE Cosmetics aims to inspire women with its products," comments Kris, emphasizing her goal to make quality beauty products accessible to all Filipinas. After all, makeup and beauty products ultimately serve women's confidence. "Now, every woman can get affordable and high-quality makeup with SHE Cosmetics."
READ: kumu Joins The PH Startup Week 2020 Bannering Women's Empowerment In Tech
JieJie Flores, Streamer of @TravellistaPH and Owner of FarfettPH 
One thing we're all grateful amidst the pandemic is the surge of self-started businesses. Such was the story of JieJie Flores, who started her business in May 2020. "[It] was during the quarantine period. I was just working from home and had more free time to do other stuff. It started with just travel products, then later on I've added korean grocery items. Now, I'm more focused on selling hypo-allergenic jewelries."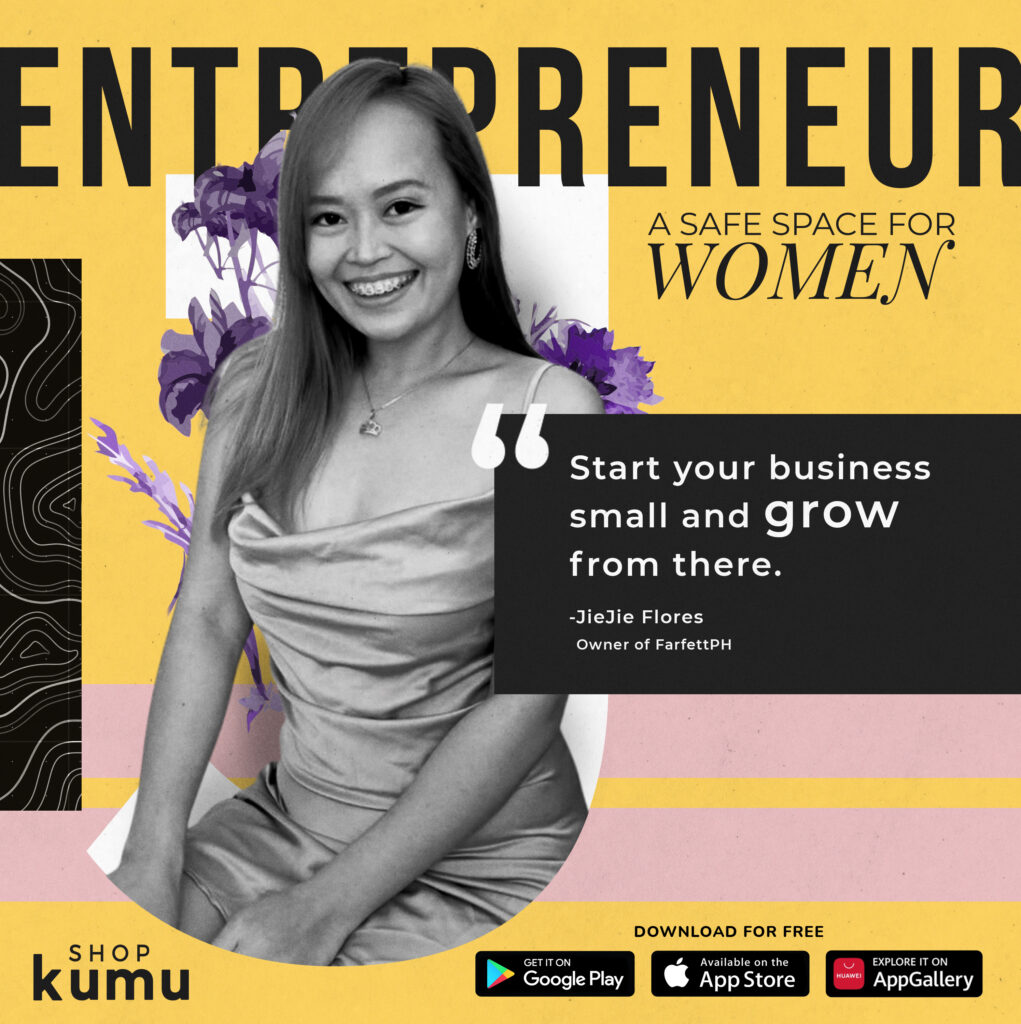 JieJie really hit it big when she started live selling in Shopkumu. To date, she is one of the earliest live commerce talents in Shopkumu, and is one of the most active entrepreneurs in kumu. "[Shopkumu] helped a lot, especially since it's just a start up business." says JieJie. "For me to be recognized and to have buyers and viewers all over the world is amazing. I feel most empowered as an entrepreneur when I'm able to make my viewers and buyers happy, [like] every time they drop by my stream just to say "hi", or buy an item." 
Her advice to anyone who wants to follow her footsteps: "Start your business small and grow from there. You don't really need a huge capital to own a business. Sometimes, all you need is passion, push and hard work – but most importantly, never ever forget to SMILE and make everyone feel happy." 
Alyzza Paraiso, M.D. General Medicine Doctor from KonsultaMD
When the quarantines were being set in March 2020, Alyzza Paraiso signed up to work as a DOH volunteer doctor, and was eventually drafted to the KonsultaMD team. Alyzza reminisces, "Looking back, I never really thought that a job offer would come from it. I just really wanted to do my part to help alleviate the healthcare situation that was crippled by COVID 19."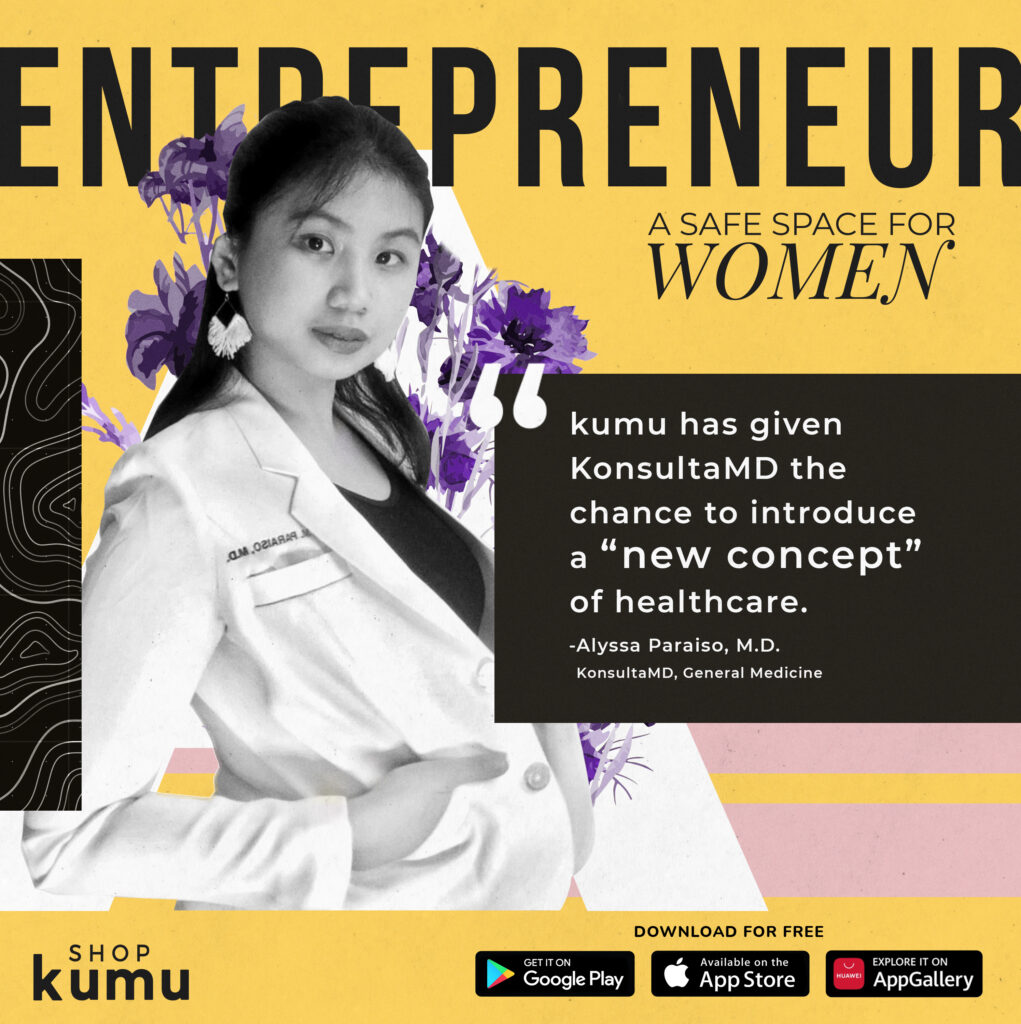 As Alyzza established herself in the Kumunity, the Chief Medical Officer of KonsultaMD has invited her to stay, and she has been an active streamer since. "Everyone is so kind, accommodating and encouraging," says Alyzza. "I honestly do not feel the delineation as a junior health staff member. Also, the nature of the work in itself is very noble, which is to help others. I am grateful for KonsultaMD as it allowed me to make use of the knowledge and skill set that I have, and to share it to a bigger audience."
Being a health professional is one thing, but to be a live selling personality is another. So what's Alyzza's take on making the best of both worlds? "Be your OWN brand" she says. Thanks to the innovations of technology, life can go on despite a global pandemic. We can still make the most out of it. "I personally brand myself as the "Kikay Doctor" and I love talking about beauty products and skin care!" 
Alyzza herself actively uses social media, not just to promote herself, but ultimately to connect to her audience. "You may not be physically present, but you are still able to introduce yourself, and make your presence felt in cyberspace. So you have to emulate unwavering confidence, resilience and innovation. You have to "stand out" from the rest and be your own brand."
What an amazing trio! We hope their stories have propelled you to pursue your dreams and goals today. Happy International Women's Day to all!
To keep up with all the latest updates and finds, follow the handle @shopkumuph on Instagram, and Facebook. Plus, check back at the kumu blog for more exciting news about special deals, discounts and promos on kumu. 
Don't have the kumu app yet? It's easy! Download the app at Google Play or the App Store, and join the Kumunity!