Fast-rising local social media app kumu recently participated in the recent Philippine Startup Week 2020 virtual conference from November 23 to 27, which saw various government and private groups showcasing the Filipino startup community. In partnership with Investing in Women— an Australian Government initiative that promotes women's economic empowerment in South East Asia, QBO Innovation Hub expands its Startup Pinay program to take meaningful steps towards shifting gender norms by fostering a community of female-led tech startups.
kumu's Vice President of Marketing Victoria Herrera served as the moderator for one of the Startup Pinay sessions to discuss how QBO Innovation Hub's program that focuses on fostering a community of female-led tech start-ups continues to thrive with great collaboration.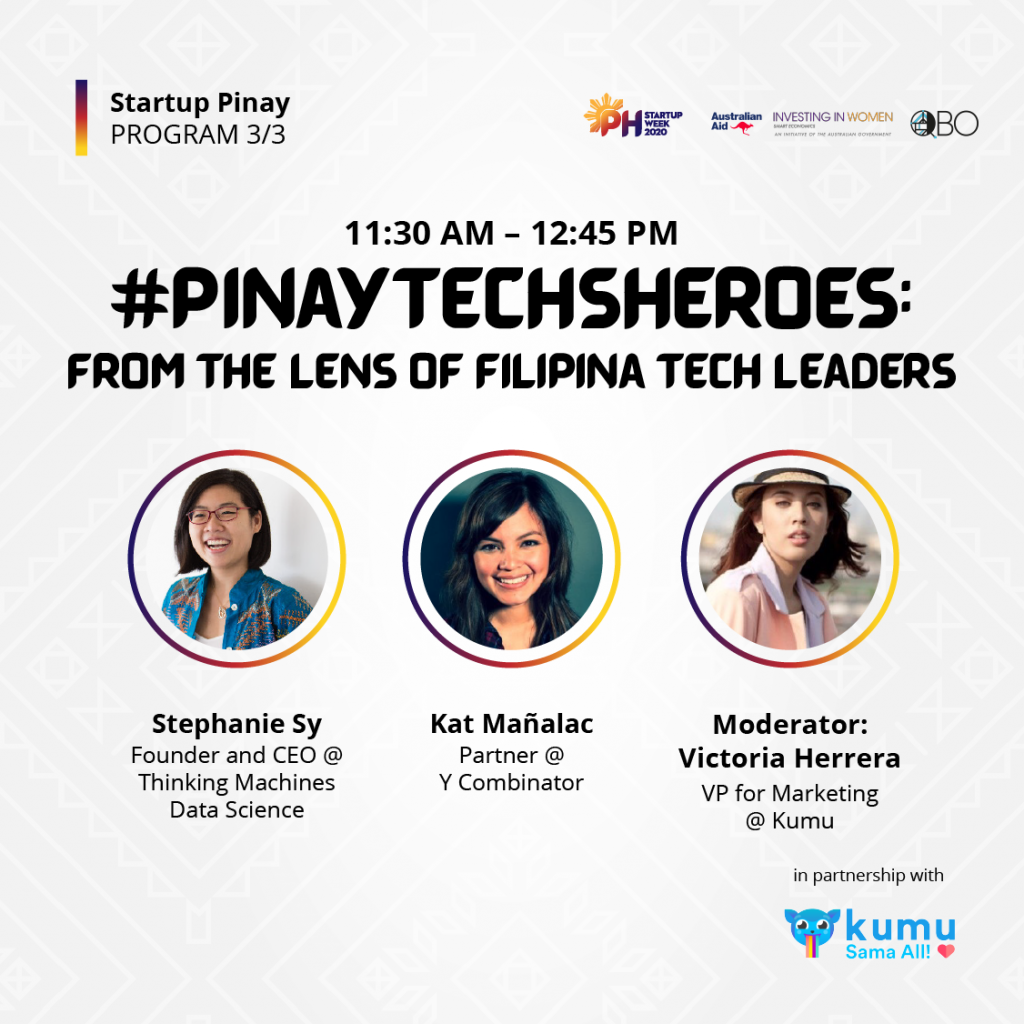 READ: Philippine Startup Week 2020 To Showcase Filipino Entrepreneurial Spirit Amidst COVID-19 Pandemic
The panelists at Startup Pinay session were comprised of Thinking Machines Data Science Founder and CEO Stephanie Sy, and Y Combinator's Kat Mañalac, who both shared valuable insights with the virtual attendees in an attempt to determine which direction female-motivated businesses in the tech industry should be heading towards in the new normal.
No less than Philippine Vice President Leni Robredo, herself a staunch driver of women empowerment, opened the session with an inspiring message that tips the hat off to women entrepreneurs in the country and across the globe. 
"Thank you for breaking barriers and blazing trails in business and technology for other women to follow," began the vice president. "If there is any lesson we can draw from this pandemic, it is that there is no better way through any crisis but together–by collaborating to survive, innovate, and adapt in charting this shared task forward", VP Robredo emphasized. 
This theme was further discussed in the segment #PinayTechSheroes: From the Lens of Filipina Tech Leaders, wherein Herrera, Sy, and Mañalac shared personal stories of starting their respective careers in tech, breaking stereotypes and barriers for Filipinas in the industry, and creating positive self-talk, opportunities, and best practices for women in the startup space among others.  
"There's a lot that needs to change certainly," according to Mañalac. "Creating a network of other women who are founders as well helps in bouncing things off of your head. Having that kind of community of your peers and another third party who you can talk to on a regular basis has been incredibly helpful for me" she added.
"Part of me feels better just knowing there are cool women doing good work in the tech space and that I'm not alone in this," shared Sy. "I feel strengthened by their existence. And there are still soft barriers in the tech industry for women. Like in socials, when you go to conferences wherein 80% of the attendees are male– there's still something psychologically shocking when you walk into a room where there's a hundred dudes playing poker and aggressively drinking. But then a lot of work gets done there and it's pretty hard to find your way around," she shared.  
"I love the fact that at least we are having these discussions about how it could be our culture or how it could be a lot of things," said Herrera. "But just the fact that we are having these open conversations is already a step forward," she concluded.
More insights particularly on how stronger encouragement is necessary to draw more women founders to lead tech startups (only about 15% to 20% of startups that are funded by Y Combinator are founded by women), how only 4% of women are getting venture capital funding annually, and how women now tend to gravitate into bigger roles within organizations, among others. 
Another segment for Startup Pinay also saw 1Export Founder and CEO Mel Nava, Qatalyst Ventures Chief investment Officer Fatima dela Cruz, Beacon Fund and Patamar Capital Associate Yen Do, and She Loves Tech Co-founder and Co-CEO Rhea See discuss the promising reasons on why tech startups should invest more on women professionals. Manila Angel Investors Network Executive Director James Lette served as moderator for the segment.   
The Philippine Startup Week 2020 was made possible by the Department of Science and Technology, the Department of Trade and Industry, the Department of Information and Communications Technology, QBO Innovation Hub, and various private agencies. 
For more information, visit the Philippine Startup Week website here: https://www.phstartupweek.com. You can also follow Philippines Startup Week on Facebook and LinkedIn. Check back here on the kumu blog for updates on all things Kumunity, tech, and start-up innovations. We keep things updated with @kumuph on Instagram, Facebook and Twitter. So stay tuned for more exciting news!