MANILA, Philippines, November 6, 2020—Philippine Startup Week, one of the country's largest startup conferences, is back for a second run in a joint collaboration of the Department of Trade and Industry (DTI), Department of Science and Technology (DOST), Department of Information and Communications Technology (DICT), QBO Innovation Hub, and various private organizations and community partners. It is a 5-day virtual conference highlighting the Filiipino entrepreneurial spirit. This year, special interest is given to the ways we are innovating the "new normal", with the collaboration of multiple government and private agencies.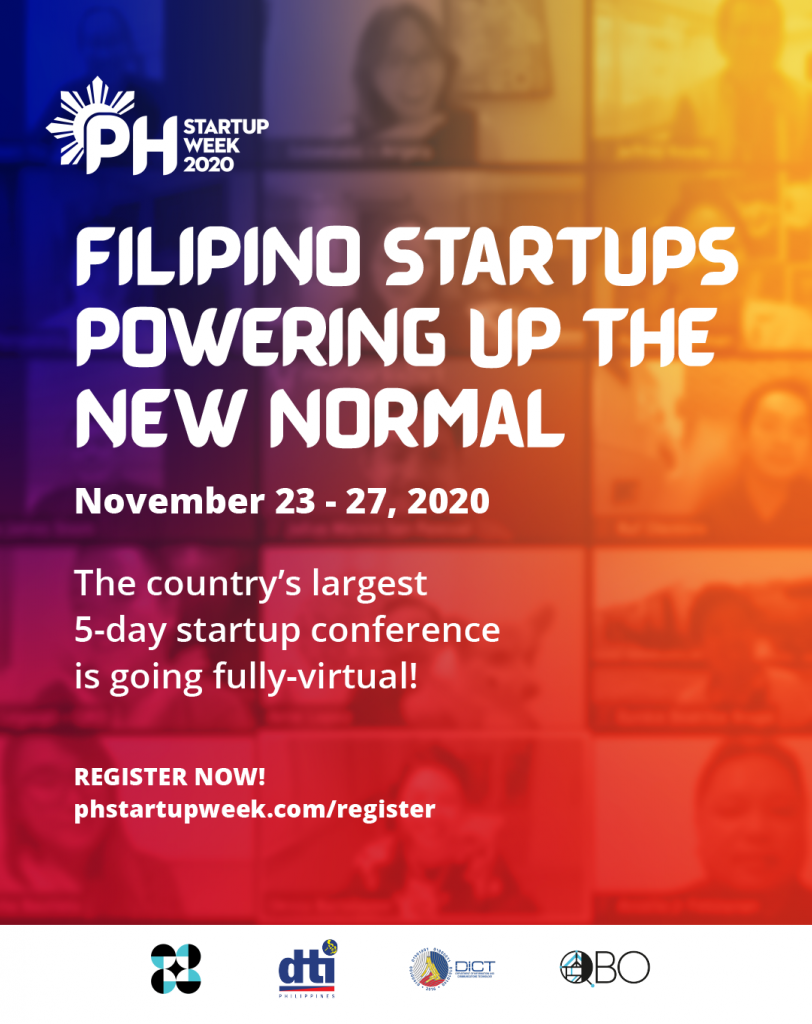 Happening on November 23-27, 2020, the nationwide startup conference highlighting the Filipino's entrepreneurial spirit will be held fully online. With the theme "Filipino Startups Powering Up the New Normal," the Philippine Startup Week 2020 (PHSW20) will showcase thriving Filipino startups and shine a spotlight on the stakeholders contributing to increasing the resilience of the Philippine startup ecosystem during the COVID-19 pandemic.
This year, kumu is excited to take part in Philippine Startup Week as a media partner, and moderator for the 'Startup Pinay' segments, happening on November 26. During which, the panel discussion invites Pinay champions in the tech industry to share their unique challenges, experiences and learnings in a male-dominated industry.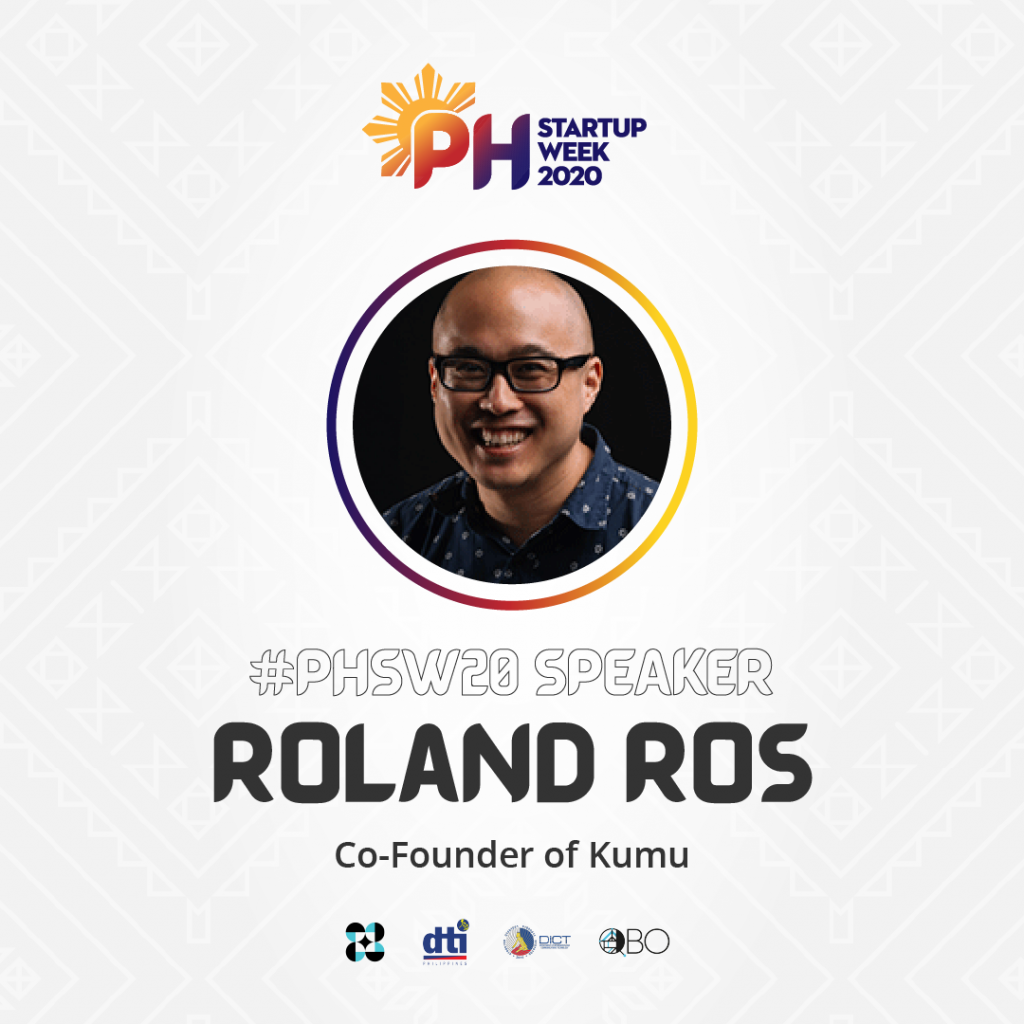 Source: Philippine Startup Week Facebook
The PHSW20 features five tracks—Discover, Develop, Collaborate, Invest, and Showcase—that will include three main events by DOST, DICT, DTI, and various community events to be hosted fully online by over 60 partner organizations, supported by AWS, Investing in Women, Microsoft, Paymongo, Youth Business International, and Google.org. The 5-day virtual conference will be held via an online platform that aims to capture all the excitement of an engaging virtual experience for attendees to learn, interact, network, and collaborate remotely.
PHSW20 will cover all things startup, including topics such as technology business incubators breaking out from the COVID-19 outbreak, startups bouncing back from the pandemic, and opportunities for collaboration amidst the adversity. Joining the conversation will be seasoned entrepreneurs, key players, and industry experts sharing the virtual stage to explore the latest innovation and technological advancements.
 In celebrating the flourishing Philippine startup scene, PHSW20 is also set to feature startups through different programs, including the Emerge X Regional Pitching Competition led by Microsoft, the Top 100 Startups by QBO, and Seedstars Manila Competition.
DTI Secretary Ramon Lopez underscored the agency's support for Philippine startups during and beyond the current health crisis, especially as it would also help the country's Micro, Small, and Medium Enterprises (MSMEs) while also creating more jobs and employment for Filipinos.
"Globalizing the Philippine startup ecosystem remains our goal, and our desire to do so has intensified amidst the pandemic. In these trying times, DTI is committed to empowering innovative Filipino startups that foster the digitalization of our MSMEs, enhance their productivity, and promote their resilience," according to Sec. Lopez.
Meanwhile, both chiefs of DOST and DICT lauded the holding of Philippine Startup Week as opportune, given the economic challenges faced by businesses during the pandemic."Philippine Startup Week continues to be an amazing opportunity for innovative startup founders to connect, collaborate, and gain exposure to investors, sponsors, and fellow founders," said DOST Secretary Fortunato T. De La Peña.
"As the government remains true to its commitment of elevating the country's startup ecosystem, PHSW20 aims not only to celebrate entrepreneurship, particularly technopreneurship, but also to increase access to it by continuously fostering an engaged community and by providing opportunities to push the boundaries of technology and innovation," Sec. De La Peña added.
Meanwhile, DICT Secretary Gregorio B. Honasan II underscored the agency's support to the startup community during and beyond the pandemic."As a community-focused conference, Philippine Startup Week showcases the bustling startup scene and brings together the Philippines' dreamers, thinkers, change-makers, innovators, and entrepreneurs. This year, experiencing the many challenges brought about by the COVID-19 pandemic, the DICT is determined to boost resilience and build a stronger Philippine Startup Ecosystem through different ICT programs and initiatives," says DICT Secretary Gregorio B. Honasan II.
The main events of each agency are set to happen on the mornings of November 23 to 25 with the titles "TBI Summit" for DOST, "Innovation Nation" for DICT, and "Slingshot" for DTI. QBO Innovation Hub, the country's first public-private initiative for startups and one of the main organizers of PHSW, will once again spearhead events, learning sessions, and activities throughout PHSW20.
"The PHSW20 this year is dedicated to celebrating significant strides in building a more dynamic startup scene while showcasing achievements of the Philippine entrepreneurial community in powering up the new normal," said QBO Innovation Hub President Rene Meily. "This will further position the Philippines as an innovation powerhouse that will ultimately define the future of tech and innovation across Southeast Asia. Just holding this conference in the middle of the COVID-19 crisis is a victory," added Meily.
For more information, visit the Philippine Startup Week website here: https://www.phstartupweek.com. To join the Philippines' largest virtual startup conference, start your registration here: http://bit.ly/attendphsw20. Don't forget, you can also follow Philippines Startup Week on Facebook and LinkedIn.
Follow our journey with Philippine Startup Week! Check back here on the kumu blog for updates on all things Kumunity, tech, and start-up innovations. We keep things updated with @kumuph on Instagram, Facebook and Twitter. So stay tuned for more exciting news!
 About the Department of Information and Communications Technology
The Department of Information and Communications Technology (DICT) is the executive department of the Philippine government responsible for the planning, development and promotion of the country's information and communications technology agenda in support of national development.
About the Department of Trade and Industry
The Department of Trade and Industry (DTI) is the agency of the Philippine government responsible for realizing the country's goal of developing globally competitive and innovative industry and services sectors that contribute to inclusive growth and employment generation in the Philippines.
About the Department of Science and Technology
The Department of Science and Technology (DOST) is the premiere science and technology body in the country charged with the twin mandate of providing central direction, leadership and coordination of all scientific and technological activities, and of formulating policies, programs and projects to support national development.
 About QBO Innovation Hub
QBO ('ku-bo') is an innovation hub or platform for the startup community to collaborate, develop talent, and grow. It provides startups with support and resources through events and capacity building programs as well as focused interventions designed to improve access to markets, knowledge, capital, and talent. QBO  is the country's first public-private initiative for startups, created through a partnership between IdeaSpace, J.P. Morgan, Department of Science and Technology, and Department of Trade and Industry.
Spurred on by the vision of Filipino startups changing the world, QBO's mission is to create a globally competitive startup ecosystem in the Philippines.