In one particular meeting, kumu's virtual town hall is abuzz with excitement. The Pinoy livestreaming app had just wrapped up its quarter-year goals, which included new ventures such as Shopkumu, Gaming and Brand Partnerships, more commonly known as ad sales. A disruptive yet remarkably expansive year had gone by; but with it came a cautious thrill, that more is yet to come. That's why, all eyes and ears hone in for the leaders' statements during kumu town halls; the teams prefer to hear it straight from the source.
"And now," the meeting host transitions, from one leader to another as they come in and out of the livestream boxes, "Please welcome our Senior VP of Business Development, Paolo Pineda—or 'Ninong Paolo'!"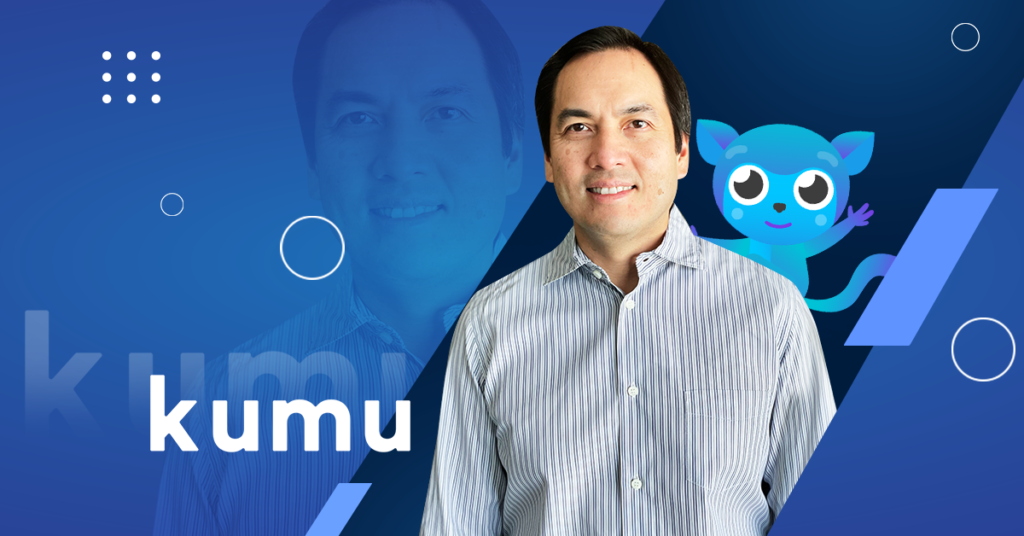 Paolo Pineda, SVP of Business Development at kumu
In a flash, Paolo's screen appears just below the host's livestream box; everyone can clearly see him sporting his kumu merch. He laughs at the moniker, "I'm gonna' roll with it." He then proceeds with his general message.
 The nickname "Ninong Paolo" is, of course, a term of admiration and respect, as much as it is endearment. After all, he is one of the most experienced professionals in the Philippines' digital and media industries. Way back then, he recalls, as a young professional he started with his family business, then a private equity firm. However, as the growth of the Internet took hold, he went straight on to chase the potentials of digital. His accolades include being the Managing Director of ABS-CBN Interactive, eventually the Head of Business Development at ABS-CBN, and then Head of Operations at Creative Programs Inc, an ABS-CBN Subsidiary.
 While kumu definitely does not profile people's age, Paolo is not shy to admit his seniority. "On the managing side [of kumu], I'm the oldest here!", he laughs. With around two decades of digital and media experience, Paolo has every reason to sit back, and just take it easy. Yet here he is, as eager and restless as everyone in kumu, anticipating another roller-coaster of a year. More importantly, however, he is earnest in passing the torch to a new generation of innovators, and fostering kumu's relationship with key stakeholders in the Philippine industries. 
 Like many ninongs that we look up to, Paolo's advice and mentorship is an invaluable asset to everyone in kumu, especially for the company's up-and-coming leaders. He may seem too casual in the face of a great unknown ahead; but actually, it's just what years of experience has imparted to him. Anything goes in the age of media, tech and digital; there are highs, lows, and always with some unexpected twists happening at a flash. This in itself has fundamentally shifted modern businesses, and re-molded the leaders that must reckon with it.
Leadership amidst ambiguity
 One of the most amazing insights you can learn from Paolo is his recollection of early tech booms. From memory, he could recount key events that shaped the digital landscape we know today, like an epic story-teller and his cautionary tale. From the infamous "dot-com bubble" event of the early 2000's, to the rise of mobile businesses in Asia, then to invention of the iPhone and mobile browsers in 2007, onward to the rise of social media, and now to the data-driven world, it seemed like every couple of years required a new business-model.
 "Here we go.", says Paolo, marking this new point in time with kumu. "So, start na naman, we have to learn again. You really have to keep learning."
 Paolo himself will vouch that tech and digital never stand still, everything is in a constant state of transition. Even right at this moment, as we enjoy the success of livestreaming, we're on guard about the possible rise of audio streaming trends.
 "It's really just challenging and exciting at the same time.", he says. But also, the impact this has on management, business leadership and strategies is unprecedented. For insight, Paolo highlights two key points, "[As a leader], you should be able to drive your team to work in ambiguity.", he says, as his mentors from previous companies had said. "[Because], you don't know what's going on, or what's next. You kind of have to make a decision on a day-to-day basis, as the events unfold."
 Second, and more importantly, to grapple with the uncertainty, a leader prioritizes the team's morale. Paolo explains, "You really just have to give the team the confidence to make decisions. You can't make [all the decisions] on your own." Chances are your team members know more about the solution than you.
 Paolo speaks about his own personal leadership experience, having collaborated with many digital talents. "In the end, it was just about confidence.", he said, "Give [the teams and individuals] confidence that you'll fight for them, that you'll support them if something goes wrong." Moreover, his own observation points to this fear of error, of mistakes as the root cause in our inability to innovate. "If you feel that you will be reprimanded because of the mistake, then the more you will simply go back to what's comfortable. Then, that's where you get kind of stuck. Eh in digital, yan yung talagang wala. Because you really don't know what's going to happen!"
 READ: kumu closes Series B funding round from SIG, Openspace Ventures, PH Conglomerates, and Endeavor Catalyst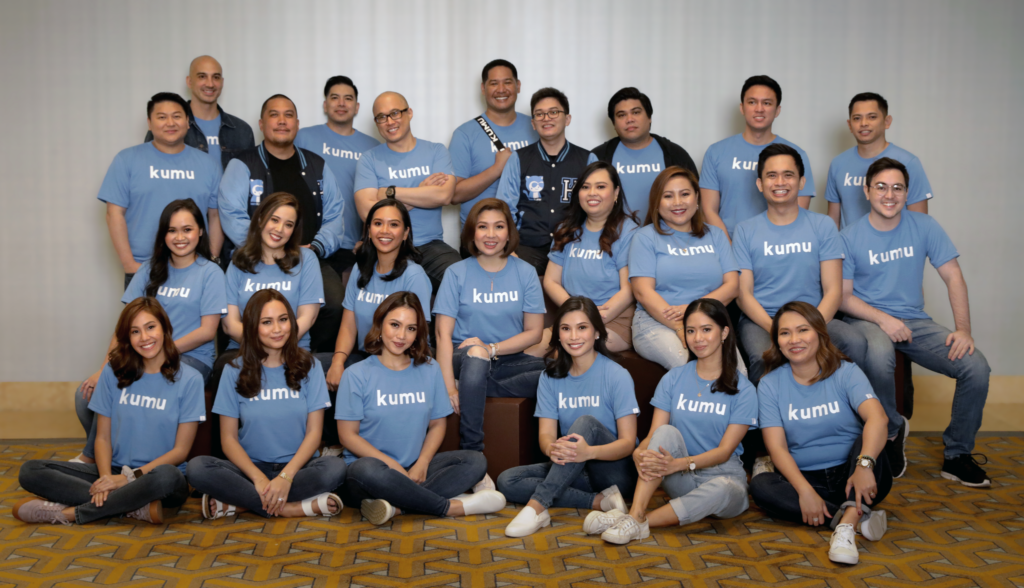 kumu's leadership team
About start-up culture 
Company cultures and business leaderships evolve, but more rampantly so during the tech boom years. These days, brands and companies need to innovate, grow consistently, be more efficient, and to expect the unexpected. Or, at least try to emulate that kind of business agility. We call this "start-up culture", and it's practically been the jargon of many companies to describe this new way of management. 
"kumu embodies the culture of a real startup, it's really amazing.", Paolo validates. Yet, like many fascinating theories, applying them to real practice isn't easy. Because it's not just about making an innovative product now, it's truly about building a different workforce and leadership vision. The innovative product and the internal culture have to match, growing together as the brand's ethos. 
"[The kumu co-founders] Roland Ros and Rexy Dorado manage by empowering everyone. Everyone is empowered to make decisions on their own, and encouraged to do so.", Paolo explains. Admittedly, this start-up spirit is still a challenge for him. "I had to understand that culture, and I continue to do so. But it's great. It's a great culture, and it allows people to grow on their own."
 Paolo clarifies, it's not really about speed, or how fast decisions are made that makes start-ups different; rather, it is the ingrained willingness to explore, the acceptance of risks that really give start-ups that edge. For kumu, this willingness is not just an advantage, it's an overall strategy. "We always have to be ahead of the game.", says Paolo. "Roland and Rexy continue to push to be ahead."
 Between navigating the landscape of tech industries, and seeding the culture of their teams, it would appear that leaders are caught in a tight-rope; mistakes and pitfalls are just waiting to happen. But that should only be a problem if one puts themselves on a pedestal. Indeed, Paolo advises, "[As a leader], you also have to show the people that you have no ego." People respond to that more favorably than we expect, he comments. "So, you admit to failures, you admit to mistakes. You admit that someone else might have a better answer, then support that."
 At the end of it all, Paolo's advice is about openness, an understanding that everything and everyone has a lesson to share. It sounds very simple, but Paolo swears that it's gotten him this far; it has empowered many of his business relationships. "Listen to people, and be open to new things." He admits, if he had been more stubborn, it probably wouldn't lead him to explore this new world of start-ups, like kumu. "[Because] if you're just open, you're open to listen. You're open to change, and to try new things."
 When asked if he ever imagined something like kumu would come his way, Paolo shakes his head in earnest. "Not at all, I did not foresee this.", he says. He's read many news clippings and industry reports, but never did he expect something like this. "I am really encouraged and inspired by what these people, now my co-workers, have built and I can only feel gratitude and appreciation that I was welcomed with open arms."
Want to know more about kumu? Be sure to follow @kumu.ph on Instagram, Facebook, and Twitter for all the latest livestream entertainment. You can also check out the kumu blog for more leadership stories, and news on all the latest happenings in the Kumunity. 
Don't have the kumu app yet? It's easy! Download the app at Google Play or the App Store, and start adding to cart! Visit our website kumu.ph for more information and insights into the exciting world of kumu.