Filipino live-streaming app Kumu announced that it closed a Series B funding round to roll out new features in the app and scale its operations.
The round closed less than 12 months after the company announced its Series A in April 2020. In that time, and in the midst of an unprecedented pandemic, Kumu has topped the Google Play rankings in the Philippines, with users spending almost an hour per day on the app. Kumu has established itself as a uniquely dominant social platform in Southeast Asia.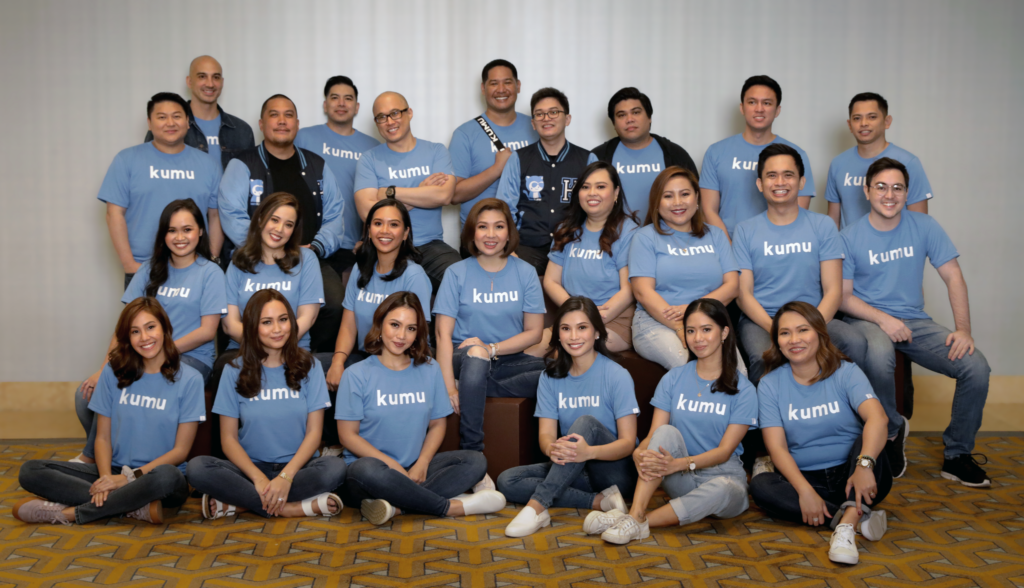 kumu leadership team
Kumu's success comes from the intersection of unique content, strong creator engagement, and an active, wholesome community that propels social connections. "Our success lies in our ability to focus on Kumu partners and users, connecting them in creative ways," says Angelo Mendez, Chief of Content and Co-Founder of Kumu, who led the company's partnership with the record-breaking latest season of leading local reality show Pinoy Big Brother.
The Series B was co-led by SIG, a global investment organization best known for their seed investment and large institutional shareholding in Bytedance. The round was also co-led by Openspace Ventures. "Kumu is a much needed addition to the local media landscape and has democratized content distribution in the Philippines. Our continued support for the company is also a reflection of our strong conviction that the Philippines is at the cusp of a big technological wave," says Hian Goh, Co-Founder and Partner at Openspace Ventures.
Strategic investors
Kumu's Series B included returning investors Summit Media,  Kickstart Ventures (the corporate VC firm of Globe Telecom), Foxmont Capital Partners, and Gobi-Core Philippine Fund. Joining them were new investors Gentree Fund, the venture vehicle for a prominent Filipino family office behind one of the country's leading consumer-focused conglomerates; and Endeavor Catalyst Fund, the co-investment fund of global nonprofit Endeavor. Notably, the chairman of the Endeavor Catalyst Fund is Reid Hoffman, the founder of social network platform LinkedIn.
"We are thrilled to back [the kumu team] as we see a huge opportunity for growth in the livestreaming space," remarks Linda Rottenberg, CEO of Endeavor Global. "We believe Kumu will be a multi-billion dollar company someday, and will serve as a tremendous example for other aspiring entrepreneurs in the Philippines and Southeast Asia."
View this post on Instagram
View this post on Instagram
Scaling up
Kumu will use the new infusion to scale its current operations, which has enjoyed tremendous growth over the past year. To date, an estimated 11.2 million registered users around the world watch live streams up to 60 million times per month, with over 100,000 active streamers commanding about one hour of average daily usage for its mostly Gen-Z & Millennial user base.
The startup is also experiencing massive growth in revenue. According to mobile-app performance company App Annie, kumu has been listed as the #1 Top Grossing social app in the Philippines' Google Play Store, as well as the first Filipino-founded app to rank Top 10 in multiple markets like Canada, Australia, Norway, Hong Kong and Kuwait. Kumu has also ranked as high as #15 in the United States.
"At our core, we are a scrappy and ambitious team," says Dana de la Vega, Strategy Director of Kumu. "Looking ahead, we're excited to dream even bigger alongside our partners and investors, to further push the boundaries in content creation, and to build the most engaged 'glokal' Filipino community on the Internet."
Be part of the Kumunity now and download the app for free at Google Play or the App Store.
About Susquehanna International Group (SIG)
SIG is a global quantitative trading and investment firm founded in 1987 with an entrepreneurial mindset and a rigorous analytical approach to decision making. SIG is headquartered in Bala Cynwyd, Pennsylvania USA and has operations across North America, Europe and Asia-Pacific.
SIG began investing in Asia venture capital in 2005 with an initial focus on China before expanding to South East Asia, Japan and India.  SIG invests across the continuum of the venture capital life-cycle, from early to late stage and in a variety of industry sectors.  SIG SE Asia is particularly focused on the adaption of business models across countries and regions, and makes extensive use of its employees and portfolio companies to provide insights and assistance to founders.  Over the last 15 years, SIG has invested in over 350 companies, deployed over US$3.5b in capital, and achieved IPO/M&A exits in over 70 companies in Asia.
Some of the notable companies SIG has invested in include Bytedance, Agora, ClassIn, Mobile Premier League, Musical.ly, Palfish, Ximalaya, Yalla, Yitiao, Yunxuetang, Zilingo, Zuiyou.
About Openspace Ventures
Openspace Ventures focuses on investments in technology companies based in Southeast Asia. It operates out of offices in Singapore, Jakarta and Bangkok with a team of 25 people across 10 different nationalities.
Since launching in 2014, Openspace Ventures is now managing over US$350mn of total committed capital across three funds focused on Series A/B opportunities. Openspace Fund I has been identified as a top 5% global performer by Cambridge Associates and Preqin compared to global benchmarks. It also operates OSV+ which is an Opportunity Fund addressing the mid-stage technology opportunity in Southeast Asia with a focus on follow-ons from existing portfolio and new situations relevant to Openspace technology operations and regional value-add.
Openspace has invested in 30 companies across the region including Gojek, Halodoc, Biofourmis, FinAccel, Love, Bonito, Tanihub, Tradegecko, Kumu and Whispir. More information on Openspace can be found on www.openspace.vc.