Social entertainment app kumu adds former Disney executive Anand Roy to its leadership team as the Senior Vice President for Strategy and International. Anand joins Kumu after spending 17 years at Disney in various positions, most recently, as the Regional Director of Music and Live Entertainment in Southeast Asia. "We've always looked up to Disney as a reference for their work in media, entertainment, and the business of inspiring love and imagination," says Rexy Dorado, President and co-founder of kumu. "We're excited for Anand to tap into his experience leading Disney's music and content efforts in the region in pursuit of our growing ambitions."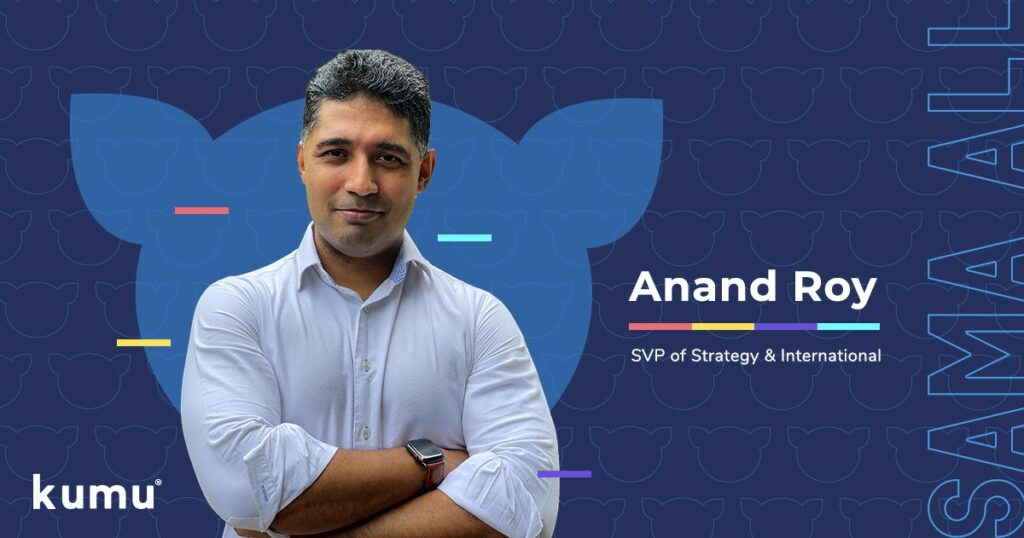 Foreshadowing the future
In July, James Rumohr—head of community and chief of staff at Kumu—said to the world that Kumu aimed to become the happiest place in the digital world. the vision of Kumu becoming the Disneyland of social media.
"During my time with Disney, I have had the honor of working in different roles across multiple territories. All that exposure has helped me evolve and grow, both as a professional, and as a human being. My time with Disney has also allowed me to experience, and appreciate the diversity, storytelling talent, and creative drive that exists in people all over the world."
If you stepped into Anand's shoes, you would have experienced how Disney first launched in India, now the company's  biggest international market. You would have had front-row seats when Disney bought Pixar, Lucasfilm, Marvel and Fox. You would have called the shots as the company worked closely with musicians and artists to grow Disney's music and live entertainment business in Southeast Asia.
"I first heard about Kumu from Open Space Ventures, one of the company's investors. About that time, I was feeling quite unhappy with the state of social media generally," says Anand. "And then here was Kumu, which was all about positivity, optimism, and community. In many ways, this should have been what social media is about—bringing out the best of humanity, and not what we are seeing right now. Social media should not be dividing and polarising society."
The timing was absolutely critical. At a time when Anand debated with himself whether he should just be a spectator to what was happening around him, or take a more active role in steering the ship around, Kumu came in. Anand found the same childlike wonder that Disneyland brought to its guests in Kumu, a place of optimism and community-building from where that wonder comes from and blossoms. This is why as he joins the company, he hopes to help retain this wonder for as long as possible—because this is where good things and paradigm-shifting innovation come from.
READ: kumu raises Series C led by General Atlantic, aims to create the world's largest participatory social network with over US$100m total funding to date
Technology in the time of pandemic
Technology has made the world seem much smaller, with distances dissolved to mere pixels and bits,  and the democratization of access occurring in waves. Anand believes that we are at a critical point in our evolution as a species. How we use technology now—whether it will divide or unite us—will shape humanity for generations to come.
"While technology in its purest form is making distances disappear, our inherent biases, fears, and insecurities are putting up walls. We need to be mindful of polarization and people living in their bubbles," says Anand. And that was evident in how people tend to  shut out those with opposing ideas, in people using technology to spread fake news and misinformation. "So, a platform that is about hope, positivity, optimism, and community becomes even more important," says Anand. "That's what I want Kumu to be—that safe, happy space for people across the planet."
View this post on Instagram
Turning local to global
Since Anand held a regional role, he has always been working with international markets. He believes that in the field of entertainment and technology, there has never been a better time to be in the international marketplace than today.
"It's really the golden age of international—especially Asian—innovation," Anand says. "When it comes to technology, creativity and innovation, South Korea is knocking it out of the park. While there's a lot to learn from why the Koreans are so successful, it can be whittled down to 2 factors. First, authenticity; they never try to be someone they're not. They celebrate the fact that they're Korean and because it's so authentic, that translates. As soon as you try to temper your voice or product so that other people might be able to "identify with it" better, it loses its soul. Two, quality; the relentless pursuit of quality and not settling for anything less than world-class."
Authenticity and quality—the two most important ingredients for global success. During his time working with Filipino teams, Anand says that he has seen nothing but warmth, hope, and a strong sense of family from his Filipino colleagues—and these are uniquely Filipino attributes that Kumu reflects. This is the authenticity of the Filipino, ready to launch the country into the global stage—and Anand says they are already strong in Kumu. So, what's left for him to do?
He says, "These Filipino values can bring positive change to the world. The basic, most vital ingredients are already in place here at Kumu. What I'm hoping to add to the team is that pursuit of excellence, and an ambition to be the best in the world in what we're doing. That's the recipe for global success."
Don't have the kumu app yet? It's easy! Download the app at Google Play or the App Store, and start adding to cart! Visit our website kumu.ph for more information and insights into the exciting world of kumu.
You can also follow @kumuph on Instagram, Facebook, and Twitter to keep up to date with all the latest events, and surprises from your favorite Pinoy livestreaming platform. To keep tabs on the Kumunity and all its exciting happenings, follow the @juankumunity on Instagram, or check the kumu blog for all the latest news.