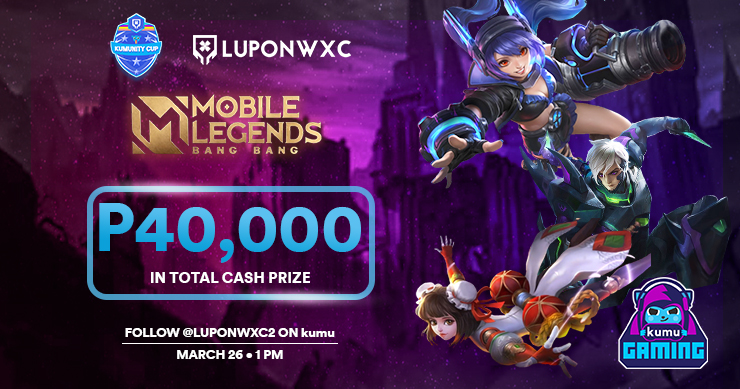 Some come to play, while others…to win! The first-ever Mobile Legends Kumunity Cup is approaching its final showdown. In the past 2 weeks, 46 Mobile Legends teams had battled out 6 intense rounds, leading to our final 4 teams for an epic battle. Who's set to win? It's going to be a wild game, especially with P40,000 cash at stake!
The elimination round and playoffs were held from March 10 to 18, with the Grand Finals set for March 26, 1PM. Now, other avid gamers and spectators can catch the much-awaited matches live on kumu at @luponwxc2. The game stream also includes exciting commentary from Chantelle (facebook.com/casterchantelle), Dadiey (facebook.com/dadieywxc), Pakba1ts (facebook.com/pakba1ts), and Papa Sayote (facebook.com/papasayote).
Vying for the top spot is LuponWXC, one of the rising stars in the Philippine mobile gaming scene. Hoping to share the thrill of the tournament, they will be streaming their games on kumu. "We decided to partner with kumu because we were inspired by its community approach. [We] were impressed by the developments and enhancements of their platforms. So we decided to join and work together to build the gaming scene," says Mario Jonathan Marasigan, the Kumu Business Unit Head of LuponWXC.
As an innovative livestreaming platform, kumu is helping to elevate the gaming experience by offering a space where gamers and enthusiasts can come together. Here, they can celebrate the thrills of the game, the talent and passion of the players within a safe, welcoming space. 
"With kumu, we believe that the future of our industry will quickly expand as we begin to see more offerings for the gaming audiences: tournaments, in-depth Q&A, tailored shows and more," adds Mario excitedly. "As we take these important steps within the kumu platform via the Kumunity Cup, we're looking forward to seeing more 'friendly' competition among the competing families – with great stories and high engagements. Our future plans, of course, will be the integration of more participants from different backgrounds and the expansion of the tournament potential, creating an overall stronger experience on the platform."
Don't have the kumu app yet? It's easy! Download the app at Google Play or the App Store, and start adding to cart! Visit our website kumu.ph for more information and insights into the exciting world of kumu.
You can also follow @kumuph on Instagram, Facebook and Twitter to keep up to date with all the latest events, and surprises from your favorite Pinoy livestreaming platform. Check back here at the kumu blog for more interesting insights into the Kumunity.