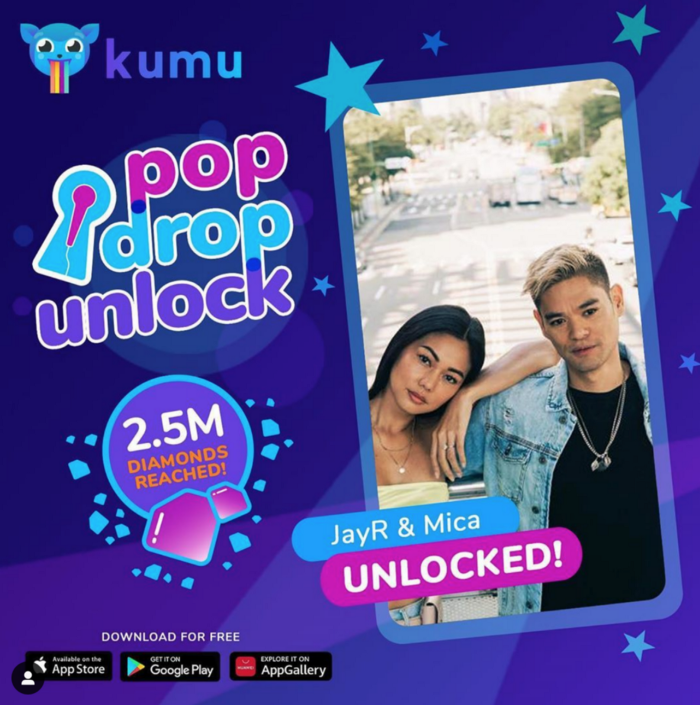 After people were advised to observe social distancing and 'stay at home' guidelines amid the implemented community quarantines, most have turned to social media for their dose of everything. The country's fastest-growing social media app that's dedicated to give importance to the Filipino voice and showcase Pinoy talent KUMU, doesn't fall short in providing what netizens need during these trying times by coming up with fundraiser campaigns, e-commerce services, and of course, entertainment offerings.
For the entire month of May, app users took the chance to watch topnotch Pinoy performers Ylona Garcia, JayR and Mica, and Kris Lawrence in the Pop, Drop, Unlock online concert exclusive on KUMU. Simply by tapping the contest tab on their mobile apps and choosing the campaign button, Kumunizens dropped concert virtual gifts for their favorite featured artists and unlocked the exclusive concerts once they reach the 2.5 million diamond mark.
Users who are able to unlock the exclusive concerts will be getting private notifications and invites via KUMU and get to watch the upcoming performances this month.
Since launching in 2018, KUMU has brought quite a number of both rising and established artists to Filipinos around the world who are tuned in for livestream content and performances via the app. With this series, the app will put the spotlight on four of the hottest pop and RnB acts who promise to wow their online audiences via the Pop, Drop, Unlock concerts.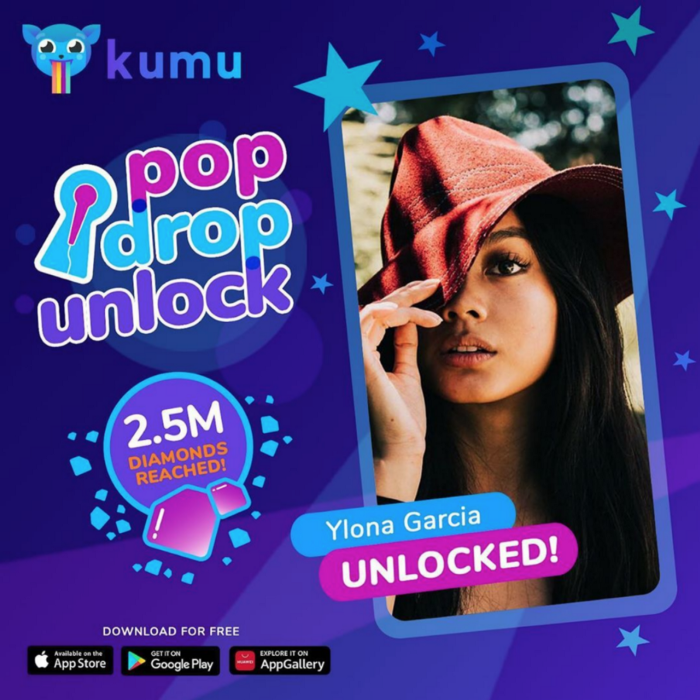 Filipino-Australian singer, actress, and TV personality Ylona Garcia was a former Pinoy Big Brother housemate who has enjoyed immense musical success at a young age. She has already performed with such heavyweights as Martin Nievera, Bamboo Mañalac, and Sarah G, became a mainstay of the iconic television variety show ASAP, and received a Gold record for her eponymous 2016 debut album.
Singer newlyweds JayR and Mica Javier have been around the Philippine music scene for some time now. Combining their unparalleled singing power, this RnB duo are all set to make better and more beautiful music together with Kumunizens getting first dibs to witnessing their first livestream performance as Mr. and Mrs.
"Pop, Drop & Unlock is great for artists like me who are deprived of performing right now," shared JayR. "I live and breathe to be able to showcase my music in front of a live audience. Although it isn't physically live, Kumu still provides a platform for us artists to be able to share our passion in front of a crowd. Majority of people are out of work and it's the same for us artists. Because of the Kumu platform we are able to generate a portion of income through the gifts that Kumunizens drop on our live broadcasts. It's a great avenue for us to pursue during this pandemic."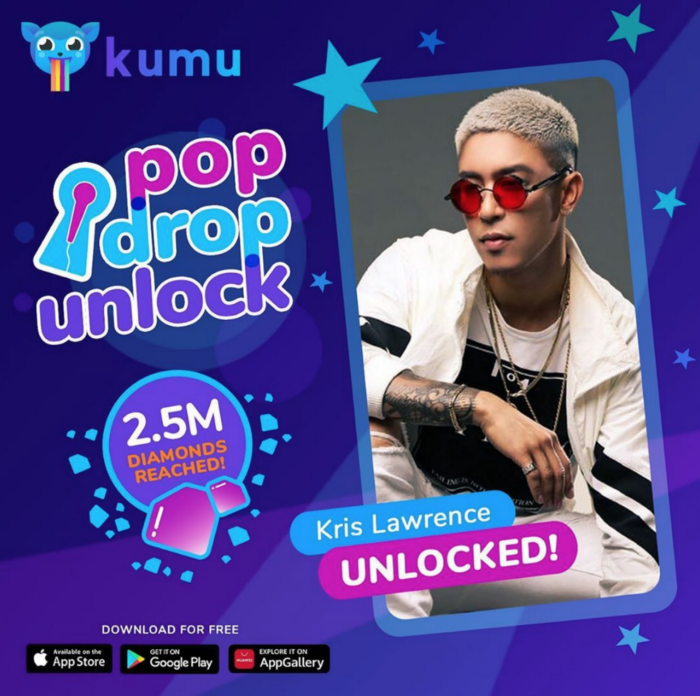 Pinoy RnB veteran Kris Lawrence, whose self-titled 2006 debut catapulted him to stardom shared JayR's thoughts. "Pop, Drop, & Unlock is a performing artist's saving grace! I love how it gives us a chance to get to know our supporters in the process of unlocking our concerts," said one of the top solo male acts in the country who scored hits with his soulful covers of classics like "Careless Whisper", "Right Here Waiting", and "I Will Take You Forever". "I'll admit — you really gotta work for it, but just seeing the smile on the Kumunizens' faces when you co-host a show or receive their gifts makes it all worth it. I actually got addicted to Kumu as I felt a certain human connection although it was virtual. I was able to show a side of me that I wasn't able to show on TV," he adds.
Despite the current situation, Pinoys can rely on KUMU to deliver unique and exciting content so that KUMU users will still feel a great sense of Kumunity online. Best of all, they app users can definitely just sit back, relax and get exclusive front seat passes to Pop, Drop, Unlock on KUMU while quarantined at home, and join more thrilling online contents and live online game shows for a chance to win prizes.
In a huge way, the app is also able to find innovative solutions to keep the entertainment sector alive given that it is one of the industries that is feeling the adverse impacts of the current situation. With KUMU, artists can continue to entertain their fans in the digital space as everyone tries to get accustomed to the new normal.
KUMU is a powerful social media platform that brings the voices of Filipinos from all over the globe at the forefront. Aside from presenting users real-time earning opportunities as a live streamer, chances to win cash in various game shows, and engagement in campaigns, KUMU also fosters communities that ignite relevant discussions among Filipinos.
Be part of the Kumunity now and download the app for free at Google Play or the App Store.