Who said that two-year-olds are a handful? Well, that may be right if we are talking about KUMU. That's because the app is definitely ready and willing to get your hands full of fun, excitement, and prizes for its upcoming 2nd-anniversary celebration!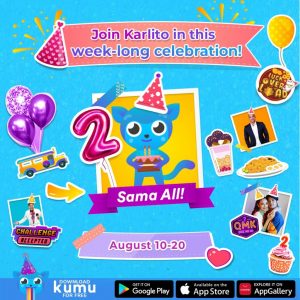 This year's celebration chants "Sama All!", where authentic connections happen. Kumu currently has over 5 million downloads from over 55 countries worldwide and is the Philippines' fastest-growing live stream app that's ready to celebrate the 2nd birthday of lovable Karlito (Kumu's official mascot), with a string of exclusive offerings, challenges, giveaways, raffle games and prizes for its loyal followers.
(ALSO READ: Listen to this podcast about Kumu, the latest popular live streaming app in the Philippines!)
As KUMU celebrates its 2nd year, more unique and fun in-app features are in the pipeline to improve the social media app's programming, products, e-commerce options, campaigns, content, and overall operations. If you haven't tried the app yet, you're definitely missing out on so many offerings that let you win prizes, enjoy great content, and most of all are part of a truly Pinoy online community.
So, keep your app's open and tune in on what's happening on KUMU's 2nd-anniversary celebration!
Original post on When in Manila August 12, 2020 —
https://www.wheninmanila.com/tune-in-on-this-livestream-app-and-get-a-chance-to-win-exciting-prizes/