Independent, but not alone. That is the hook and promise of kumusika, a new project spearheaded by kumu to help bolster the many independent musical artists in the Philippines. The call for applications and talents is now open at kumusika's official website, where aspiring artists can submit their songs and content to be part of the kumusika family. 
Launched under the new kumu Music department, kumusika is part of an overall effort to promote the Kumunity's many music-centric content and creators. Annette Osmeña, VP of kumu Music, explains that kumusika is established to support independent Filipino artists. kumusika primarily does this by distributing the artists' music to streaming platforms all over the world, pitching them to playlisters and industry partners. And of course, kumusika gives independent artists a virtual stage within kumu, cultivating their following and relationship with the Kumunity. 
View this post on Instagram

"If you've got a great song and a powerful message, we'll help you get it out to the world.", says Annette, who is herself an independent music artist. "A lot of independent artists have the talent, creativity and drive to make it in the music industry. But they don't necessarily have the understanding when it comes to music as a business." From distribution strategies, to knowing their rights as an artist, media partners and other technicalities, there's quite a lot that independent artists are not privy to, and kumusika wants to fill in that need. 
With kumusika, independent artists don't have to wait to be discovered; they can now take their careers into their own hands, with more control over their craft and career. It can start by just sending in a kumusika application, and one single. "In the music industry, no one really makes it on their own.", says Annette. "There is always a support group, a family standing behind the artist. We want to be part of that family." 
Support and connection is something kumusika continuously seeks to nurture in the musical Kumunity. Asides from opening its platform to independent artists, kumusika regularly hosts a kumusika show at @kumusocialtv, every Friday, 8PM PHT. Conversations are led by kumusika and musical insiders themselves, Annette, along with Fiona Comendador, Distribution Supervisor of kumusika and independent artist, plus the amazing musician and singer, Bing Austria. With guest appearances by local artists, the kumusika show itself is a raw glimpse into the niceties of the Philippine music industry, offering viewers authentic insight. Previous guests have included Benny Manaligod of "The Ridleys", and singer-songwriter Barbie Almalbis, allowing for them to share their personal stories while interacting with the viewing fans in kumu.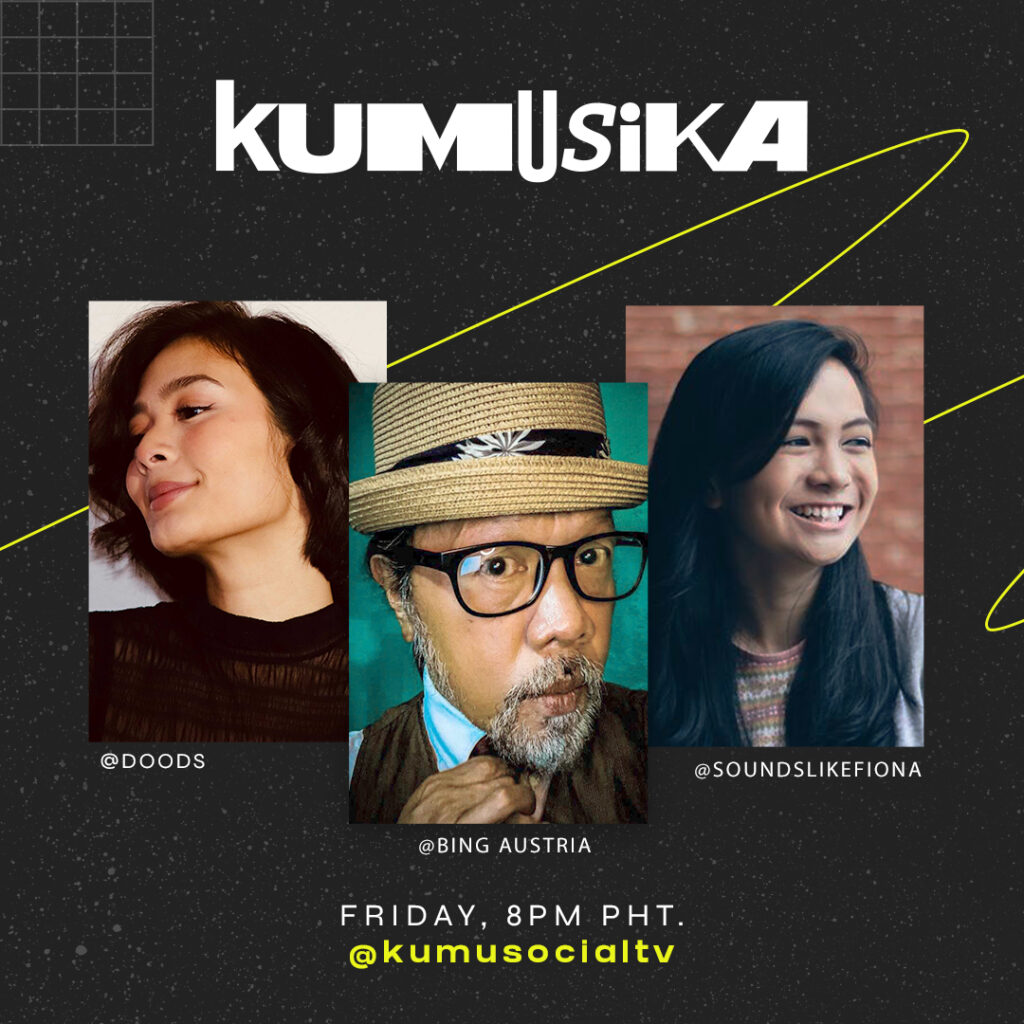 What does it take to be part of kumusika? Annette lists that certain quality standards are to be met, such as audio files being professionally mixed and mastered to match the needs of platforms. But in terms of talent, it's open to all who have the grit, discipline, and passion for music. "We're genre-agnostic and experience-level agnostic.", she assures. "We want to democratise the industry so it's accessible to everyone. Anyone can submit their music to kumusika, and get the resources, knowledge and assistance they need to pursue their dreams." 
The kumusika website is now live, and is open for applications. If you love Filipino music and independent artists, follow @kumusika on Instagram now to gain insight and updates. kumusika also has a regular stream show under @kumusocialtv, every Friday, 8PM PHT. 
More shows and surprises are coming your way. Be sure to follow @kumu.ph on Instagram, Facebook, and Twitter for all the latest livestream entertainment. You can also check out the kumu blog for all the latest happenings in the Kumunity. 
Don't have the kumu app yet? It's easy! Download the app at Google Play or the App Store, and start adding to cart! Visit our website kumu.ph for more information and insights into the exciting world of kumu.