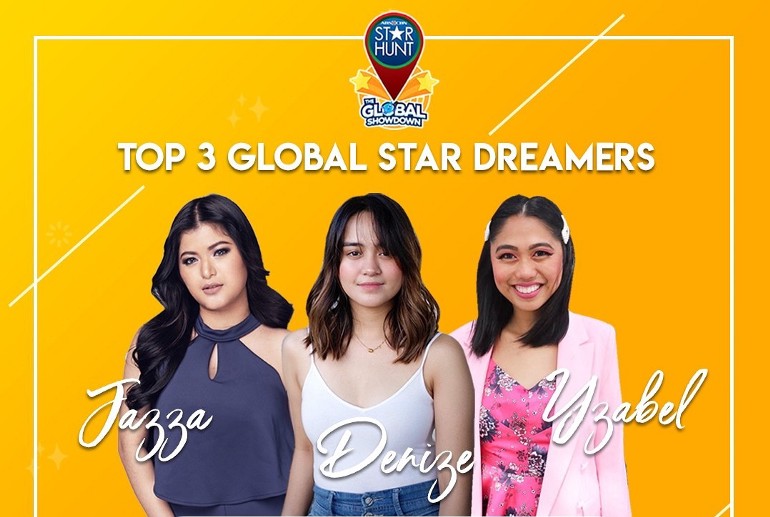 Three aspiring singing stars from the Philippines and the USA are gunning to become the grand winner of the first global singing search on Kumu.
After over a month of wooing fans all over the world with their voice and personality, three aspiring singing stars from the Philippines and the U.S.A. are gunning to become the grand winner of ABS-CBN and The Filipino Channel's "Star Hunt: The Global Showdown," the first global singing search on Kumu, the fastest growing social media app in the Philippines.
Denize Castillo and Jazza Torres of the Philippines and Yzabel Cabral of the U.S. are already gearing up to seal their victory in the grand finals that will be streamed live on the Star Hunt channel on Kumu on Wednesday (December 11), 7 PM (Manila time).
Becoming part of the search's top 3 finalists is a dream come true for Denize, a freelance events singer and performer whose last singing search stint was on "Idol Philippines." She reached the competition's top 20 — one of the "almosts" and "what if's" she has had to go through to pursue her passion.
"It's more different this time because I finally reached the grand finals. Just one more step and I can already realize my dream — or not. It can be a hit or another miss. I feel more pressure now because it feels like it's now or never for me. And now that I've reached this far, I've proven to myself that I can do it, and if it's for me, it's for me. If you want something, it will be given to you. But you have to believe in yourself."
The same goes for Jazza, a budding singer-actress from Imus, Cavite, who has used her sweet, angelic voice to audition for different ABS-CBN shows. While she has not broken into the mainsteam yet, she has already attracted a following because of her YouTube song covers.
"My dreams has always been to become a singer, and this is a great platform for me to share my music all over the world. I always say that I've already come to a point in my life where I knock on all the doors of opportunity available to me, because I believe that someday I will come across the one that is for me. I had never experienced reaching the finals, and now that I'm here, I will not waste this opportunity."
A first-of-its-kind singing search, "Star Hunt: The Global Showdown" is housed in a mobile app and requires the Global Star Dreamers to come up with different approaches for their livestream performances and how they engage with their fans online.
While Yzabel, a radio DJ and producer is based in San Francisco, California, she always makes sure that her interactions with fans are as authentic and intimate as possible.
"When I perform songs, I really want to make sure that everyone who watches it feels like they are part of the performance. I always make sure that it feels like I am singing for them in the same room, and I think would like for them to feel immersed in the performance, as if they are watching it live. From the singing to the songs I sing, to lighting, even to what I wear, I think about all the details because I want the audience to enjoy the whole experience."
Big prizes and opportunities await the winner as she will win a management contract with "Star Hunt," a recording contract with ABS-CBN Music, and $10,000.
In the grand finals, they have to perform their "winning songs" and rally for votes from family, friends, and fans. Jazza is all set to move fans with her "song for God," Yzabel with a very "emotional" song by one of her favorite artists, while Denize will dedicate her song and performance to the people who never stopped supporting and believing in her.
The Global Star Dreamer who will get the highest combined judges' scores (50%) and votes or virtual gifts (50%) will be hailed as the grand winner of the competition.
They come from different countries and use different styles of singing to highlight their voices, but they have one dream — to be a "Star Hunt" singing idol. Whose star will shine the brightest?
Watch the grand finals of "Star Hunt: The Global Showdown," on the Star Hunt channel on the Kumu app on Wednesday (December 11), 7PM Manila time. For updates, like facebook.com/starhuntabscbn and follow @starhuntabscbn on Twitter and Instagram.
Original post on ABS-CBN Corporate on December 9, 2019 — abs-cbn.com/newsroom/news-releases/2019/12/9/star-hunt-global-showdown-mayward-top-3?lang=en