This month, the country's fastest-growing social media platform, kumu, launches yet another e-commerce exclusive in the 10.10 campaign featuring exciting weekly offerings and month-long free-shipping deals via code: OCTOBERLOAD for minimum purchases of Php500.
For this first week, the platform presents its 10.10 Tentastic Deals until October 10 with three featured brands of various categories per day plus live selling segments from 5pm to 7pm on Karlito's Korner.
At 6pm daily during the run, huge discounts from top brands await users along with a FLASH SALE of assorted items at 9pm. Buy One, Take One offers and the announcement of special voucher codes are also up for grabs from October 9 and 10.
Week two is all about fashion from October 11 to 17 wherein users can score great deals from featured brands in kumu's FASHION WEEK SALE, including the two-part PAYOUT SALE during the pay days of October 14 to 16, and again on October 29 to 31.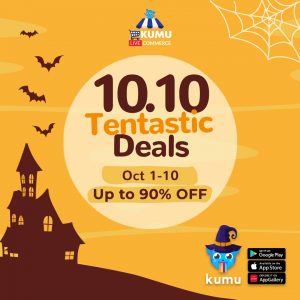 The following week, users can haul more exclusive merchandise with the HIS & HERS COLLECTION featuring great deals for men from October 18 to 20, for everyone on October 21, and for the ladies from October 22 to 24.
The weekly offerings then culminates with a TRICK OR TREAT celebration on Karlito's Korner from October 25 to 31 wherein users can get special treats including Php50 off and free shipping on specific 'one stock only' items (with tags at a minimum of Php1000), via special voucher codes that come with each purchase on kumu (except for COD).
kumu game enthusiasts can also score big discounts on the kumu Shop via the month-long GAME SHOW VOUCHER CODE GIVEAWAY. Stay tuned for special one-use only voucher codes during daily games to get Php50 off plus free shipping for minimum purchases of Php500, and catch Karlito's Korner daily from 6pm to 9pm for more enticing deals this October exclusively on kumu.
kumu is a powerful social media platform that brings the voices of Filipinos from all over the globe at the forefront. Aside from presenting users real-time earning opportunities as a live streamer, chances to win cash in various game shows, and engagement in campaigns, kumu also fosters communities that ignite relevant discussions among Filipinos.
Be part of the kumunity now and download the app for free at Google Play or the App Store.
Original post on When in Manila October 2, 2020 — https://www.wheninmanila.com/score-some-of-the-best-10-10-deals-all-october-long-with-this-live-streaming-app/