Before the weekday ends, some Kumunizens will be walking away with a lot of money! kumu's iconic gameshow Quiz Mo Ko (QMK) is about to play another 1 million peso prize pool, scheduled for this Friday, September 24, 2021, 9 PM PHT. You can feel the hype within the Kumunity, as weeks of clues, livestream discussions and celebrity promotions have been amping attention to this exciting drop. 
This is the first QMK 1 million drop under the new host, Filipino-Canadian dancer, singer and actress, AC Bonifacio (@acbonifacio), who officially took on the position last August. Like a whirlwind start, QMK with AC Bonifacio has had a hectic, yet exciting run, totalling around 2 million pesos worth of prizes within the month.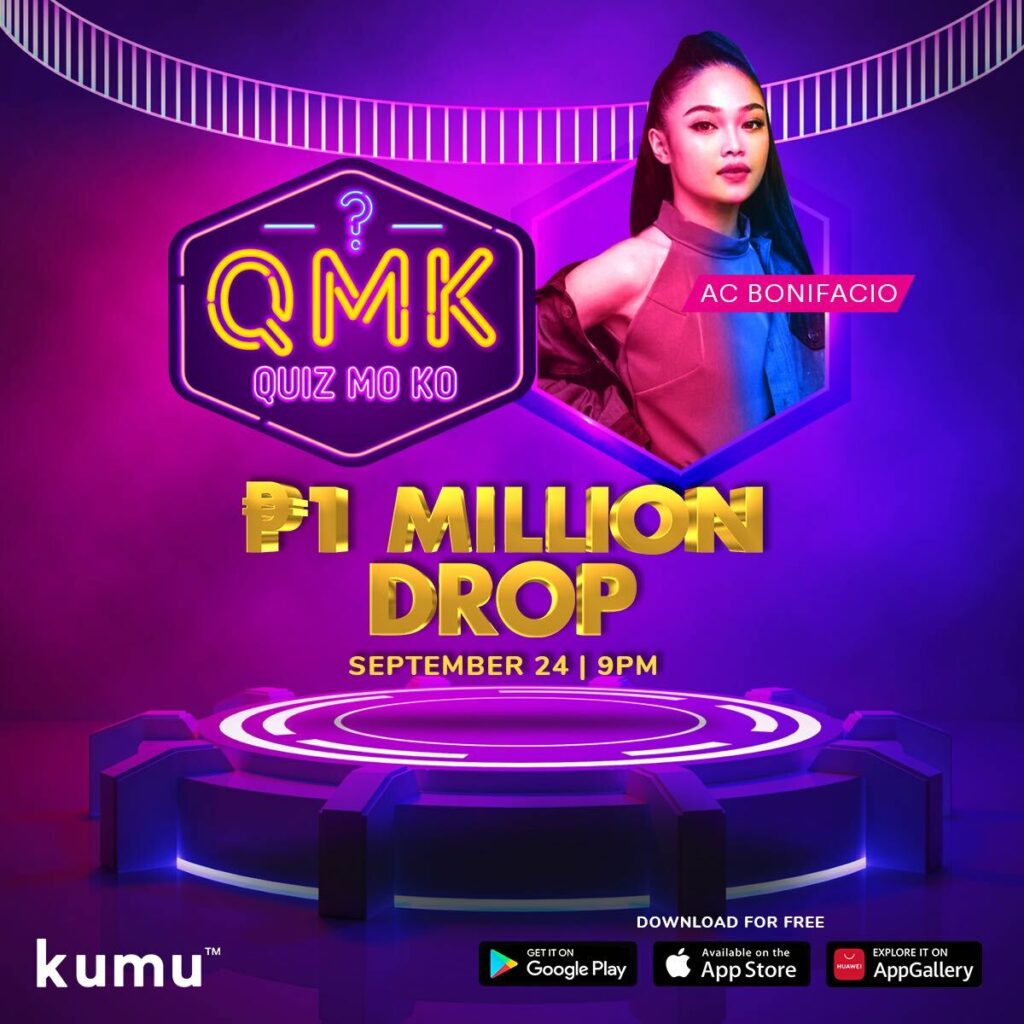 "When the role [of QMK host] came to me, my first thought was, 'Ako talaga? Sure ba sila?'" laughed AC, as she recalls the moment she was offered the amazing gig. Any doubts she had were quickly replaced with excitement, as the details finally fell into place. This was, after all, a very new experience for her. "I was so excited! Kasi first time ko mag-host ng show talaga na ako lang, na quiz show. I was just so excited and nervous at the same time. I get nervous every single time I go to taping. But I'm learning, it's definitely a learning experience." 
Fun fact: Although she spent a lot of her childhood in Canada, AC loved gameshows, too, and even played along. "I love gameshows!", she said. "I would always join the ones that were on TV back when I was in Canada, may mga kids gameshows kami sa channel namin duon. I would always join it."
View this post on Instagram
AC has only been in kumu for a while, and already she's proving to be a Kumunity trendsetter. Apart from hosting the weekly QMK gameshow, she's also the host of the new "On Z-Stage with AC Bonifacio", a livestream show dedicated to Gen-Z pop-culture and trends, every Saturdays 7PM PHT. AC has also initiated the #KillerDanceChallenge trend in kumu, which has many Kumunizens showing-off their groove! 
So, are you ready for AC to pop that 1 Million Peso question? Tune in to QMK with AC Bonifacio this Friday, September 24, 2021, and play to win it! 
More shows and surprises are coming your way. Be sure to follow @kumu.ph on Instagram, Facebook, and Twitter for all the latest livestream entertainment. You can also check out the kumu blog for all the latest happenings in the Kumunity. 
Don't have the kumu app yet? It's easy! Download the app at Google Play or the App Store, and start adding to cart! Visit our website kumu.ph for more information and insights into the exciting world of kumu.