Largest celebration of Filipinos in the United States x Philippines' #1 social media app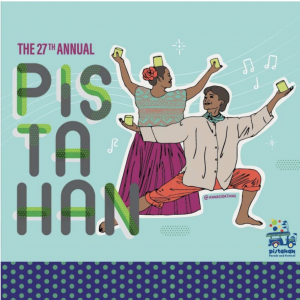 The Filipino American Arts Exposition (FAAE) reimagined its annual Pistahan SF Parade & Festival — the largest celebration of Filipinos in the United States — into its first-ever virtual festival and online cultural experience in collaboration with Kumu, the Filipino livestreaming super app that's taken off in the Philippines. San Francisco's 27th Annual Virtual Pistahan Parade & Festival in August had over 47,000 attendees joining in the celebration across the Pistahan.net website and three streaming platforms: Facebook, YouTube, and Kumu. Tuning into the Pistahan Festival were viewers from all over the world, including the United States, Canada, the Philippines, the Gulf region, Australia, and more.
"Over nearly three decades, the Pistahan Festival in San Francisco has blossomed into a thriving platform that showcases the diversity of the Filipino community in the United States," says Al Perez, president of FAAE and San Francisco's entertainment commissioner. "Amid the pandemic, we found innovative ways to carry on this long-running community tradition. Through our collaboration with Kumu, we've reached new heights in reimagining Pistahan SF into a celebration that connects Filipinos in the diaspora, creates a platform for all to discover Filipino culture and heritage, and brings wholesome entertainment and joy."
Pistahan SF this year teamed up with Kumu in the livestreaming platform's first-ever festival collaboration in the United States.
"We at Kumu are super proud to have worked with Pistahan SF for their first-ever digital event," says James Rumohr, chief of community at Kumu. "Our goal at Kumu is to connect Filipinos around the world, and to celebrate Pinoy culture. The Pistahan SF and Kumu partnership truly helped build a virtual bridge connecting our Kumu user 'Kumunity' to the Pistahan festival in California. Kumu was able to provide an inspiring message from our CEO, Roland Ros, to recent college graduates and hopeful entrepreneurs. Ten Kumu creators also had the opportunity to showcase their musical talents performing during the virtual after-party performances. Overall this is a great start to a wonderful partnership for many more Kumu and Pistahan SF events!"
 Watch video of Roland Ros here: https://youtu.be/NzRJRc8rRWQ
During Pistahan festivities, Kumu DJs and creators livestreamed throughout the weekend. Drawing thousands of attendees were the performances from Franzarcilla, BIGGIEtoTheX, MiguelMendoza, DJ Buddah, Jeriicha, krystle.music, princecrismat, Ron Saura, DJ Timisky and DJ Rocky Rock. In even more festivities, Pistahan SF launched its first-ever global talent search campaign through Kumu. As the fastest growing social media app in the Philippines, Kumu's Pistahan SF campaign sparked over 500 livestream entries from over 250 Kumu streamers across over 50 countries. All bursting with creative talents and potential, Kumu contestants earned over 2 million Philippine pesos (over $43,000 USD) as users from Kumu — which has 5 million Gen Z and millennial users — voted for their favorite contestants. Congratulations to the PISTAHAN FAB WINNERS of the Kumu x Pistahan SF campaign: Xian_Maynard, @_emdavid, Katt_, angellovey, and Rellecca — announced during the entertainment stage of Pistahan SF's international digital festival!
"Together, Pistahan SF and Kumu broke new ground in creating a virtual festival experience — coming up with creative and engaging ways to create new experiences for discovery, connection and positivity," says Connie Zheng, Pistahan SF festival organizer. "With nearly half of all viewers joining the Pistahan Festival livestream tuning in from Kumu, the collaboration extended the celebration of Filipino community, culture and cuisine to new communities across the globe."
With over 100 online talks, parade entries, demos and performances over the two-day festival, joining this year's Pistahan SF festivities included: Apl.de.ap (Black Eyed Peas); Broadway star siblings Adam and Arielle Jacobs; Bobby Rubio (director of "Float," Pixar's first animated short film featuring Filipino lead characters); Carlyle Nuera (lead designer for Barbie Signature at Mattel); Chef Cocoy Ventura and many other amazing chefs showcasing cooking demos curated by the Filipino Food Movement; Jenifer K Wofford on "Pattern Recognition" from the collection of the Asian Art Museum; Jericho Malabonga (Survivor Australia) in conversation with Search to Involve Pilipino Americans (SIPA) on mental health awareness; Patricio Ginelsa (director of Lumpia 2) with an exclusive for Pistahan SF; and many more!
"All of the hard work and many long hours of preparations were worth it, to see how the festival was embraced by people from all corners of the world," adds Perez. "And for one beautiful weekend, we were all united in pride for our culture, reassured in our resilience as a community, and our spirits were lifted with hopes for better days ahead."
Follow Pistahan SF on Kumu @pistahansf
KUMU is a powerful social media platform that brings the voices of Filipinos from all over the globe at the forefront. Aside from presenting users real-time earning opportunities as a live streamer, chances to win cash in various game shows, and engagement in campaigns, KUMU also fosters communities that ignite relevant discussions among Filipinos.
Be part of the Kumunity now and download the app for free at Google Play or the App Store.