What better way to while away time when you're at home than immersing yourself on your favorite social media apps, right?! Most platforms will allow you to do the usual friend-checks, posts and chats, but one app is absolutely making waves by how it lets you do all that and more.
Pinoy-centric app KUMU fosters Kumunities while engaging users via interactive game shows for prizes, livestreaming, and simply being part of a family with like-minded souls. As the app continues to grow in number with its unique campaigns and exciting content that certainly offer more than your average social media app, Kumunizens from all over the world can look forward to more improved game shows, and meet new personalities. Of course, there are also more chances of winning this July!
Here's what's currently new and online which you can all find exclusively on KUMU.
QUIZ MO 'KO (Revamp)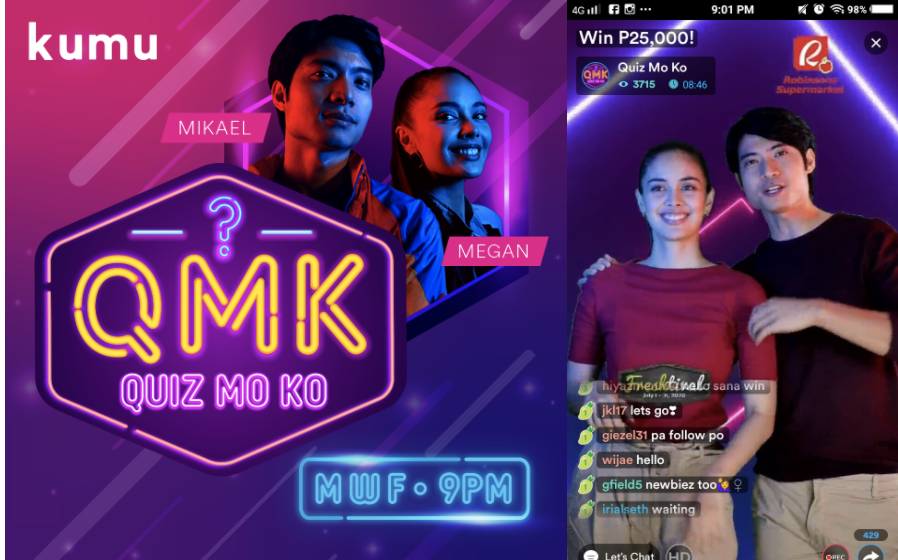 Quiz Mo 'Ko has long been one of the most in-demand game shows on KUMU among users and it's about time to step up the excitement up a notch with a revamp!
Most know this flagship show as an interactive mobile trivia game show wherein users can win up to Php100,000 by correctly answering all 10 strategically stacked multiple choice questions per episode. These questions may comprise general questions, pop culture references, and basic science that starts off easy and gradually becomes more difficult later in the round.
Aside from the Monday and Wednesday jackpots of Php10,000, contestants can also get the chance to win bigger cash every Friday as the pot rises towards its monthly road from Php25,000 all the way to Php100,000!
However, unlike other mobile quiz apps that can drain your interest quickly due to the lack of human interaction, Quiz Mo 'Ko is hosted by celebrity power couple Mikael Diaz and Megan Young who both engage the audience to think hard about their answers by giving bits of helpful info per question. It's practically a fun mobile 'learn and earn', plus it allows real-time chats with the hosts, and gives you a chance to win some big anda!
So what's new in Quiz Mo 'Ko?
Since June 15, the show introduced a Killer Question round (ushered in by that catchy Killer Dance), which separates the brainiest from the rest with more difficult questions thrown and more players getting knocked out. So if you think you have what it takes to take on Quiz Mo 'Ko, then tune in on KUMU every Monday, Wednesday and Friday at 9PM.
*KUMUkutikutitap tip — stack up on your extra lives by sharing KUMU on your other social media accounts to get more chances on the Killer Round 😉
MAY TAMA KA! (Revamp)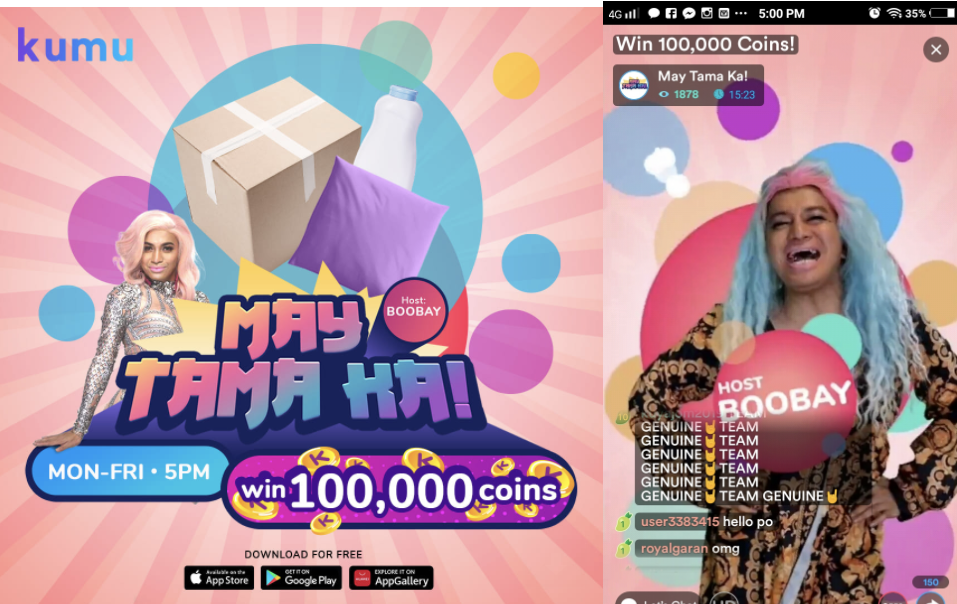 Another trivia-oriented game show on KUMU is May Tama Ka! wherein users will have to answer five Tama o Mali questions correctly to win thousands of KUMU coins. This year, May Tama Ka! gets an awesome addition in the funny Kapuso comedienne Boobay as the new face of the game show.
Contestants are in for an LOL fit each episode as Boobay is ready to present her signature antics and gimmicks combined with her versatility as host. Of course, Boobay can't get around all that well without her ever-loyal and equally funny alalay Ninay (Karenina Haniel). Together, the two promise nonstop okrayan and hysterical batuhan in between some no-nonsense Q&A.
Catch the revamped May Tama Ka! from Mondays to Fridays at 5PM to win 100,000 virtual coins by simply answering six questions (three trivia and three guessing game items), correctly!
*KUMUkutikutitap tip — coins won are automatically deposited on your KUMU wallet!
LUCK OVER LOAD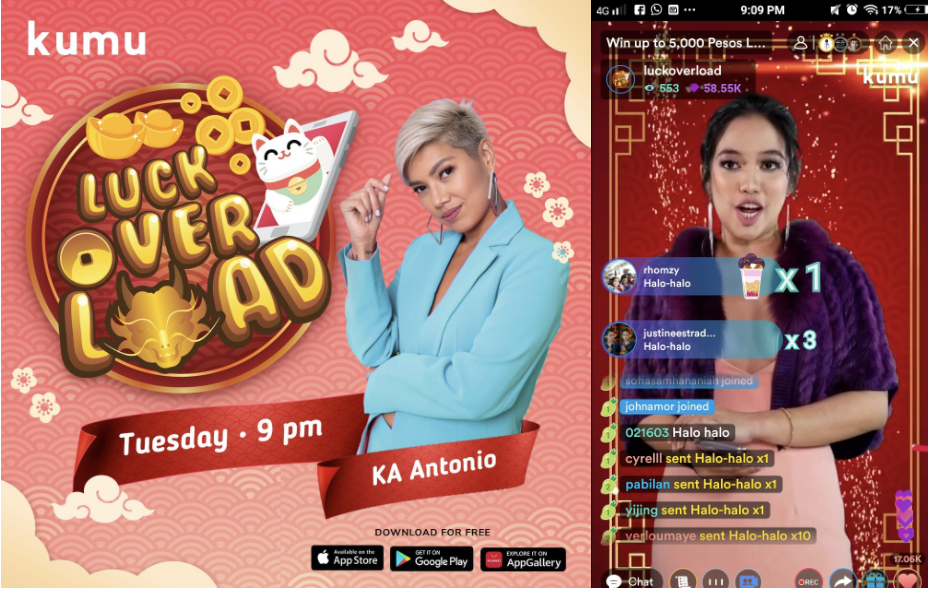 Running out of mobile load and worried you can't join more KUMU fun? Well, before you totally reach the pit of your load balance, try joining the latest original primetime program on KUMU Luck Over Load first!
The game show is made up of multiple rounds per episode wherein hosts KA Antonio and Karenina Haniel, signals contestants to drop their entries (via virtual coins) to join the round. When a lucky emoji line appears in the comments section, players who are above the said line and are able to give the correct virtual gift entries will win instant load!
Up to 12 players stand the chance of winning as much as Php5,000 worth of mobile load for more KUMU livestreaming entertainment! Winning multiple rounds is also allowed and players don't have to worry about missing out on their chances of winning as they are free to join any round within the given timeslot.
Check out this fun, easy, and interactive digital roulette every Tuesday at 9PM on KUMU.
*KUMUkutikutitap tip — it's not all luck. The game also requires a bit of strategy if you can figure it out 😉
CHALLENGE ACCEPTED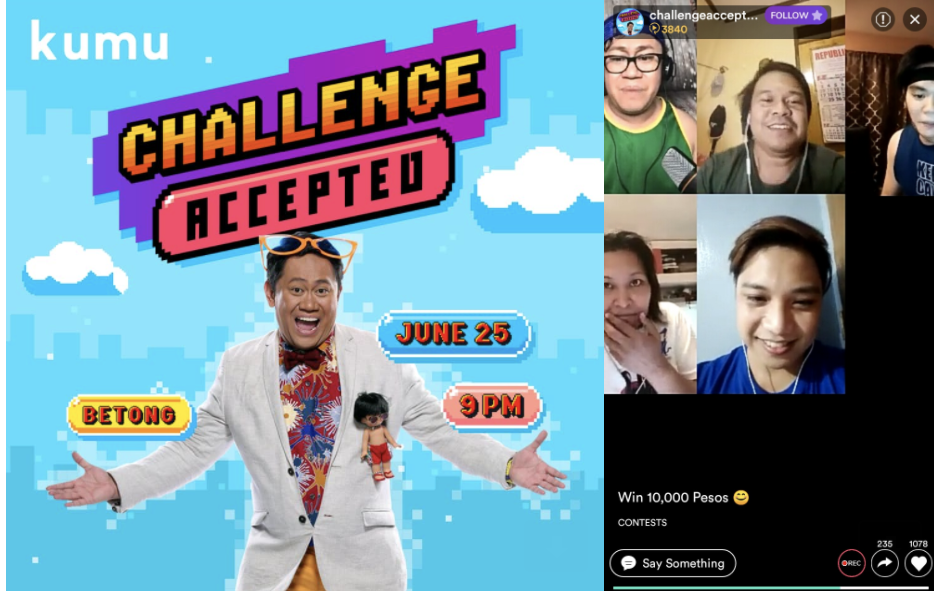 Another welcome addition in KUMU's roster of interactive game shows is the super-exciting Challenge Accepted hosted by none other than Kapuso funny man Betong (Amazing)!
The main gist of the show is how much guts you really have to go live. Challenge Accepted is also a fun way where Kumunizens from all over the world can showcase their knowledge, skills, and online persona via the app while competing against one another for a chance to win Php10,000. The best thing about it is that anyone can join!
Be it spelling quizzes, dance craze challenges, or popularity games, players who are ready to take on the dares must try to win audience votes. Betong will be sharing the "stage" with gutsy contestants who are at home by way of in-app visual effects once they accept the crazy livestream challenges.
Aside from being able to meet more KUMU users and get on the virtual stage, the game show also helps new streamers to check if they really have what it takes to become featured livestreamers on KUMU!
Catch Challenge Accepted on the app every Thursday at 9PM.
*KUMUkutikutitap tip — make sure you have a stable internet connection to avoid having robot voice and pixelated livestreams as you perform the challenges 😀
Stay tuned for more updates and exciting shows from the country's fastest-growing social media app KUMU!
KUMU is a powerful social media platform that brings the voices of Filipinos from all over the globe at the forefront. Aside from presenting users real-time earning opportunities as a live streamer, chances to win cash in various game shows, and engagement in campaigns, KUMU also fosters communities that ignite relevant discussions among Filipinos.
Be part of the Kumunity now and download the app for free at Google Play or the App Store.