KUMU is truly no stranger to pushing the envelope — especially when it comes to showcasing Filipino talents. With hundreds of streamers going live every day to showcase their dancing, singing, and acting prowess, it was only a matter of time before they came together to create something spectacular.
This month, KUMU and Firestarters Studios are set to release the first interactive liveseries entitled "Kumusta Bro?" The boy's love (BL) drama will be featured on KUMU weekly, before being released in its entirety on the Firestarters Studios YouTube channel.
Set to join the cast are Sky Quizon, Kristof Garcia, Allen Cecilio and RJ Agustin. Four powerhouse talents with distinct artistic flair. Sky and Kristof will be taking the lead in the BL feature, which has many fanboys and fangirls ecstatic.
Sky has gained popularity for his charming chinito looks and his impressive intelligence. The University of the Philippines Diliman alumnus made waves on social media after his graduation picture went viral. Many people took notice of the fact that he graduated as summa cum laude from this prestigious institution. Now, however, Sky is eager to branch out into the acting and hosting industry. Having been a part of Pinoy Big Brother, Sky was suddenly thrust into the limelight, but was quick to build a following. And while he still may be new to the scene, he is ready to prove that he is a star in front of the camera.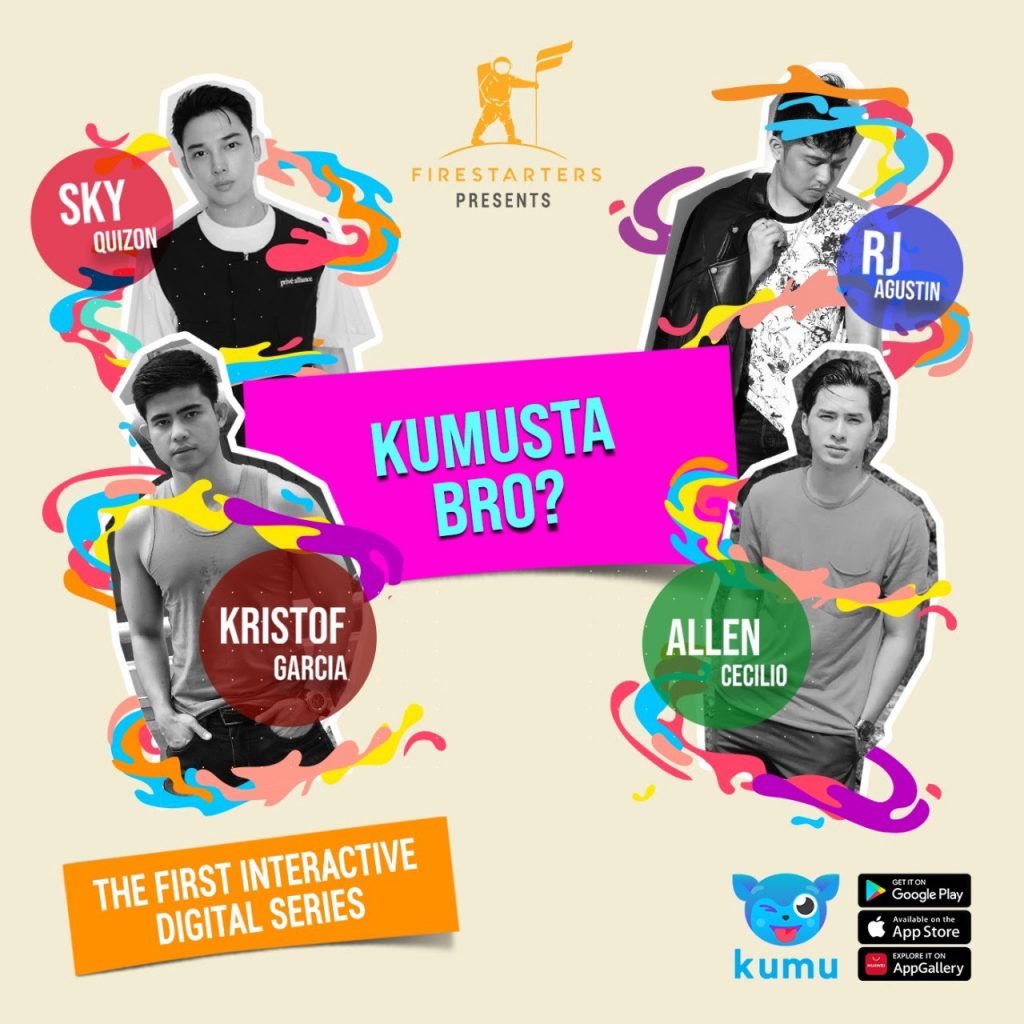 You may already be familiar with Bidaman Kristof Garcia. The actor has featured in the television drama, Tadhana (2017), and also played a role in the independent film Mercury is Mine (2016). And though he may seem soft-spoken in front of an audience, do not let his shy demeanor fool you. The moment he transforms into his character, viewers are immediately captivated. With these acting credentials already under his belt, the Kumunity will have a lot to watch out for.
The next star to join KUMU is Allen Cecilio. The charismatic model and all-around performer shot to fame after his impressive stint on the reality singing competition, Pinoy Boyband Superstar. While he only managed to land himself into the Top 10, Allen continued to pursue his solo music career. Now he has a self-titled album out on Spotify and iTunes, ready for everyone to enjoy. The multi-faceted singer RJ Agustin rounds up the cast of this feature. RJ, who is a regular performer on KUMU, never ceases to amaze the audience every time he takes the microphone.
If you are as excited as we are about what is in store, make sure to tune in to the live media conference on July 10, 2020 at 6:00pm to be hosted in the KUMU app at this link https://app.kumu.ph/KumustaBro.
Original post on When In Manila July 7, 2020 —
https://www.wheninmanila.com/meet-the-star-studded-cast-of-live-series-kumusta-bro/?fbclid=IwAR3ekyRFo_i6wwlMegVpJRWZ3-DJlEA2weZgAuF55wUZQ1oAIj48LGAHhvU