On July 2, 2021, an exciting announcement was made from the teams at kumu and Star Cinema, two of the biggest content providers of the Philippines. A kumu movie is expected to be in the works this year, directed by Cathy Garcia-Molina, blockbuster director and founder of nicklentertainment. More details are to be revealed in the coming days, but it is already anticipated to be a historical first in Philippine cinema, as kumu streamers will be part of the movie's creation. 
The official announcement was livestreamed on kumu, via the FYE Channel (@fyechannel), and in attendance were host MJ Felipe, Olivia M. Lamasan, Managing Director of AFPI; Paolo Pineda, kumu's SVP of Business Development; and movie director Cathy Garcia-Molina herself. According to the partners' discussion during the launch, the kumu movie is a hotly anticipated story about the power of social media in bringing together new friends, love teams and families at a time of isolation. It is a story for the Filipino youth today, and their unique experiences in this digital-driven world. 
The official announcement on @fyechannel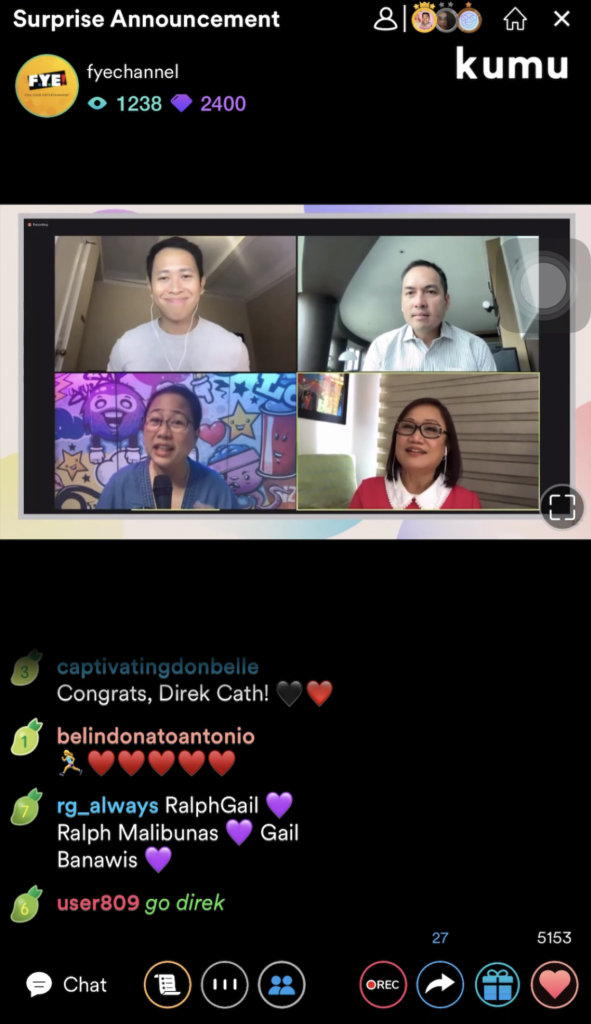 But also, it is a story about the Kumunity, and we're sure to have some surprising, interactive opportunities within the app. "This will be a first in Philippine movie history.", says Paolo, hinting at potential surprises in kumu. According to Paolo, viewers and Kumunizens can be part of the movie, alongside the main cast, and other exciting collaborations. He continues, "As we all know, kumu is always focused on its Kumunity. So we found ways to make them part of it." 
The specific plans and details for how interested Kumunizens can be part of the movie will be revealed in the coming weeks. Paolo himself recommends keeping a close watch on kumu announcements, both within the app and other social channels. But of course, what makes this movie all the more exciting is the confirmed lead of Cathy Garcia Molina, or "Direk Cathy", who directed some of the highest-grossing Filipino movies of all time, including "Hello, Love, Goodbye", "The Hows of Us", "One More Chance", 'Four Sisters and a Wedding", and so much more. 
Direk Cathy expresses her excitement as well, to be part in "one of the biggest movies of the year". Although she has already solidified her career in Philippine cinema, Direk Cathy is now also a very active and popular kumu streamer, going live almost everyday with exclusive showbiz content in her account @direkcathy. "I am parts of both worlds now!", she says. Rest assured, the movie will have titillating story lines of love, family and authentic Kumunity experience. 
Are you excited as we are for the kumu movie? Be sure to subscribe to all our social media channels for all the latest updates. Follow @kumu.ph on Instagram, Facebook, and Twitter now. You can also check out the kumu blog for all the latest happenings in the Kumunity. 
Don't have the kumu app yet? It's easy! Download the app at Google Play or the App Store, and start adding to cart! Visit our website kumu.ph for more information and insights into the exciting world of kumu.