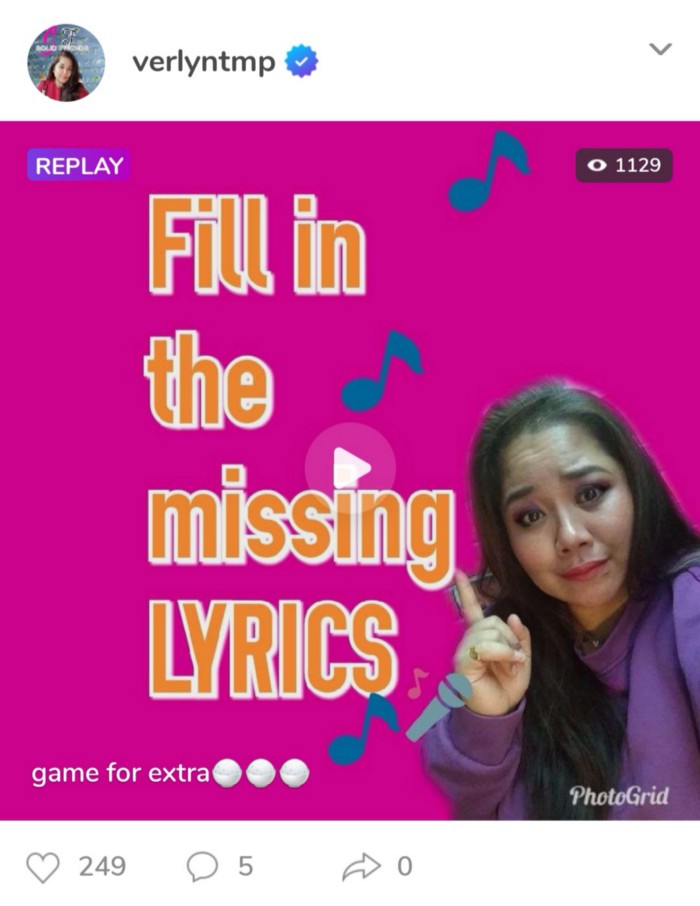 It's an age-old story: A mother travels to a foreign country in the hopes of making a better life for her family in the Philippines. Unfortunately, her foreign employers don't treat her well, and she finds herself sinking slowly into depression as she battles homesickness and longing for her loved ones. This is what Verlyn (@verlyntmp) was feeling working as a domestic helper for the past three years in Saudi Arabia.
To fight her loneliness, Verlyn decided to start a vlog on youtube.
"Nag decide ako mag vlog kasi naiisip ko na mababawasan ang depression ko kung. may makakausap ako lagi pero di naman one hundred percent ang. dulot sa 'kin mas nadepress pa ako," she said. (I decided to vlog because I thought this would lessen my depression, but it didn't work. In fact, it made my depression worse.)
While working on her vlogs on youtube, she met fellow vlogger Justify. Justify told her about Kumu and taught her how to use livestreaming app. Knowing that Verlyn enjoyed doing livestreams as a way to meet friends, Justify thought that Kumu would be the perfect venue for Verlyn.
Much to Verlyn's surprise and delight, she already began gaining regular viewers and followers after just one week. And so launched her career as one of Kumu's top content creators.
When thinking of the theme for her livestream, Verlyn decided to make it a variety show, so she could attract different types of viewers. She single-handedly comes up with all the ideas for her show.
"Ako lang lahat ang nakakisip ng. pakulo sa room ko. Kinikonsulta ko na lang sa mga friends ko kung ok lang ba ang naiisip ko," Verlyn explained. (I think of all the gimmicks in my room. I just consult my friends if my ideas are ok.)
One of her most popular games is Mr. and Ms. Kumu, where anyone can be a winner. All contestants need is a bit of talent and a lot of confidence. The contestants are scored based on their wardrobe, confidence and their response to the Question and Answer segment. This score is then combined with viewers vote and the highest scorer is named Mr. and Ms. Kumu. One of her newer games is "Itumba Mo Yan" (Tip It) where viewers will guess which paper cup has coins. Her game "Battle of Your Voices" is already on its third season. Anyone can join as long as they are 18 years old and above. The criteria for winning the battle is 50% voice and 50% vote. Another one of her music-themed games is "Fill in the Missing Lyrics", which challenges viewers to guess the missing words from songs both new and old.
Verlyn wanted to give as many people a chance to join and win her games, that's why she implemented seasons, "Kaya ko lang naisipan na may season para may batch. One whole month lang na contest, then next batch na uli." (I thought of doing seasons so that there are different batches. Each season or contest lasts one month, then we move on to the next batch of contestants.)
Ever since she joined Kumu, Verlyn has found not only a venue for her creativity, but also a respite from her loneliness. With Kumu, she has found a whole new world of friends, almost 7,000 of them, who fill the void of being away from her loved ones. And, during her live streams, she can count on up to 1,200 of these new friends to keep her company.
Thanks to these friends, Verlyn has also been able to earn a little extra income. "Di kasi pareho ang cash out ko sa Kumu. Pero last cash out ko was P10,000 plus, last week cash out ko is P7,000." (My cash out amounts are not always the same. For my last cash out, I received more than P10,000, last week I got P7,000).
But for Verlyn, her live streams is more than just about the money. It really is about finding company during her lonely nights in Saudi Arabia. "Actually Kumu is my healer. Di na ako dinadalaw ng depression ko kasi I always have. somebody. to talk to," she confided. (Kumu is my healer. Now I don't get depressed because I always have someone to talk to).
Verlyn also had plenty of advice for other aspiring content creators on Kumu.
"Enjoy, have some fun, make friends, and be consistent," she said, adding, "Bonus na lang ang magka-earnings ka." (Earning money is just a bonus.)