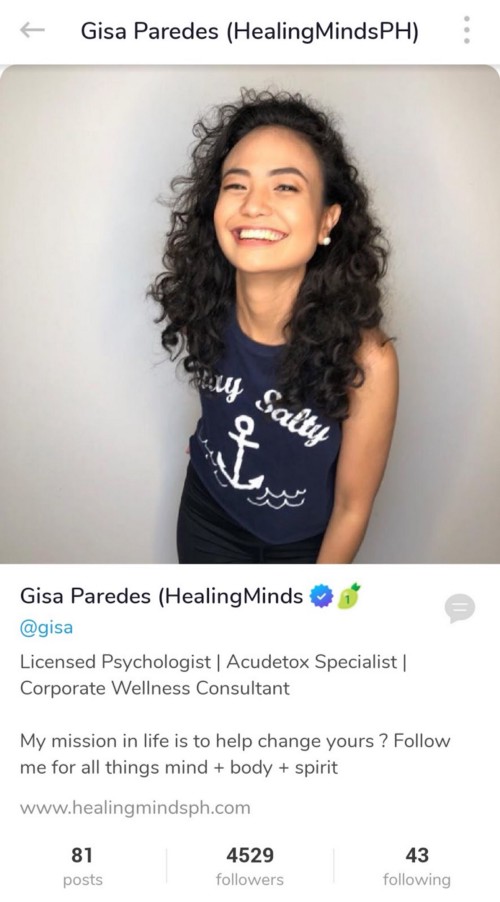 When one comes across a livestreaming app, they would probably think of it as a platform for entertainment such as music, skits, games, make-up tutorials, and the like. That is, until Gisa Paredes brought a serious—and admittedly very necessary—conversation to the livestreaming app and content platform Kumu.
Gisa, a licensed psychologist and corporate wellness consultant, is a passionate advocate for mental health. On a casual day, over at lunch with her cousin Victoria Herrera, she was introduced to Kumu. Thus was the start of her journey into bringing mental health conversations to a wider audience within the community.
How apt is it that Gisa would find an avenue to talk with people about mental health from an app whose name was derived from the word "kumusta"? Kumusta, as a traditional Filipino greeting, can mean a wide range of things, from a simple "hello" to a more empathetic "how are you?". Gisa, in a somehow adorable coincidence, is asking her audience kumusta about their mental wellness in an app called Kumu.
"My advocacy is really about building a more mentally resilient Philippines. My vision for health has always been to bring the solutions to the people, instead of sitting in a clinic waiting for people to come to me," said Gisa. True enough, she made use of a freely accessible app to reach out to Filipinos who would have otherwise remained silent about mental health issues. For her, Kumu "serves as a platform for psychoeducation." This is because the app enables her to interact with her audience. She also regularly gets inquiries from them, mostly asking for help and advice, which she then uses as inspiration for future livestreaming sessions.
Gisa admits that healthcare in the Philippines faces a lot of challenges. "We have things like the 'white coat' syndrome – a fear of having to go in and see a health professional – and it is this that can hinder healthcare from achieving its mission," she says. This awareness led her to her choice of livestreaming a rather subdued topic in the Philippines. She believes that bringing the talk to the masses would make it easier for them to open up and speak.
"Kumu is one way of removing that stigma of health professionals, and letting the audience see that we fumble too… and from time to time, we will not have all the answers. It's really about giving the power back to the individual. I believe that healing is something we forget we have the power to do for ourselves," she says.
When asked about her audience' reception to her livestreams, she noted that she got the attention of actress Jodi Sta. Maria just after her first two videos on Kumu. Jodi came to her asking about one of her services, the Acudetox, which is a method of acupuncture targeted to the ear that helps control cravings and detoxify the body. Now, the TV actress is an Acudetox specialist herself, and had been sharing her practice with several communities. "It is awesome seeing the work that she is doing with this skill. Imagine, all this from 2 livestreams," Gisa proudly said of the work she inspired from her livestreams. Her videos had also encouraged a lot of the people in the community to speak up, which a big step forward to breaking the stigma of mental health in the country.
"The world needs you," Gisa tells her fellow content creators. "If you are a professional, and you have had serious training for the service that you provide – then you owe it to the world to share that knowledge. …You were meant to move the energy around you. So own your power. The people who are meant to listen will listen. Keep sharing."