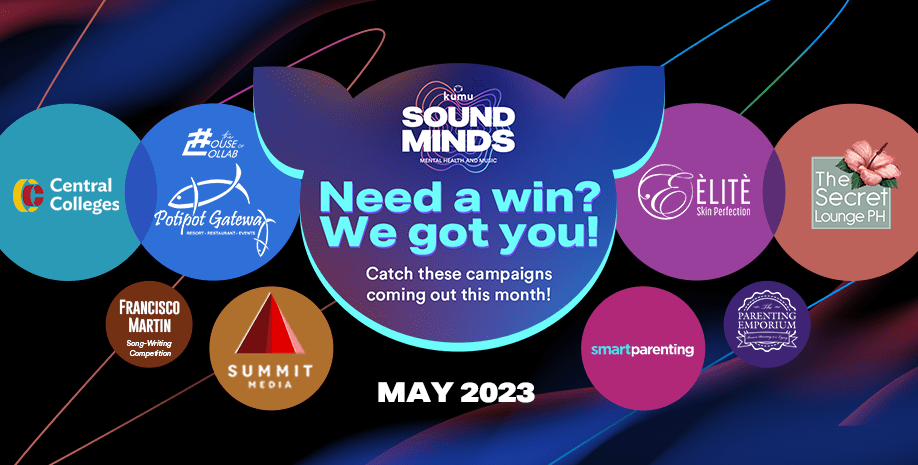 #KumuSoundMinds is in full swing this May! This month we're bringing you "Sound Minds: Exploring Mental Health Through Music", Kumu's month-long special to inspire fun, song, and conversation around mental health.
This May, Kumu is also bringing you a set of branded Kumunity Buzz Campaigns that will leave you feeling pampered, rejuvenated, and inspired. Imagine indulging in a much-deserved pamper session, relaxing on a weekend getaway, or tapping into your creativity with a songwriting session and mentorship experience from an American Idol finalist! And for those seeking another shot at fame, we've got more incredible billboard campaigns in store just for you.
Take a look at the amazing prizes up for grabs this month:
So what are you waiting for? Come and join the fun, song, and conversation around mental health with Sound Minds and our exciting lineup of Kumunity Buzz Campaigns! It's time to recharge, reconnect, and rediscover the power of music and community. Follow @campaignsofficial on Kumu for more details and updates! 
What is a Kumu campaign?
Campaigns are contests held within the Kumu app for all users; different prizes are up for grabs every time. The rules of a campaign are simple: Pick your desired campaign to join, then go live and stream on Kumu to earn as many virtual gifts for that particular campaign as possible. At the end of the campaign period, the streamers with the highest diamond count from the campaign's virtual gifts win the top prizes. 
Kumunity Buzz Campaigns with brand partners get their own branded Virtual Gifts and in-app assets like custom banners, stickers, and skin designs to be used during the campaign period for brand presence and engagement with our Kumunity. These campaigns are promoted both in-app and across our social media channels, newsletters, articles, and even on the Campaign Kayo Dyan Show hosted on the @campaignsofficial channel on Kumu. 
Want to partner with us? Contact marketingpartnerships@kumu.ph to learn more about how your brand can do a Kumunity Buzz campaign takeover! 
Campaigns are not only your chance at winning once-in-a-lifetime experiences and unbelievable rewards, but also a great avenue for making new connections around the world. New to Kumu? They're still excited to have you! Download the app now through the App Store or Google Play, and click on the Campaigns tab, or click here to learn more about campaigns, how to join them, and how to earn the coveted diamonds. Great things await you!
---
Follow @kumuph on Instagram, Facebook, and Twitter to keep up to date with all the latest events, and surprises from your favorite Pinoy livestreaming platform.