Live is in the air! #KumunizensChoiceAwards is happening once again! 💕
'Wag nang paligoy-ligoy pa, sinong pipiliin mo for #KumunizensChoiceAwards?
Panahon na para umamin! Sayang oras, bestie! Hanggang 28 lang ang February.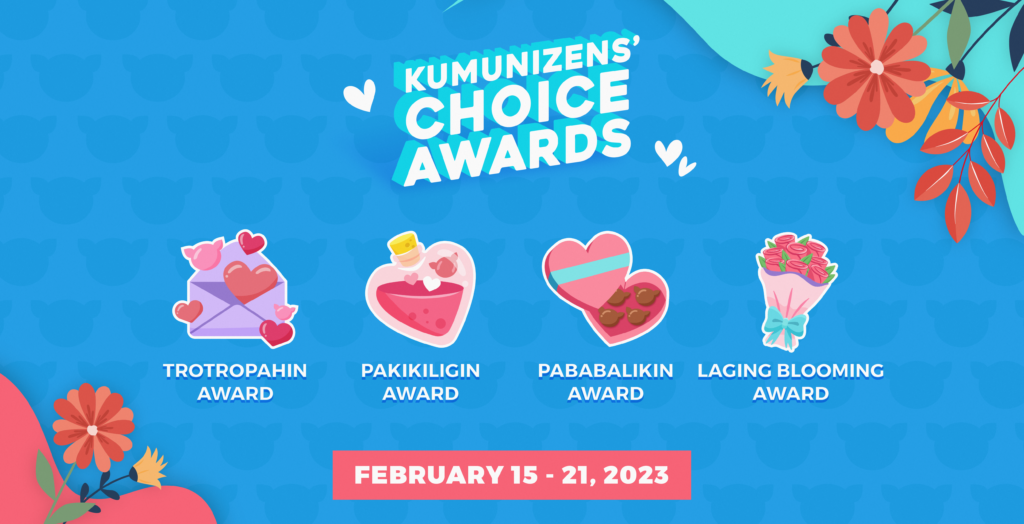 These limited edition offline VG's for the month of love are now available!
Drop offline gifts to your favorite Kumunizen for them to bag special awards 💐
For these three awards, users (all streamer accounts are eligible) with the most number of designated Virtual Gift per award wins! 
Winners of the PAPAKILIGIN, TOTROPAHIN & PABABALIKIN Awards win a Virtual Gift with their name on it, while their Top 10 Supporters gain a Fan Badge with the winner's name. 

*Note: This award is exclusive to Gold and Silver badgers only
For the LAGING BLOOMING Award, only silver and gold badger creators can join. The Kumunizen with the most number of the designated Virtual Gift wins their very own custom Virtual Gift (Face or Logo design – check out @prince's VG from the Be Your Own VG campaign last year), while their Top 10 Supporters gain a Fan Badge with the winner's name.
How do I vote? 🤔
Simply send an offline virtual gift to your chosen creator's profile para mapasama siya sa list! 🫶
1 👉 Go to your favorite Kumunizen's Profile on the Kumu app
2 👉 Tap "Send Gift" on their profile
3 👉 Select the virtual gift you wish to send

(READ: Send Virtual Gifts to Your Favorite Kumu Creators, Anytime!💌 for a step-by-step guide on the new feature) 
You can also read more about Kumunizens' Choice Awards on our Zendesk page here
Follow @kumuph on Instagram, Facebook, and Twitter to keep up to date with our leaderboard!