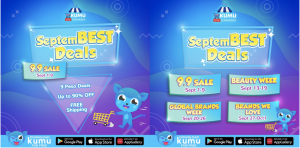 Everyone just can't get enough of fast-rising Pinoy SocMed platform KUMU and its awesome e-commerce offers on Karlito's Korner (KK). With plenty of featured brands giving out enticing discounts and perks, app users can score big daily each time the live e-commerce show goes on air. This September, KK goes live twice daily at 6PM to feature more brands and later on at 9PM for the best primetime FLASH e-deals that definitely welcome the 'ber' months with terrific thrills!
KUMU's SeptemBEST Deals offers unbelievable deals, almost free grabs on selected items, plus free shipping! Each week, KK will be showcasing a torrent of offers for all smart buyers out there tuning in on its daily time slots.
For week number one, KUMU kicks off its 9.9 SALE from September 1 to 12 with big discounts of up to 90% on selected items! Then there's also the highly-anticipated 9 PESO Deals for a laptop and a mobile phone on September 9! Users may use the code SEPTEMBEST199 on September 8 and 9, for a two-time P199 discount on items plus free shipping with every minimum spend of P999.
Week two follows with a variety of beauty offers in KK's BEAUTY WEEK from September 13 to 19. Beauty-conscious kumunizens can score great deals during the week-long shopfest featuring leading brands and products that'll keep you looking and feeling good! And since it's 'sweldo' week, get the chance to get more bang for your buck with KUMU's PAYOUT SALE from September 14 to 16.
From September 20 to 26, KK will be featuring the best GLOBAL BRANDS in today's market for less followed by the BRANDS WE LOVE showcase from September 27 to October 1. To end the shopping fest with a bigger bang, another PAYOUT SALE will go live on KK from September 29 to October 1 to give more users a chance to enjoy the fruits of their labor.

Featured brands with jaw-dropping discounts during the month-long KK deals include ASUS laptops and mobile phones, Huawei gadgets, Mcdodo accessories, NOIX apparel, Lip Diva beauty products, Peculiar eyewear, Silver Kingdom jewelry, TGN TIGERNU bags, and more. There's absolutely no need to look anywhere else when it comes to the best deals this month as all of these exciting offers are exclusive on KUMU.

Start your Christmas shopping early and get ready to haul plenty of great grabs from KUMU's 9.9 Sale and SeptemBEST Deals on KK, going live daily at 6PM and 9PM.  Use code SEPTEMBERIGOOD to enjoy free unli-shipping with every P500 minimum spend for the entire month!
If you haven't joined the KUMU gang yet, it's never too late to enjoy great Pinoy content, win cash in exciting games, earn money as a live streamer, be part of its diverse kumunities, and get good e-commerce deals from leading brands all in one super platform!
Download the app now and stay tuned for more exciting 4th quarter offers and campaigns only on KUMU.  https://app.kumu.ph/KarlitosKorner
KUMU is a powerful social media platform that brings the voices of Filipinos from all over the globe at the forefront. Aside from presenting users real-time earning opportunities as a live streamer, chances to win cash in various game shows, and engagement in campaigns, KUMU also fosters communities that ignite relevant discussions among Filipinos.
Be part of the kumunity now and download the app for free at Google Play or the App Store.