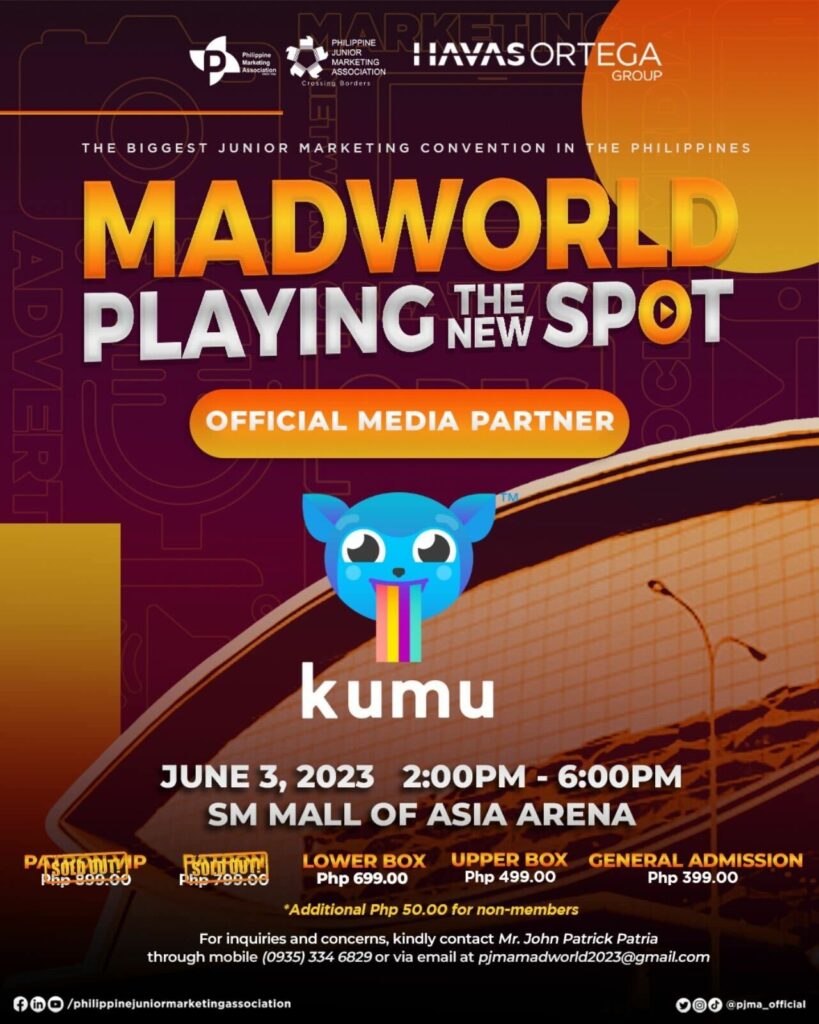 PRESS RELEASE
As part of PJMA's continuous effort to sustain the vision of activating the capacities of young marketers and aspiring entrepreneurs within the country, the 36th National Federation, in collaboration with Havas Media Group, the leading integrated communications, media, and creative agency in the Philippines, will launch an initiative that aims to level up competencies and open new doors of boundless opportunity to each marketing and business students, graduates, and professionals.
MADWORLD, short for Marketing and Advertising World, is the biggest national convention for marketing and business students in the country, and the flagship event of the Philippine Junior Marketing Association. With this year's theme "Playing the New Spot", the said event is aimed towards showcasing the changes in the marketing and advertising landscape and bringing new insights to adapt to the industry's fast-changing environment by leveling up business and marketing strategies. Ultimately, it is directed towards providing opportunities and a platform for engagements to every participant. The topics that will be covered include Outsmarting Trends, Captivate Crowd's Interest, Video Conversion, Profit via Yellow Basket, and Sustaining Followers.
MADWORLD 2023 is set to become a milestone event as it marks the spectacular and memorable comeback of PJMA on the big arena after three years of being on virtual platforms due to Covid-19 restrictions. MADWORLD: Playing the New Spot will happen on June 3, 2023, from 2:00 PM to 6:00 PM at the SM Mall of Asia Arena. Notable guest speakers and performers are invited to shed inspiration and entertainment to the aspirants of the marketing community. Participants can also grab their chance for brand new opportunities as various corporate partners open their doors through a Job Fair.
The said event is made even grander through the contribution of various sponsors and partners, including the Primer Group of Companies—a global leader in the distribution of premium goods and services, with operations in 10 countries and created a niche in marketing the world's best brands in travel, lifestyle, action sports, and outdoor products. With Primer Group's mission, let us all aim "to bring the world closer to our consumer".
These and more await, so do not miss the opportunity and secure your seat now in this grand endeavor.
Kumu joins as MADWORLD 2023's official media partner.