Your favorite Pinoy Livestream app KUMU has always believed in prioritizing the voice of Filipinos in order to spark connections with other citizens around the globe. And with our dynamic live streaming application already becoming a powerful tool in discovering people and their stories, it has become all the more important to use it as a platform to promote complete inclusivity.
With Pride Month coming to an end, KUMU thought it would be fitting to go out with a bang. This week beauty, talent, entertainment and pride will be on full display on KUMU's Spotlight Section on the app! To celebrate Pride Month, KUMU has invited a number of talented allies and members of the LGBTQIA+ community to share their expertise, experiences and stories to the Kumunity.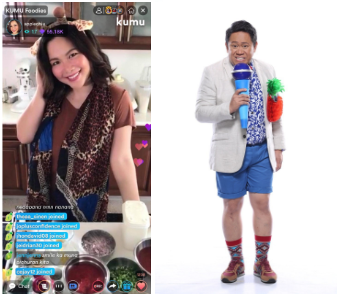 Multi-talented chef, Apple Chiu (@applechiu), kicked things off on Monday, June 22. The singer and host, who started her own KUMU-cooking musical, brought endless entertainment and culinary knowledge to her viewers. GMA comedian Betong Sumaya (@amazingbetong) also went live on Monday. Betong had everyone on the ground laughing out loud as he brought his comedy content to the Kumunizens at 9pm.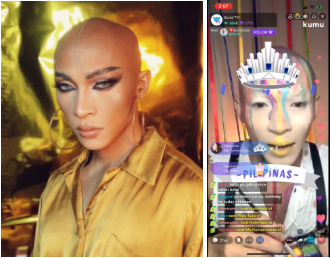 Artist Akiro (@8akiro8) took the stage on Tuesday, June 23, and brought his creative flare to KUMU. Akiro uses makeup to paint his face and body to completely transform himself into mesmerizing characters and creations. His unique and captivating designs were on full display during his live stream, and it sure left everyone astonished.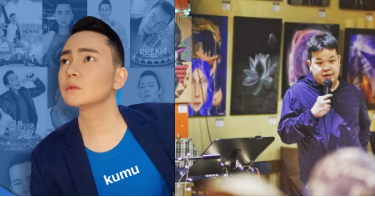 To end the week, more comedy will be brought to you by Romark Joseph (@romarkjoseph) and Mike Unson (@mikeunson). Romark, the well-versed entertainer is set to bring laughter — and song — to all his viewers on June 25, Thursday, at 9pm. And for everyone's TGIF festivities, comedian Mark Unson, will be there for every well-deserved end of week celebration. Mark, who has perfected the art of perspective comedy will be going live at 9pm.
Rounding up the Pride Week celebration on KUMU will be Rj Agustin (@rjagustin). The incredible singer will definitely be putting on a show for the Kumunizens. His jaw dropping performance will surely be a fitting end to the fun and pride-filled week that hopes to celebrate anyone and everyone part of the LGBTQIA+ community.
KUMU is a powerful social media platform that brings the voices of Filipinos from all over the globe at the forefront. Aside from presenting users real-time earning opportunities as a live streamer, chances to win cash in various game shows, and engagement in campaigns, KUMU also fosters communities that ignite relevant discussions among Filipinos.
Be part of the Kumunity now and download the app for free at Google Play or the App Store.