For most Filipinos, online shopping has been the most "affordable" retail therapy during this pandemic. According to some reports, an estimated 55 million shoppers headed online last year and this number is seen to grow by 2022. 
ShopBack – the go-to cashback online app for smart shoppers – sought the help of kumu to take advantage of this unique economic opportunity and reintroduce the app to the growing kumunity. 
Helping to generate awareness and interest in the innovative new app, kumu initiated a strategic digital campaign with custom content and show takeovers for the week, as well as livestreamer promotions.
View this post on Instagram
Brand takeovers were launched for game shows and Spotlight TV shows, like Quiz Mo Ko, Beki Quiz, and May Tama Ka! which garnered an approximate 9,400 unique views and 520,671 engagement numbers. 
The Kumunity learned more about the app's exciting shopping perks and rewards through fun trivia games and other engaging content. For this special campaign, 600 minutes of ShopBack content was produced and an average 4.8x engagement rate was achieved. By the end of the week, the game show views totaled 52,753.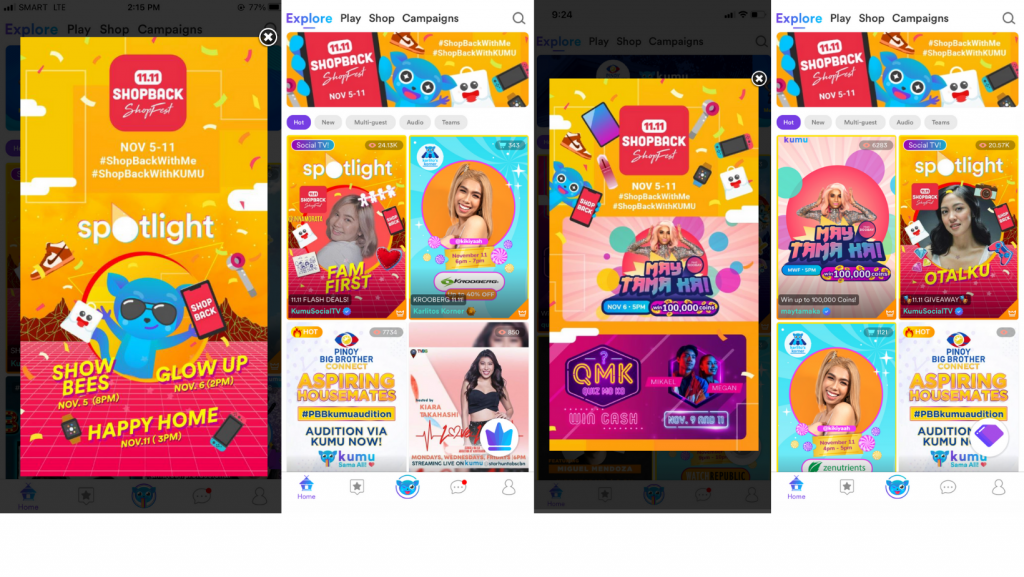 Along with the interactive content, eye-catching ads were posted in the app's different channels – from top banner displays to interstitial ads. Thanks to the strong visuals of the campaign, kumu was able to achieve a 5.31% banner click-through rate, and an impressive 201, 397 impressions for its top banner displays. Adding on to the amazing results were the 5,660,799 impressions gained from splash screen and interstitial ads.
But it was the power of the livestreamers who fully excited the online Kumunity. The different hosts were able to highlight the ease of using the innovative app, and enumerated the tips on how you can gain more bang for your buck.  The collective efforts of the livestreamers channeled over 12.6MM impressions, with corresponding virtual gifts hitting almost 6.8M. 
The well-executed digital campaign was deemed a complete success, with hundreds of kumutizens downloading the ShopBack app.
Through this successful campaign, kumu and ShopBack have forged a winning creative collaboration; and ShopBack, as a partner, will assuredly keep coming back for more.  To more exciting initiatives!
Don't have the kumu app yet? It's easy! Download the app at Google Play or the App Store, and join the Kumunity!