For the love of music and quality talent, kumu Live Events has launched "Tiny Gig", a once-a-month two-hour livestream concert featuring homegrown kumu artists and Kumunity celebrities. The concerts, which will be streamed live from an exclusive studio to kumu.live, range from a variety of musical genres, from OPM band hits, trending hugot songs, rock hymns and so much more. Tiny Gig's first concert will air on May 8, starting 8PM, and will feature a Kumunity-favorite group, "The Art of Resbak."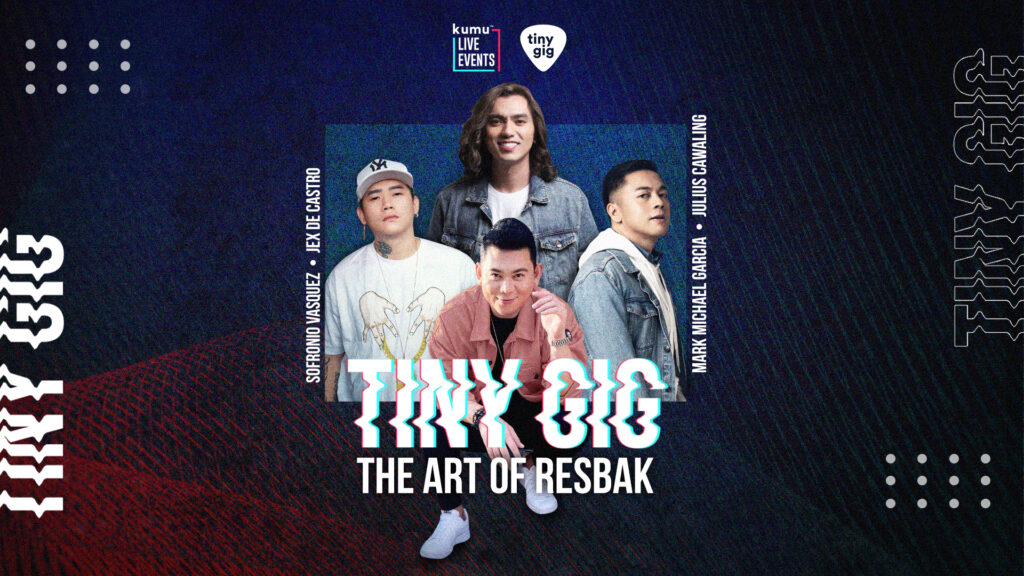 READ: kumu Live Events Brings Concerts, Celebrity Performance and Festivities Straight To Your Screens
The launch of Tiny Gig, which is a collaborative event between kumu's SocialTV and kumu Live Events, is part of the company's effort to uplift the musical Kumunity. Music is actually one of the most popular categories in the app, with thousands of streamers setting up their channels for sing-alongs, instrumental performances and other song-related content. 
"Music never stops in kumu, and the show must always go on!", comments Jorron Monroy, Creative Director of kumu SocialTV. "With Tiny Gig, musicians are given the chance to remotely, and safely express their music and connect with their fans. At the same time, kumu Live Events allows its viewers to naturally interact, react and send their love to their favorite artists, from the comforts of their own homes. It's almost like how they would scream on a concert arena. Artists will be able to feel this love virtually, real-time through the comments section." 
For Tiny Gig's first ever gig, "The Art of Resbak" is set to light up the virtual stage, and tickets are selling as we speak. The group features 4 renowned Kumunity artists: Sofronio Vasquez, Jex De Castro, Julius Cawaling and Mark Michael Garcia. Each member has expressed their excitement for Tiny Gig, especially because it means artists and musicians can perform with an audience once more. 
"Since the pandemic, I really missed doing a show, like a real show with a live band.", says Jex, who has been a regular streamer in kumu for 9 months now. "I really can't wait for [Tiny Gig] to happen. I know all our supporters will be thrilled to see the 4 of us again!" 
View this post on Instagram

"The Art of Resbak" will be performing live at Tiny Gig on May 8, 2021, 8pm. Tickets are now available on kumu Live Events, and are priced at Php 199 for each entry. Amazing shows, concerts and performances await for you at kumu Live Events, the largest virtual stage streaming straight to your screens. Click on the link now to see more shows, and ticket sales available for purchase. 
Don't have the kumu app yet? It's easy! Download the app at Google Play or the App Store, and start adding to cart! Visit our website kumu.ph for more information and insights into the exciting world of kumu.
You can also follow @kumuph on Instagram, Facebook and Twitter to keep up to date with all the latest events, and surprises from your favorite Pinoy livestreaming platform. Check back here at the kumu blog for more interesting insights into the Kumunity.