PRESS RELEASE
MANILA, PHILIPPINES — In celebration of National Women's Month, adobo magazine is holding its first adobo SheCreative Network Leadership Conference "Women Arise!" at Shangri-La The Fort, BGC on Tuesday, March 28. The event will be filled with ideas, inspiration, leadership, community, and conversations that create, and celebrate movements for change led by women in the business of creativity. Afternoon snacks will be served, followed by cocktails in the evening for networking among peers.
The SheCreative Network's first large in-person gathering will be conducted by today's most successful women-led companies across the fields of marketing, media, and creative communications. We make space to share how they made it to the top, what drives them, and how they're growing and strengthening their team, brands, and industry.
Kumu will participate as the official digital partner, and year-long streaming partner for adobo SheCreative Network's upcoming sessions lined up for the rest of 2023. Join us as we continue to empower women content creators and online communities to connect, learn, and grow together.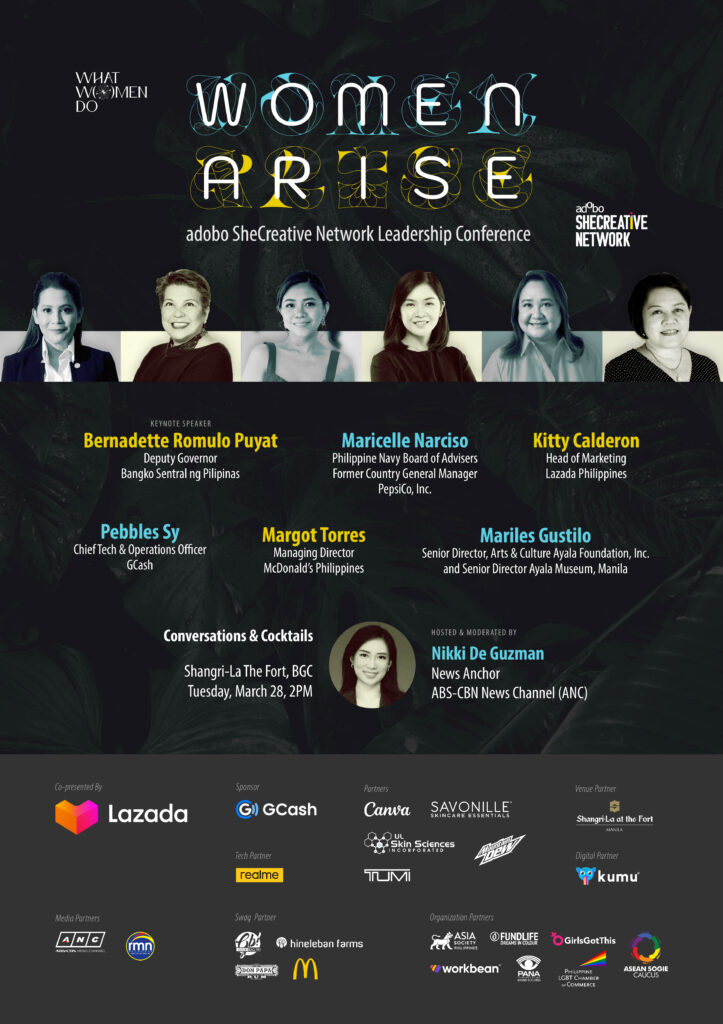 Here is the full panel lineup for Women Arise! — an adobo SheCreative Network Leadership Conference 🌱✨
🌱 Hosted and moderated by ANC 24/7 News Anchor Nikki de Guzman, our speaker lineup features:
KEYNOTE SPEAKER: Bernadette Romulo-Puyat – Deputy Governor, Bangko Sentral ng Pilipinas

Margot Torres – Managing Director, McDonald's Philippines 

Mariles Gustilo –  Senior Director, Arts & Culture, Ayala Foundation, Inc., Manila, and Senior Director, Ayala Museum, Manila 

Maricelle Narciso  –  Current member, Philippine Navy Board of Advisers; Former Country General Manager, PepsiCo, Inc.

Pebbles Sy – Chief Technology and Operations Officer, GCash

Kitty Calderon – Head of Marketing, Lazada Philippines
Learn more about the speakers here 💕
🍃 Let's raise a glass to a female-led future on Tuesday, March 28, at Shangri-La The Fort, Manila 🥂Afternoon snacks will be served during the conference, followed by networking cocktails. 
About the adobo SheCreative Network: The adobo SheCreative initiative showcases a series of conversations and roundtables, with the purpose of gathering a strong community of engaged and inspired women. Our efforts have been globally recognized and we're proud to have received the Gold Stevie® Award for Women in Business for our Thought Leadership Campaign which stood out from 1,500 entries from around the world.  We also received the Excellence Award at the Philippine Quill Awards for our efforts to empower women in support of the country's creative economy.
Celebrating the power and innate talents of women, as well as their ability to create a positive impact on culture, creative industries, business, and communities– providing a platform for women to connect, educate, and support each other in their endeavors and achievements. We explore the power and possibilities of an all-women network as we gather the country's most influential Filipinas who are instrumental in taking the first step towards creating a strong community of female leaders in Asia. Uplifting Women in Creativity the world over. #adoboMagazine #TheWordOnCreativity #TheBusinessOfCreativity #womencreatives
---
Follow @kumuph on Instagram, Facebook, and Twitter to keep up to date with all the latest events, and surprises from your favorite Pinoy livestreaming platform.