Launching a historical feat at the heart of Intramuros, Filipino livestreaming app kumu, along with its project partners Intramuros Administration, Manila Street Love (MSL), and Every Court Can Dream, presents the street mural project called "Project Lakbay."
The initiative, carried out last June 16, was aimed to showcase and celebrate our roots as Filipinos. Featuring designs inspired by five significant eras of the Philippines, the mural takes people on a historical walk down the memory lane, featuring key figures from our nation's past, plus kumu's mascot Karlito, and some surprising new kumu characters.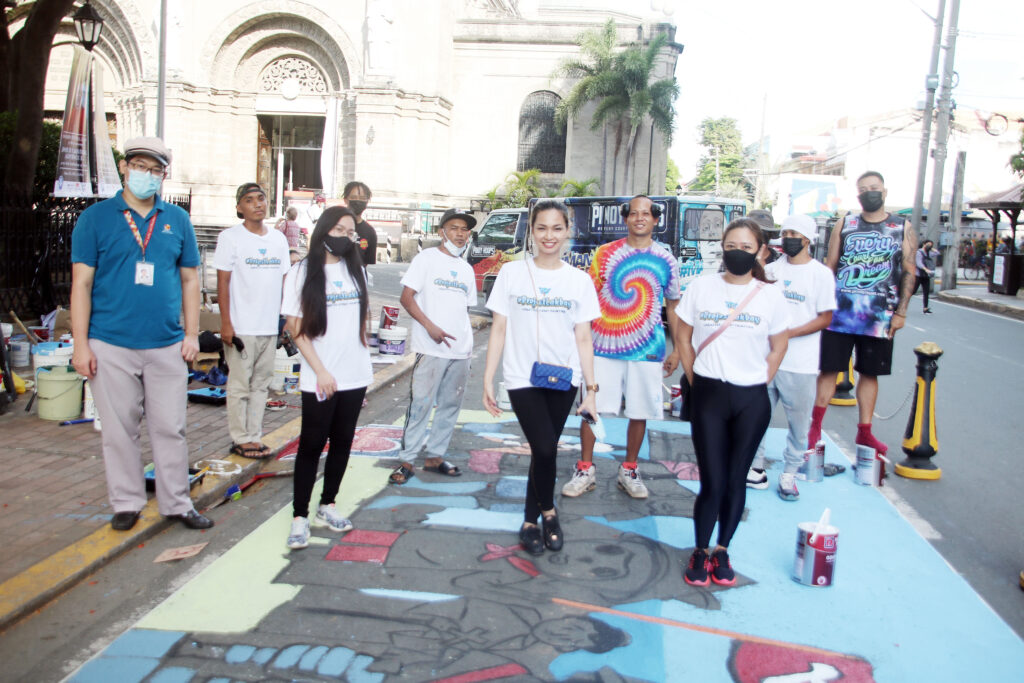 The proud Project Lakbay partners 
Project Lakbay gathered a small group of artists, city representatives and kumu personalities alike. Those in attendance include James Rumohr, Chief of Staff at kumu; Intramuros Administrator Guiller Asido and Atty. Vhincent Cañares; Diana Dayao, founder of Manila Street Love (MSL), and kumu's Corporate Social Responsibility Manager; plus musical artist Mike Swift, who leads the arts and sports advocacy "Every Court Can Dream". All four representatives were present for the creation and ceremonial signing of the outreach; and as the artists and volunteers got to work, the exciting mood was enhanced with some slick beats throughout the day, courtesy of kumu streamer DJ Buddha. 
Taking Art Back To The Streets
Project Lakbay is the first street art project in Intramuros since the COVID-19 hit the country last year, and kumu definitely vied for that opportunity. "Since the lockdown, we have had no opportunities to do any offline projects like this, especially with art.", says James Rumohr. "This is very special, as we want to start establishing ourselves in local communities that we respect and highlight what there is to offer. Intramuros is known for art, and we want to appreciate that."
Luckily, the Intramuros Administration has long been establishing different activities to revive the culture and art scene in the district. Atty. Vhincent Cañares comments, "It is just so fortunate that us and kumu share the same goal of having this type of program." He believes that Project Lakbay will be the jump-off point of succeeding art-related initiatives in the area. "We are looking forward to more and more activities like this, [contributing] towards the goal of putting up a creative hub here in Intramuros."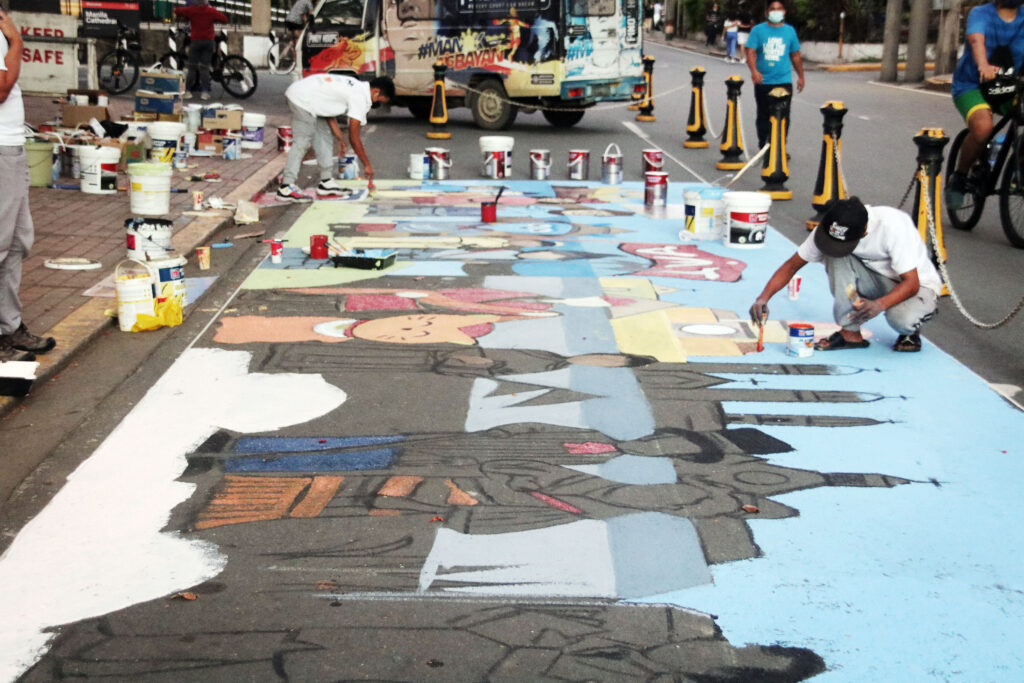 For the Intramurous Administration, honoring Philippine culture and encouraging local art goes hand-in-hand. In fact, it is an ideal combination that ensures we uphold our rich history, but also nurture the booming creative culture we have today. Atty. Guiller Asido asserts, "Our mandate is to ensure the orderly restoration and development of Intramuros. But beyond that particular mandate, we always say that we welcome partnerships with artists, as well as with the cultural and heritage sector as well. So what we're doing right now with Project Lakbay is a manifestation of that. This one is significant because it's happening during the pandemic." 
Painting A Time Machine
In coming up with the design of the street mural, it's a joint effort between kumu and the Intramuros Administration. They decided to form a storyline for the art, highlighting the important parts of Philippine history.
The first frame pictures the pre-Spanish era, with Rajah Sulayman as the key figure. The second one depicts the Spanish occupation and the Christianization of Manila. It's then followed by the period of revolution, with Jose Rizal and other heroes drawn in the third part. Up next is post-revolution or the transition to contemporary times. Ending the mural is the portrayal of modern Manila in the times of the pandemic. When viewed as a whole, the art piece illustrates all the mural characters lined-up to ride the jeepney towards our present days.
Apart from key history figures depicted in the painting, Karlito, kumu's iconic blue Tarsier, along with his animal friends add a modern, kumu humor spin to it. "They are very Filipino-centric characters. To have them here, representing kumu along with other historic pieces in that mural, is very special to us.", James comments.
Meanwhile, Mike Swift shares his team's creative process in working on Project Lakbay. "We wanted a piece that can help brighten the days of everyday people in Intramuros. With the  support of kumu, and the sponsorship of Nippon Paint Philippines through the Nippon Gang, we were able to bring this theme of history, from past to our present." he says.
James wishes that this project will serve as an inspiration to many.  "Hopefully, other cities will get to see this and begin beautification movements as well."
Manila Street Love's Diana Dayao agrees. "We really wish to create a spark in the hearts of regular Pinoys—the passersby, even the homeless and the street kids, [to] remind them of what we're here for, what Filipinos are, and why we're here for each other.", she explains. "With MSL, it's all about love. So seeing the street kids and visitors benefit from a very visual project like this, it combines educating them, entertaining them, and giving them hope. [Despite] the pandemic, our lives go on, and we keep on making good things around us."
A preview of the finished mural
Likewise, as kumu's CSR Manager, Diana points to kumu's main mission of connecting communities. "The very essence of kumu is to connect Pinoys around the globe, bridging the gap and celebrating authenticity. The design we came up with mirrors just that – how we've grown throughout the times, and how history bridges our differences, moving towards our journey in the modern times." She adds," We at kumu are very honored to be given the chance to create something like this. "
Project Lakbay is just the beginning of more upcoming offline projects by kumu. James details, "As we start opening up, and we're able to maneuver more in a safe manner, people will see more live projects by kumu." He cheerfully ends his statement with an assertion of kumu's commitment for the Pinoys. "We want our communities to understand what our app is all about—a safe, positive, artistic, and welcoming place, whether in an online or offline environment." 
More exciting news and updates are expected in the coming weeks! So make sure to stay tuned at kumu. You can also follow @kumuph on Instagram, Facebook, and Twitter to keep up to date with all the latest events, and surprises from your favorite Pinoy livestreaming platform. To keep tabs on the Kumunity and all its exciting happenings, follow the @juankumunity on Instagram, or check the kumu blog for all the latest news. 
 Don't have the kumu app yet? It's easy! Download the app at Google Play or the App Store, and start adding to cart! Visit our website kumu.ph for more information and insights into the exciting world of kumu.