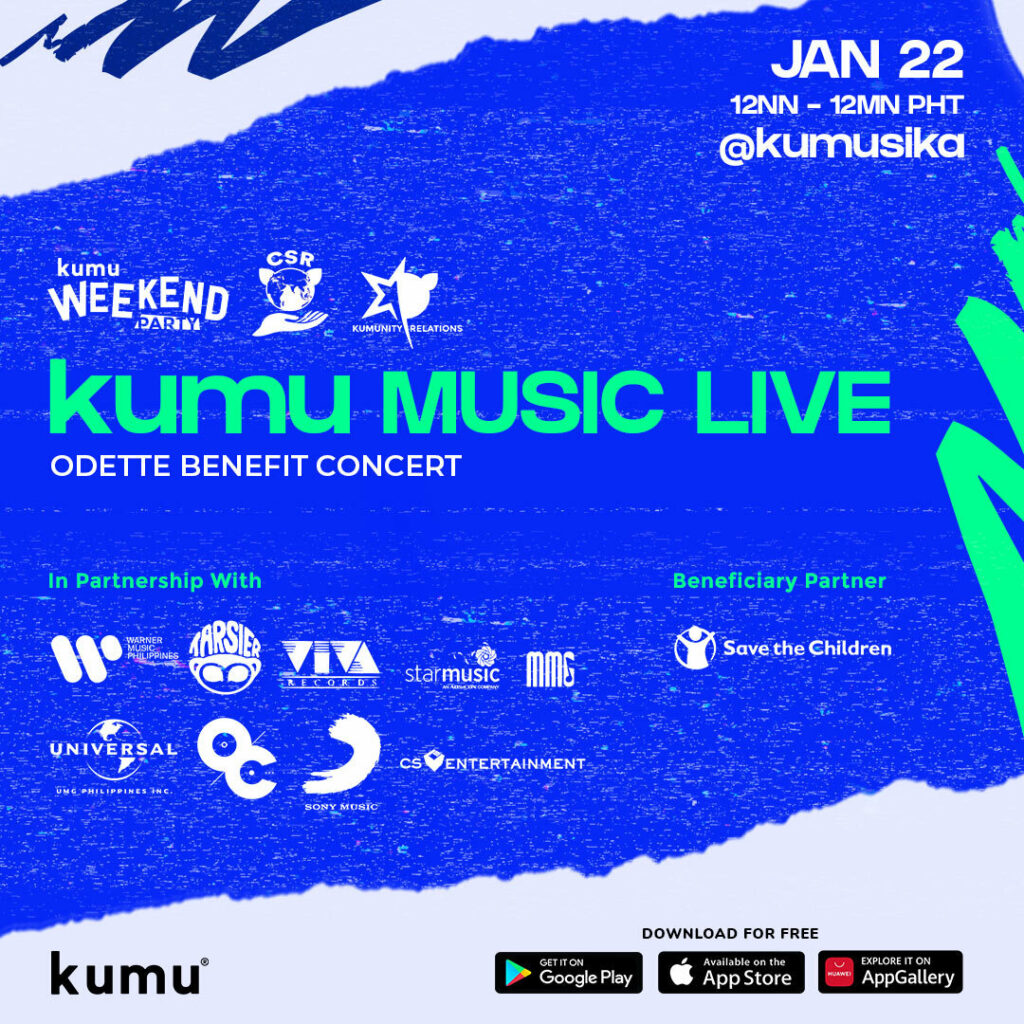 Manila, Philippines- As Kumunizens, we believe that music has the undeniable potential to touch hearts and heal people. On January 22, in the spirit of camaraderie and oneness, kumu music will be throwing a virtual benefit concert to raise awareness and funds for the victims of the Super Typhoon Odette. The event was made possible in partnership with the international nonprofit organization Save The Children which has worked to help children all over the world gain access to quality education and health services, especially by providing emergency kits to families through this most recent calamity.
This Saturday, extend your helping hand and connect with a diverse mix of local acts from kumu's homegrown talent to celebrated recording artists, such as Kyla, Zephanie Dimaranan, Fana, Quest, Rob Deniel, Sam Concepcion, Adie, This Band, Quest, Leanne & Naara, and many more! Catch them live as they deliver inspiring performances on the kumu platform. 
The concert is completely free, no tickets needed! Tune in to the live stream on January 22nd from 12 PM to 12 AM PHT via the kumusika channel here. During the event, viewers may donate via the Virtual Gifts feature on kumu. Funds raised will go directly to the communities most affected by the super typhoon's aftermath.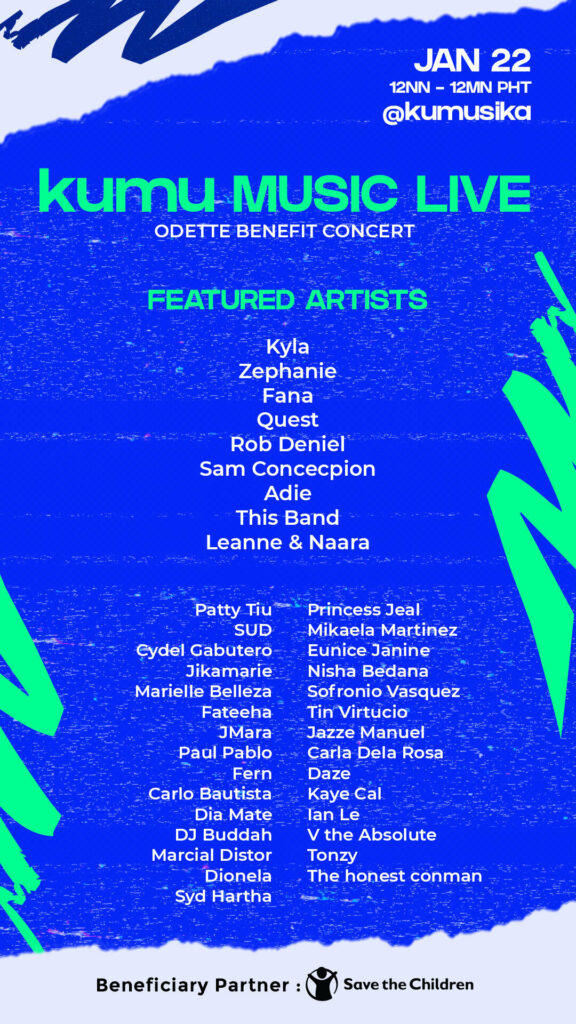 Annette Osmeña, VP of kumu music shares, "As a Cebuana who personally experienced the storm and is still experiencing its aftermath, this benefit concert is very close to heart." Members of the kumu team were not exempt from the loss and hardship brought by the Super Typhoon. This event will be part of their joint initiative to support fellow kababayans still piecing their lives back together. 
To rebuild a community, a nation does not happen swiftly, Osmeña believes that it takes incremental, persistent work. She acknowledges the enormous teamwork from various stakeholders to make this event possible, saying, "We're grateful for our label partners, our NGO partner, Save the Children, and all the teams at kumu who are dedicating their time and effort to help the typhoon victims rebuild their lives." And given the number of generous hearts and hands coming together for this mission, there is plenty of room for hope.
Participating labels include Warner Music Group PH, Universal Music Group PH, Star Music, Makers Management Group, Sony Music Philippines, Viva Records, Cornerstone, O/C Records, and Tarsier Records. 
Follow @kumuph on Instagram, Facebook, and Twitter to keep up to date with all the latest events, and surprises from your favorite Pinoy livestreaming platform. To keep tabs on the Kumunity and all its exciting happenings, check the kumu blog for all the latest news.
Don't have the kumu app yet? It's easy! Download the app at Google Play or the App Store.