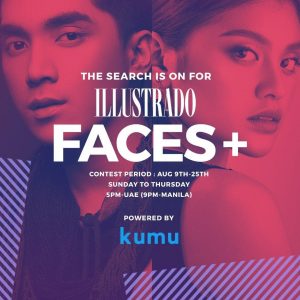 With Filipinos scattered all around the globe, they have had to increasingly rely on social networking apps and news and media outlets to stay connected. Thankfully, however, there are channels like Illustrado Magazine that bring Filipinos abroad closer to home.
What is Illustrado?
Illustrado is a Dubai-based magazine that proudly showcases Filipino life. It is the only media platform in the Middle East that represents the people, lifestyle and culture of the Philippines. And while it has already reached great heights, there is nowhere to go but up given its wider mission.
Illustrado is not simply a magazine, it is also a social enterprise that veers away from the typical culture of media and journalism. Its goal is to ultimately empower and uplift Filipinos worldwide.
Which is why Illustrado has partnered with another powerful, Filipino-centric online platform—KUMU, to build an online community for Filipinos.
Illustrado on KUMU
Illustrado started releasing regular livestreams on KUMU in July 2020, and have been giving its audience great content since.
On Illustrado's KUMU channel (@illustradochannel), segments like Illustrado Talks, Hang With Me, and their newly launched charm and talent competition — Illustrado Faces+ have kept audiences everywhere entertained.
The Illustrado Faces+ 2020 competition saw over 40 hopefuls battling it out to be crowned the winner. The contestants showed off their talent and put on live shows on KUMU.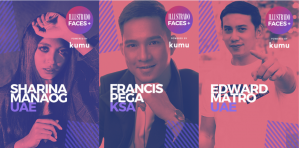 On Wednesday, September 1, Sharina Manaog (@sharinamanaogdaily) walked away as the overall champion. Her along with Francis Pega (@francispega), the KUMU choice winner, and Edward Matro (@edwardmatro), the people's choice winner, will be awarded a cash prize, and will be featured on a digital billboard ad along EDSA powered by KUMU and Illustrado.
Off KUMU, the Gulf-based magazine has a lot more in store. This Week in Illustrado, is a casual roundup of news focused on presenting slices of life of Filipinos living across the world. Becoming Filipino, is a show where foreigners try to do Filipino things. Illustrado will also be doing more live talks and hangout sessions with different Filipino talents and personalities, such as Jam with Me, a live hangout with musicians and artists, and My Pinoy Life, a live chat with Filipinos about living abroad.
Make sure to keep an eye out for the magazine that has much more for you. As they continue to accelerate the Filipino community, we are excited to watch them grow even further. Stay tuned for more announcements about Illustrado Magazine. https://app.kumu.ph/illustradochannel
KUMU is a powerful social media platform that brings the voices of Filipinos from all over the globe at the forefront. Aside from presenting users real-time earning opportunities as a live streamer, chances to win cash in various game shows, and engagement in campaigns, KUMU also fosters communities that ignite relevant discussions among Filipinos.
Be part of the Kumunity now and download the app for free at Google Play or the App Store.