In celebration of the Philippines' 123rd Independence Day, over 200 Filipino-rooted brands, enterprises, communities and individuals from around the country and overseas are joining forces to share and promote Filipino culture. This Saturday, June 12th, we're having a "Dama Ko, Lahi Ko" special feature on @kumusocialtv, 1pm – 5pm. It's a feast of the senses, with 5 special guests representing a cultural delight.
Enterprises such as San Miguel Brewery Inc., and the Ayala Malls, homegrown brands like Filip+Inna and Team Manila, online Filipino livestream community Kumu, cultural organizations like Museo Pambata and the Philippine Fashion Coalition, even industry powerhouses like Gary Valenciano and Margarita Forés, are participating in the groundswell movement called Dama Ko, Lahi Ko (I Feel My Heritage).
The movement is asking Filipinos to share and celebrate Filipino culture every June 12, through the five senses (sight, sound, taste, smell, touch).
Swipe right to view the line-up for @kumusocialtv "Dama Ko, Lahi Ko"
View this post on Instagram
By tagging @damakolahiko and including #damakolahiko in social posts, anyone can join the movement, as the main accounts of Dama Ko Lahi Ko actively reposts and shares everyone's efforts.
What's more, in kumu, we'll be having a special kumu coins giveaway to participating viewers with some insight.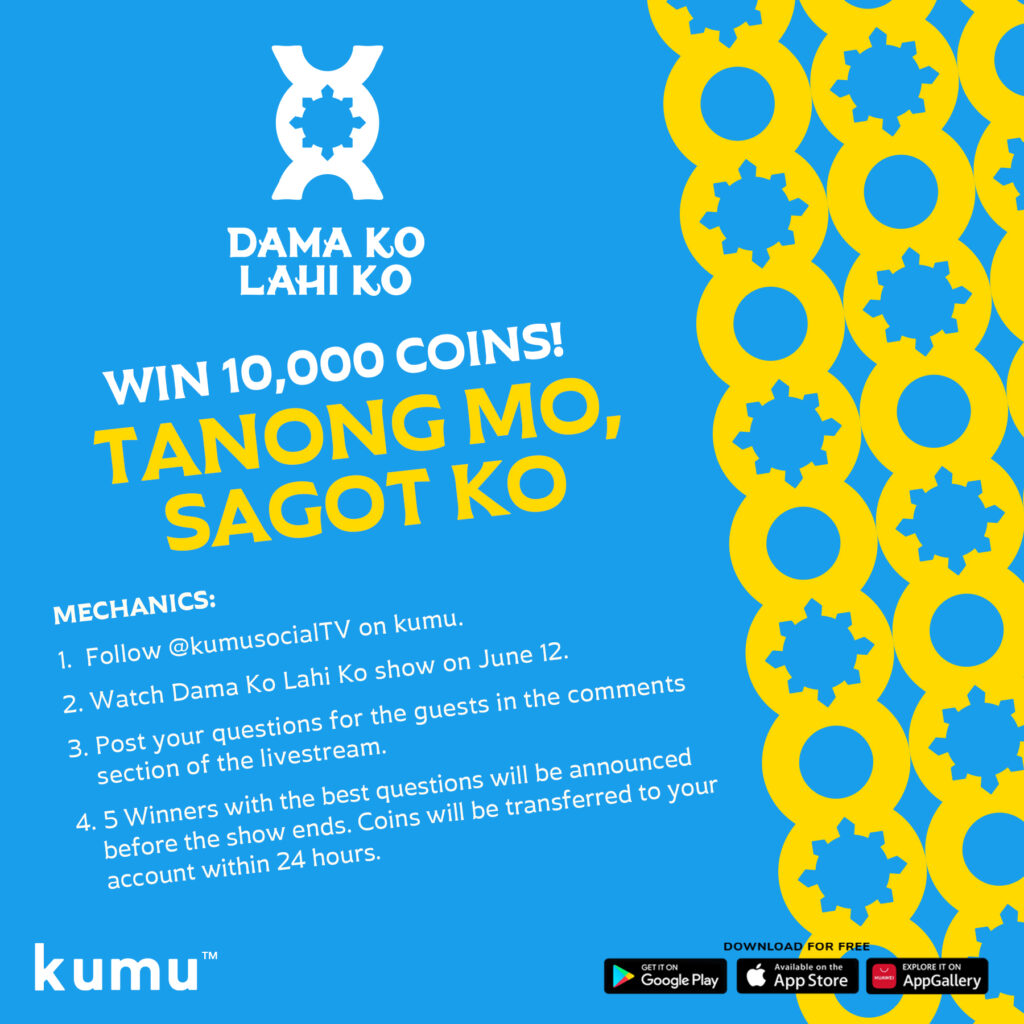 The "Dama Ko, Lahi Ko" initiative is led by the Filipino Culture Collective, which is made up of creative professionals passionate about local culture. To date, the movement has already partnered with almost 200 brands, large enterprises, SMSEs, organizations, and individuals who wanted to do their part to shine the spotlight on Filipino culture and creativity.
This can also present an opportunity for Filipinos to recognize that local brands are also world class. A 2018 survey revealed that Filipinos still prefer global brands versus local counterparts. As the world reemerges from the pandemic and people look to fresh experiences, it's important to not only have Philippine destinations on the map, but also Filipino experiences.
Dama Ko Lahi Ko is not just for brands; individuals are also encouraged to share their unique perspective on Filipino culture. With potentially 89 million Filipinos active on social media, Filipino culture can be appealing and attractive to the world.
Check out what everyone is doing this June 12 and throughout the month of June by liking and following Dama Ko Lahi Ko across Facebook, Instagram, Twitter, and Tiktok Visit www.damakolahiko.com to download for free the official logos, patterns, graphics, and more that everyone is free to remix and use.
More shows and surprises are coming your way. Be sure to follow @kumu.ph on Instagram, Facebook, and Twitter for all the latest livestream entertainment. You can also check out the kumu blog for all the latest happenings in the Kumunity.
Don't have the kumu app yet? It's easy! Download the app at Google Play or the App Store, and start adding to cart! Visit our website kumu.ph for more information and insights into the exciting world of kumu.