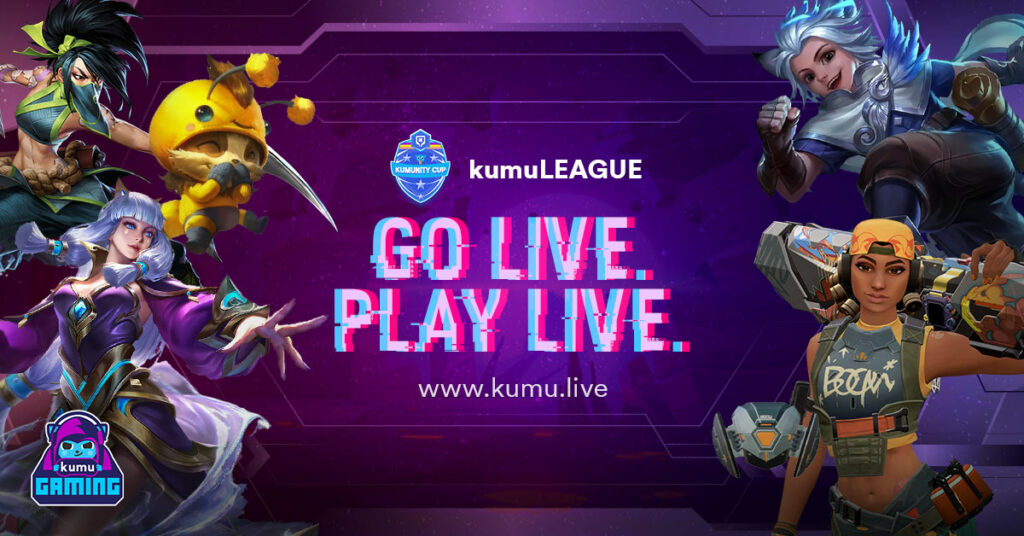 kumu elevates gaming to a new level of fun!  With a more dynamic and robust platform, gaming streamers and fans from across the globe can expect grander, e-sports tournaments within the Kumunity.
As the new arena for competitive e-sports, kumu showcased its reach and power recently with the first-ever Kumunity Cup for Mobile Legend fans. The tournament itself welcomed over 45 teams, attracting many Kumunity gamers alike. Meanwhile, the kumuleague held two tournaments: kumuleague Valorant and kumuleague League of Legends. Each tournament ran a week-long competition, creating a surge of gamers and fans coming into the app. 
Avid e-gamers, Mario Jonathan Marasigan (@luponwcx2) and Suzzysaur (@suzzysaur) shared their streams of the tournaments with exciting minute-by-minute plays and thoughtful commentary. 
 With the recent culmination of Kumunity Cup, held March 26, 2021, Mario Jonathan Marasigan, the kumu Business Unit Head of LuponWXC shares, " Our teams at LuponWXC enjoyed watching the kumu families engage and battle it out in front of their peers. The little banter also made for some fun moments. It's not every day you get to see groups come together for a single tournament and showcase their gaming skills with the family, so it's an honor to be a part of this experience."
View this post on Instagram
Having joined kumu a few months ago, Marasigan has seen the immense growth and even greater potential of communities like theirs to leverage the platform for a more dynamic experience. "We're happy that we can share what LuponWXC has to offer to a wider audience, especially with fans who are unfamiliar with the e-sports, or gaming side. As kumu users and players, we get to create shows and tournaments under the platform and create a new way for the families to get together." 
Suzzysaur, a rising star in the gaming Kumunity, through her streams, aims to highlight the fun and fierce competition that make the tournaments so addicting. "My experience all throughout the tournament on kumu was super fun, because people are able to bet their teams thru sending unique gifts, such as "halo-halo" and "karlito hello." Kahit na yung kumu gaming is [continuously developing], I can feel that my community is excited for the growth of the platform," she shares.
Suzzysaur also adds, "I'm honestly looking forward to the everyday growth of kumu gaming, and it inspires me para magstream pa. Hopefully, all of my fans will transfer to kumu and share in the streams. I'm really happy and honored to be part of the kumu gaming family."
 kumu is, indeed, for all types of streamers and continually expands the platform to cater to more and more unique communities – from entrepreneurs, artists, musicians, e-sports athletes and more! Like Mario and Suzzysaur followers are discovering and exploring the fun and limitless potential of the groundbreaking app. 
So, are you an avid gamer yourself? Keep up to date with all kumu gaming news, follow @kumu.ph on Instagram, Twitter and Facebook. Don't forget to also check the kumu blog for the latest Kumunity updates. 
Don't have the kumu app yet? It's easy! Download the app at Google Play or the App Store, and join the Kumunity!