Who better than Multimedia Prince James Reid to grace KUMU's latest gameshow entitled That Lyric Show — an exciting musical game where players can win up to Php10,000 in cash by filling in the next line of the missing lyrics from the featured songs.
KUMU becomes the perfect platform for the versatile actor's brainchild label Careless Music. To mark the collaboration, Reid recently hosted the first two episodes of That Lyric Show this August as he goes on the road to promote his new music video for the track "Risky", produced by noted Korean DJ-producer Avin. Reid is also slated to appear in an upcoming event on August 31 called "Island City" to promote Careless Music.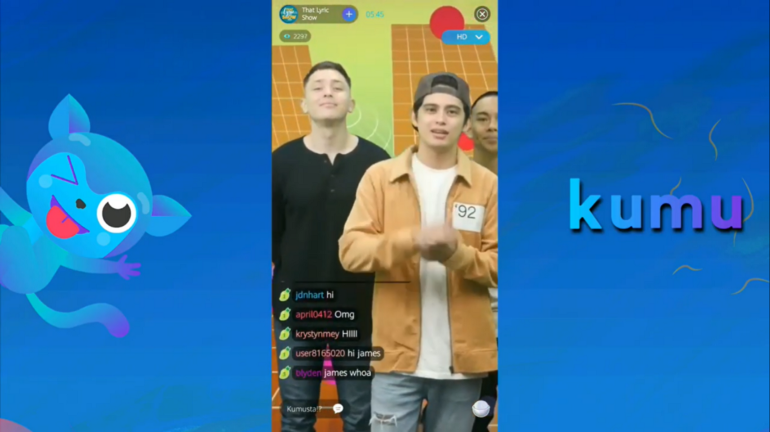 #JamesReidOnKumuPh ranked in at the top eight of August 19's hottest trends on Twitter in the country as Reid together with Bret Jackson (aka KingwAw), and Narez sampled excerpts of his original songs including "Cool Down", "16B", "Summer", and "Risky". That Lyric Show players attempted to fill in all five of the missing lines with a total of 888 winners emerging at the end of the game. Reid then returns with Bret on August 21 to play another round of That Lyric Show this time with 223 winners.
Reid's That Lyric Show episodes also featured other songs from Careless Music artists including "Balenciaga" and "Angelina" by Massiah, "Come Thru" by Reid and Astro Kidd, and "All I Need" by Curtismith.
Since its launch last year, KUMU has been downloaded more than one million times with more and more users joining the platform. The mobile app proves to be an effective launching pad for mainstream artists such as the Revilla brothers and Cristine Reyes to promote their projects like Tres and Maria respectively, in a unique live stream environment. Another of KUMU's most notable novelties is that everyone, celebrities or not, can promote their shows, projects, collaborations, and more.
Incidentally, KUMU is also celebrating its first anniversary this month with more exciting games for its users. "KUMU's giving away over a million in cash prizes, with weekly giveaways ranging from Php10,000 to Php300,000 leading up to a million," said Reid.
To join, just download KUMU for free on Google Play and the App Store and also get your chance to interact, promote, and win exciting prizes.