Press Release
Kumu Collaborates with Google Cloud to Build AI Tools that Assist Content Creators
Kumu, the Philippines' homegrown live streaming and entertainment app, is collaborating with Google Cloud to create artificial intelligence (AI) powered tools for entertainment, education, and customer service using Google Cloud's Vertex AI platform.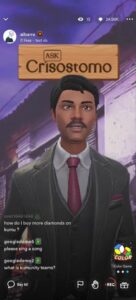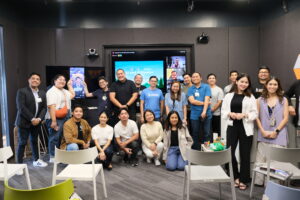 "Crisostomo A.I. Barra", an AI education streamer, poses with Google Cloud and Kumu team members, and other guests, during an AI product showcase event at the Google office in Taguig City, Philippines
Kumu has always sought ways to make Filipino content more fun and engaging with innovative technology. In its early days, the app gained popularity by hosting "Quiz Mo Ko", a homegrown, interactive, and fully-digital game show where users could participate on their phones and win prizes on the spot. Another milestone for Kumu was their partnership with ABS-CBN's "Pinoy Big Brother" (PBB) reality TV show. By sending virtual gifts on the Kumu app, viewers could influence the housemates' actions, and even vote to save or evict the participants. Additionally, since the PBB streams were on 24/7 and shown globally, the partnership contributed to historic numbers for the program's reach and viewership. It is no surprise then that as soon as generative AI started gaining traction, Kumu looked to an AI-first company like Google Cloud to explore how the technology could be applied to enhance its live content experiences.

Generative AI, or generative artificial intelligence, refers to the use of AI to create new content, like text, images, music, audio, and videos. It is powered by foundation models (large AI models) that can multi-task and perform out-of-the-box tasks, including summarization, Q&A, classification, and more. With minimal training required, foundation models can be adapted for targeted use cases with very little example data. Generative AI works by using a machine learning (ML) model to learn the patterns and relationships in a dataset of human-created content. It then uses the learned patterns to generate new content. 

In June 2023, Google Cloud announced the general availability of generative AI support on Vertex AI. At Google Cloud Next '23 in August 2023, Google Cloud expanded Vertex AI's capabilities with new models and tools to further empower businesses to easily experiment and build with foundation models, customize them with enterprise data, and smoothly integrate and deploy them into applications with built-in privacy, safety features, and responsible AI. Vertex AI Search and Conversation, for instance, enables developers with little ML expertise to build and deploy intelligent enterprise search and chat apps in as little as a few hours.
From enhancing internal operational efficiency to improving external customer experiences, enterprise-grade generative AI capabilities can play a crucial role in helping businesses deliver more personalized, reliable, and novel products and services.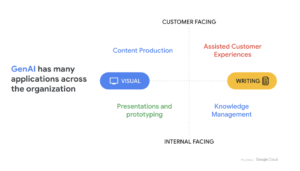 At a showcase event at the Google office in the Philippines, Rexy Dorado, Kumu's Co-Founder and President, showcased a live demo of "Crisostomo A.I. Barra", Kumu's first AI streamer who can respond to questions about Philippine history (even beyond what's written in "Noli Me Tangere", the novel that his character and personality was based on), the Kumu app, and general pop culture. Rexy also gave the attendees a sneak peek into other AI avatars in the pipeline: AI game show hosts, fortune tellers, tutors, tour guides, and customer support agents. An early adopter of Google Cloud's generative AI capabilities for businesses, Kumu has been building its AI streamer and other AI avatars using Google Cloud's PaLM 2 for Text and Chat first-party models, Embeddings for text and images, and Generative AI Studio – all of which can be accessed through the Vertex AI platform.
The showcase was followed by a fireside chat on the future of generative AI and its mainstream applications across industries. Rexy was joined by Ellard Capiral, Kumu's VP of Engineering, Angelo Mendez, Kumu's Chief Innovation Officer, and Abhishek Bhagwat, Google Cloud's AI/ML architect in addressing questions about how Kumu's AI products will enhance users' ability to develop creative content (e.g., providing recommendations on viral topics, coaching them on other community-building Kumu app features, or helping them with technical streaming programs like Open Broadcaster Software); how this technology can make troubleshooting or searching telco product FAQs more efficient; and how AI could be a gamechanger for keeping students and employees more engaged. The panel also spoke about the importance of moderating AI-powered streams through a combination of importing and reviewing reliable datasets, fine-tuning and testing the models underpinning these services, and enabling users to report inappropriate content.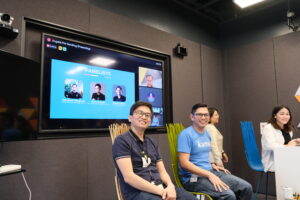 Panelists: Abhishek Bhagwat, AI/ML Architect at Google Cloud; Rexy Dorado, Co-founder and President at Kumu; Angelo Mendez, Chief Innovation Officer at Kumu; and Ellard Capiral, VP of Engineering at Kumu
At the showcase event, Kumu announced the launch of a live stream contest where the winners will be able to build their own AI avatars with support from Google Cloud. Kumu hopes to eventually have a 24/7 live channel filled with various AI streamers and personalities.
This collaboration between Kumu and Google Cloud aims to encourage more startups and enterprises alike to embrace the power of generative AI and to understand how this technology can best complement and strengthen their businesses. For companies looking to partner with Kumu to build AI avatars of their own or simply explore and learn more about its AI products, feel free to reach out to Ellard Capiral from Kumu (ellard@kumu.ph).