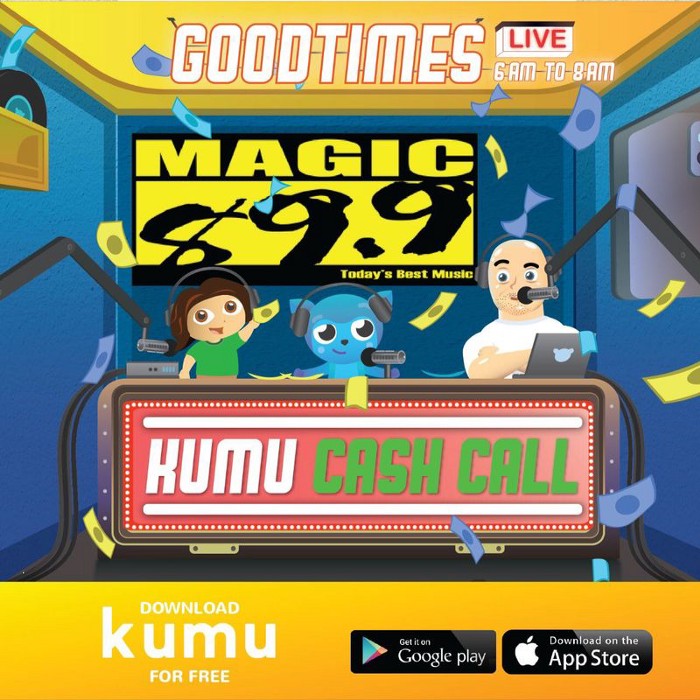 What better way to have a good time than by winning easy money? Would you believe that just by making a phone call and saying a number, you may win cash of that same exact amount? That's right, folks, you can win easy money with the Kumu Cash Call!
Do you want to win cash as much as P24,193.68? How about P51,907.32? You're in luck, because livestreaming app Kumu partnered with the Good Times of Magic 89.9 to give you chances of winning moolah. It's super easy to join! Simply download the Kumu app from Google Play Store or the App Store and register your mobile number here: http://bit.ly/KumuCashCall. But before you will 1 million pesos into existence, you have to know that Good Times hosts Mo Twister, KC Montero, and Hannah Bacani will be dropping the exact cash amount they are looking for on Kumu's instagram page (@kumuph).
Make sure to memorize or write down the numbers, and tune in to Good Times at Magic 89.9 Monday through Thursday from 6 to 8 in the morning. Get your phone at the ready in case you get the lucky dial from the Good Times hosts. When your phone rings, prepare to say the magic number! They are giving away prizes every other week, with a total of P100,000 per month!
Kumu, in a bid to become the new voice of the young Filipino, is rapidly creating more creative tie-ups with equally energetic media such as fm radio program Good Times with Mo on Magic 89.9. With the highly flexible application of its livestreaming technology, Kumu has been active in producing gameshows for people of all ages to enjoy, as well as in developing talents who have a variety of content to share to the world. In fact, Good Times host KC Montero is a part of the Kumu fam that continually brings you new content and exciting collaborations with other hip brands and events! He also currently hosts Kumu's flagship trivia game, Quiz Mo Ko, which recently celebrated its 100th episode.
Joining in on the Kumu fun is Good Times host Mo Twister who livestreams straight from the US. The amazing innovation behind the Kumu app allows him to stream content and interact seamlessly with his followers here in the Philippines. There's no wonder why more and more celebrities are getting hooked to the new social media craze of the nation.
Fuelled with creative juices, Kumu is a force to reckon with, and there is a lot more exciting developments we can expect from the first truly-Filipino social media.