Kumu, Filipino livestream app and online participatory network, is treading on a new challenge this October and it's in the form of reality TV.
The app mainly known for its livestream features is now moving beyond the streamer-viewer interaction by taking a larger space in the world of content. kumu is no stranger to the colorful world of reality series having been a strong media partner for high-impact shows like Pinoy Big Brother (PBB), Top Class, and more recently, Drag Race Philippines Season 2. Through kumu, these reality shows were able to take a more participatory turn with unique features like live voting, real-time fan interactions, and episodes that were ultimately decided by the Kumunity, kumu's very own online community.
But this time around, things are about to go from digital to physical.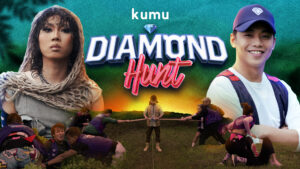 Diamond Hunt, kumu's newest interactive reality show immediately following the ending of Drag Race Philippines season 2, is a battle between content creators. 
Joining the reality series are social media influencers Chardie B, Rjay Buls, Marcus Asis; and kumu content creators such us Dom Real, Ella Marie Chavez, Pamela Gonzales, Tessa Albea, and more. 
By bringing these young creative minds (who continue to put Filipino humor and talent on the map) together, kumu is aiming to tell a story like never before. 
A total of 14 energetic, and determined diamond hunters will compete amongst themselves for PHP 300,000 worth of kumu diamonds. kumu diamonds are every livestreamer's bread and butter, as kumu diamonds earned in-app through virtual gifts convert into real cash!
Episodes will dive deep into each hunter's individuality and resilience through various mental and physical challenges until it is determined who becomes the Ultimate Diamond Hunter. The diamond hunters themselves will be voting against one another, and we're excited to see what friendships or rivalries will unfold. 
Hosted by social media personality Sassa Gurl and former PBB housemate, Benedix Ramos, the competition takes place in Masungi Georeserve, a conservation area nestled in the southern Sierra Madre range in Baras, Rizal about 47 kilometers east of Manila. Not only does the geopark fulfill every adrenaline junkie's dream, it also protects over 2,000 hectares of land and mountain trails. To know more about the project, check out www.masungigeoreserve.com and follow the hashtag #SaveMasungi.
The first episode is set to launch on October 24 on kumu's Youtube channel and needless to say, loads of drama, humor, and adrenaline are to be expected.
This project also marks the first ever collaboration with Mandala Productions, the production company behind Survivor Philippines and Amazing Race Philippines to create 2023's most exciting adventure-themed reality show yet. The show is also made in collaboration with One Down, the LA-based media company who previously produced HealthCareoke, a singing competition for Filipino healthcare workers in the US, which launched on kumu in 2023.
And of course, true to kumu's goal to create and solidify Filipino communities, the entire cast of Diamond Hunt will be livestreaming on kumu to interact with fans throughout the season. Don't miss the drama. Subscribe to kumu's Youtube channel and download the app now.