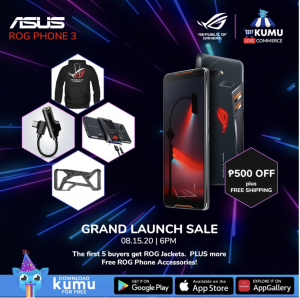 The country's fastest-growing social media app KUMU recently partnered with leading tech company ASUS for its upcoming grand launch and market release of its latest ROG Phone 3 on August 15.
After recently launching its e-commerce platform earlier this year via Karlito's Korner (KK), KUMU teams up with the tech giant to spread the word about its latest products and offers to over five million app users.
Kumunizens will get a sneak peek of the launch during the 9PM airing of KK hosted by avid gamer and livestreamer Jordan Bautista @jordanbau who will also be giving away exciting ASUS exclusives during the special e-event including free shipping for orders, Php500 discounts on available units, limited edition ASUS ROG jackets to the first five buyers, and more freebies including cooler cases (charger docks), jock adapters, and aero cases.    
The new ASUS ROG Phone 3 is another premier product from ASUS that gives optimum smartphone and gaming experience in one high-impact mobile unit that features professional tools. Built with expert engineering that caters to the mobile gaming market, the latest Android flagship also boasts unique design features that sets it apart from the rest. 
Tune-in to Karlito's Korner on KUMU this August 15 to learn more about the ROG Phone 3 and more exciting exclusives from ASUS.
KUMU is a powerful social media platform that brings the voices of Filipinos from all over the globe at the forefront. Aside from presenting users real-time earning opportunities as a live streamer, chances to win cash in various game shows, and engagement in campaigns, KUMU also fosters communities that ignite relevant discussions among Filipinos.
Be part of the Kumunity now and download the app for free at Google Play or the App Store.