The Electronic Sports and Gaming Summit (ESGS) returns for another online installment on November 19 to 21. The three-day event is jampacked with esports and  gaming action – from tournaments, show matches, exciting gaming titles, webinars, competition, freebies and more! And now, for the first time, you can watch the highly anticipated gaming event on kumu on their channel @gariathconcepts on kumu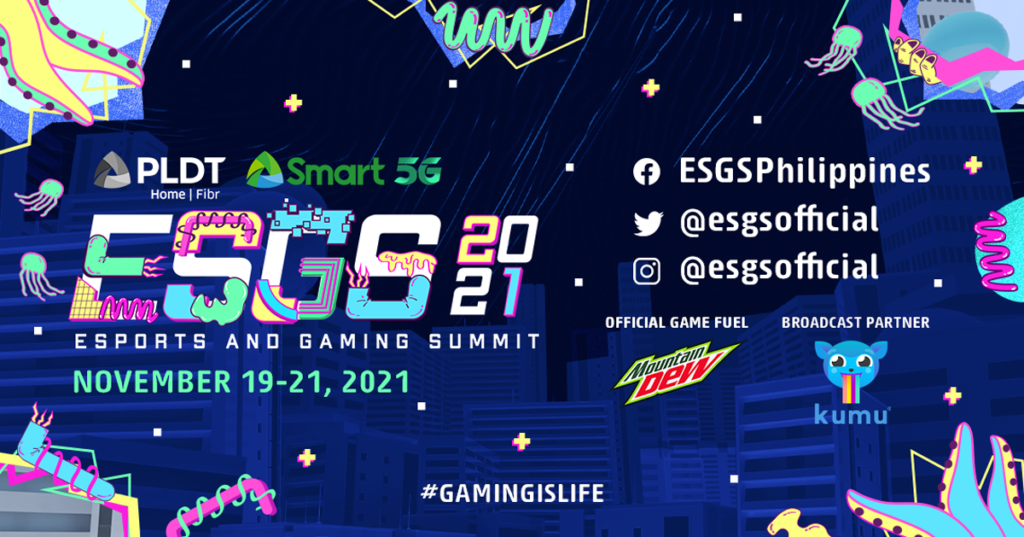 PLDT and Smart power ESGS with HYPE-speeds 
Continuously building the future of gaming through high-speed connections, PLDT and Smart are back as  this year's co-presenters. Apart from being a co-presenter, it will host the current ace of shooter tournaments, the PLDT Home Fibr Valorant Open Tournament, bring the hype with a Dota 2 showmatch, and unleash fan creativity in the  cosplay competition. PLDT Home Fibr also powers gamers late at night with the "Night Squad" segment  every end of broadcast where streamers take on horror game challenges.
While Smart will power the Asia Pacific Pro-Am Tournament with the country's fastest and most reliable
5G mobile network, the global leader in mobile and broadband network intelligence, based on analysis by
Ookla ®data Q1-Q2 2021. Catch the players, including the Smart's very own Philippine team, Team Sibol,
as they give their best for a chance to win not just the Asia-Pacific regional championship but also the
world championship title. Smart will also deliver a unique boxing showdown with "Bardagulan at ESGS",
a special match featuring a popular gaming personality versus a professional wrestler.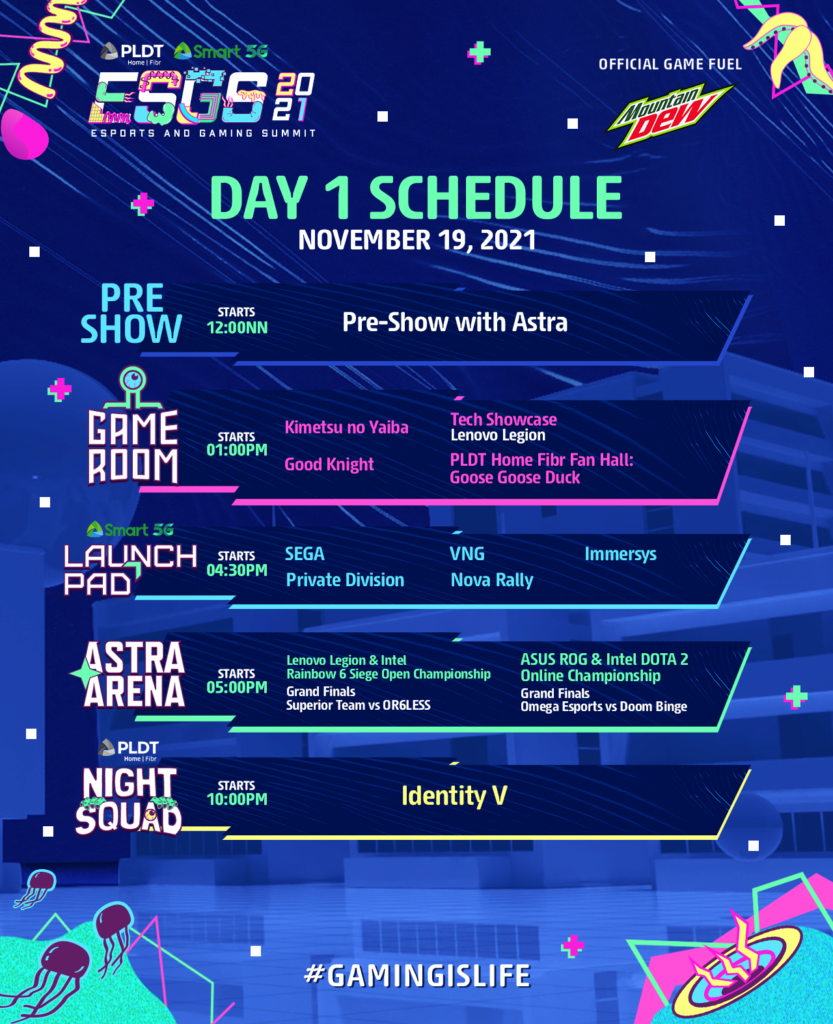 Mountain Dew joins to fuel the gaming adventure in ESGS  
Back again for another year is Mountain Dew – the official game fuel of ESGS 2021. Mythical prizes await  in the Mountain Dew Mobile Legends: Bang Bang Open Tournament. Stars will also clash in the land of  dawn in the Dew Arena pro-team showmatch.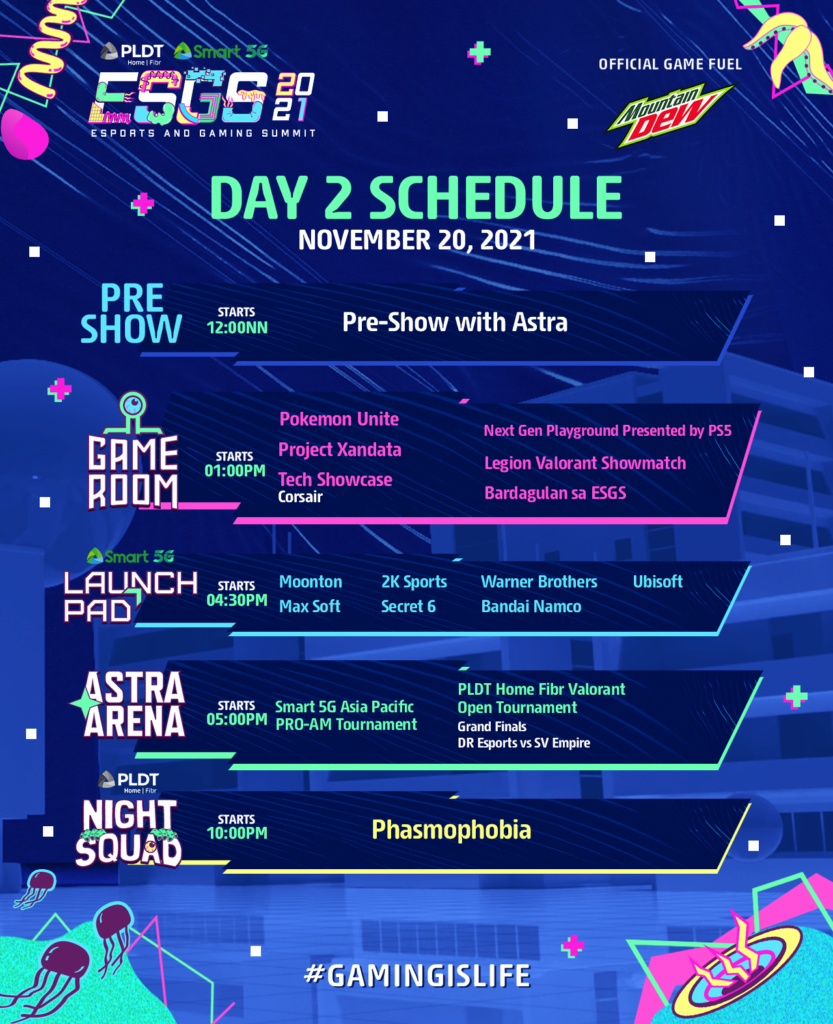 More exciting content from participating brands 
Together with PLDT Home Fibr, Smart 5G and Mountain Dew, more brands also elevate the digital  experience at ESGS 2021. ASUS Republic of Gamers powers up the DOTA 2 and CODM tournaments,  Lenovo Legion brings the savagery in the Rainbow Six Siege Open Tournament and Valorant Showmatch, Corsair will hold tech showcases of their newest hardware and PlayStation.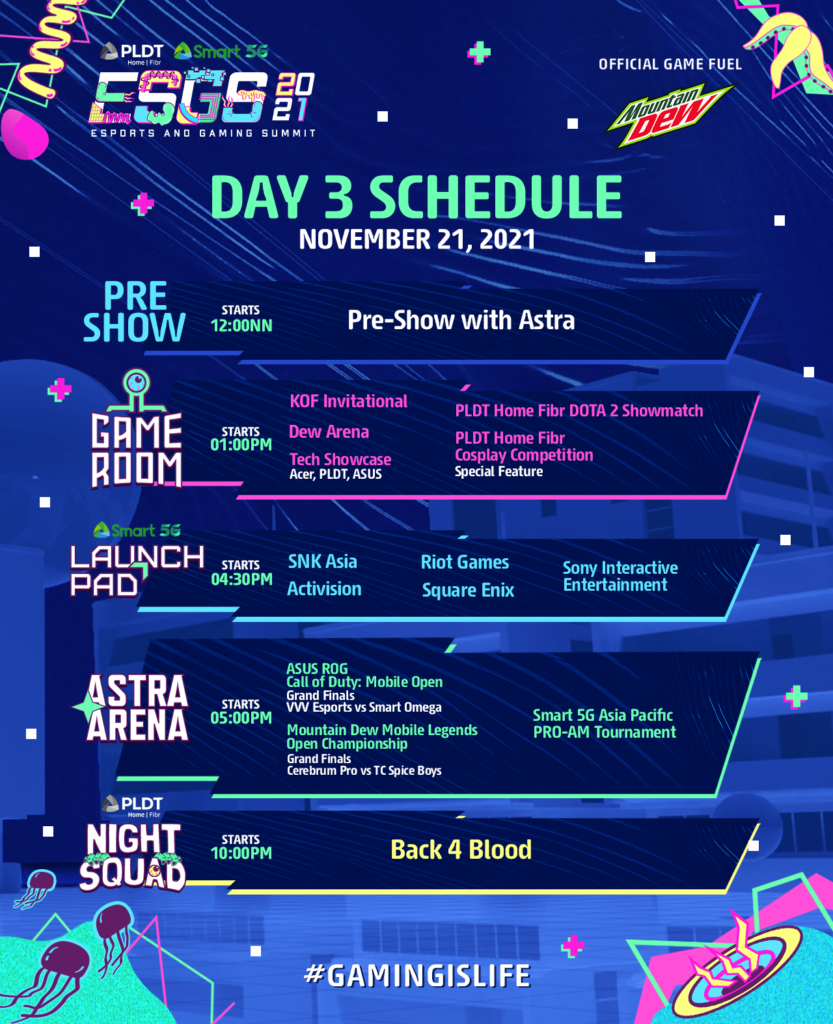 Exciting gaming title, trends and more 
The ESGS Game Room will be joined by famous gaming influencers to play trending games of the year like  Pokemon Unite, Kimetsu No Yaiba, Project Xandata and more while the Launch Pad will be game  developers and publishers, such as Laguna Games, Ubisoft, Secret 6 and more, giving a sneak peek to the  community about their upcoming releases. 
Freebies, merch and giveaways! 
ESGS will not be complete without freebies! Patrons can stay glued to the ESGS social media pages and  join promos for a chance to win ESGS loot in the comfort of their homes! 
To find out more about ESGS, you may visit the kumu account @gariathconcepts 
Disclaimer: Ookla trademarks used under license and reprinted with permission.
About the Electronic Sports and Gaming Summit (ESGS) 
Organized by Gariath Concepts and dubbed as "one of the biggest Gaming Conventions in Southeast Asia."  ESGS continues to grow and provides the best gaming experience in the Philippines in both esports and  gaming from different platforms.  
About Gariath Concepts 
Established in 2015, Gariath Concepts has marked a position in the gaming industry, providing events and conventions that showcase the aspects of esports and video gaming to the community. It has also built good relationships with brands around the industry, providing excellent service and creative ideas. Some of its notable events include Mobile Legends Southeast Asia Cup 2021, MPL-PH Season 8, Tekken  Online Challenge, Rev Major: Lockdown 2021 and the Electronic Sports and Gaming Summit (ESGS) 2021.