The pambansang gameshow is back on kumu for another heart-pumping, brain-churning season— but wait, there's more! Game KNB? Season 4, hosted by Robi Domingo (@robid), officially returns under the Gameshow category of kumu Social TV, keeping its original prime time slot of Monday to Friday, 12pm to 12:30pm PHT. There's more prizes and surprises guaranteed for the run, including a monthly road to 100,000 pesos!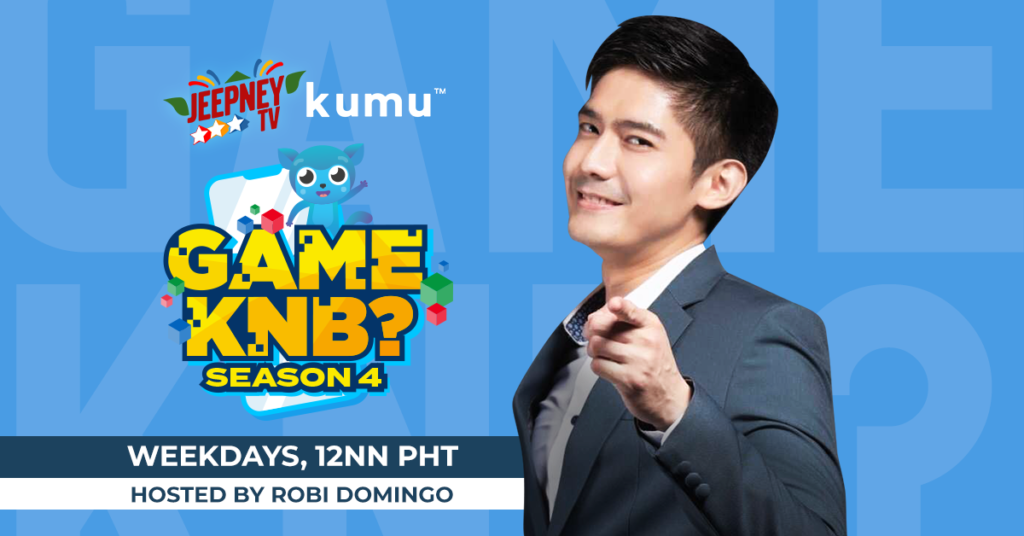 The iconic Game KNB? gameshow made its kumu debut back in October 2020, and it has since had popular growth in the Kumunity, proving that this gameshow classic is hot as ever. This time around, kumu Social TV and Jeepney TV want to amp it up a notch; there are now 4 special prize options to play with. 
The first is the daily classic Pili-Pinas run, where players can win up to 10,000 pesos via the kumu app. Another daily prize option is the Team Bahay option, where players can win 10,000 kumu diamonds. Kumunizens will also be thrilled to know that Road to 100,000 pesos will now be a monthly feature!
Road to 100,000 pesos is every Tuesday of the week, which begins with 25,000 pesos cash prize on the first Tuesday of the month. The cash prize grows every succeeding Tuesday, from 25,000 pesos, to 50,000 pesos, to 75,000 pesos and finally to the 100,000 pesos on the last Tuesday of the month. There's just so many chances to win money!
View this post on Instagram
Plus, we've got a new special feature, the 'GKNB Akyatan Na!' is here to add even more interactive fun to the iconic game. During this round, one lucky Kumunizen will be randomly selected to go up and play LIVE with Robi. The player has 2 game options to choose, the 'Taran Tanong' option, which entails correctly answering 3 questions in 30 seconds, or the ' I Challenge You, Robi' option, which means a special challenge between the player and host. Winners get a 1,000 pesos prize and Jeepney TV merchandise; but also, a generous consolation prize of 10,000 kumu coins is also awarded. Because, of course, we want every akyatan player to have a little reward! 
So, are you ready to try your luck, and your wits? Game KNB? Season 4 officially starts now, every Monday to Friday, 12PM – 12:30 PM PHT. Playing the game is exclusive to the kumu app, but airing can be watched on the kumu app, the kumu Facebook page, the Jeepney TV Facebook page, and the Jeepney TV YouTube Account. 
More shows and surprises are coming your way. Be sure to follow @kumu.ph on Instagram, Facebook, and Twitter for all the latest livestream entertainment. You can also check out the kumu blog for all the latest happenings in the Kumunity. 
Don't have the kumu app yet? It's easy! Download the app at Google Play or the App Store, and start adding to cart! Visit our website kumu.ph for more information and insights into the exciting world of kumu.