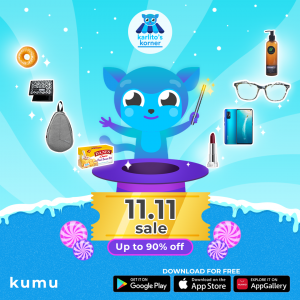 November is shaping up to be a whirlwind of excitement for the Philippine livestreaming app, kumu. As scheduled, the big annual 11.11 sale at Karlito's Korner is set for a non-stop livestream shopping experience, as kumu influencer hosts and partnered brands gear up for live selling on the app. The jaw-dropping livestream sales are programmed for a whopping 13 hours, with magical discounts each hour from 11am to 12 midnight! Shoppers are sure to find something sulit on kumu's 11.11 sale! 
Word on the street is the discounts will be extra generous, as kumu's live commerce team is hoping to make this a great deal for the current climate. "With this 'new normal', we're expecting new attitudes as well—particularly with how people spend their money.", a representative from kumu's live commerce department comments. "Consumers want to make sure they're spending wisely, getting the most out of their budget. Whether it's buying essentials, or gifts to make themselves or those they love happier, everyone wants that feeling of sulit."
Details of which brands will be onboard the major sale are still in the wraps, as kumu likes to keep its shoppers and users on an exciting lookout. But rest assured, there's something for everyone, as the kumu's 11.11 sale at Karlito's Korner covers a range of shopping categories. From fashion to food, electronics and other goodies, Karlito's Korner has it all and shoppers can be assured the kumu 11.11 sale is one of the biggest shopping events on the app. 
"Our partner merchants have been nothing but generous in providing the lowest prices, and best deals each week for Karlito's Korner," says the kumu e-commerce representative. Their pro-tip for the best shopping deals? Tune in to the Karlito's Korner shopping squad and their shows. "Watch out for the 11.11 voucher codes!", our insider intel advises, as these codes can be used for free shipping and rebates. 
More details of the 11.11 Sale at Karlito's Korner will be unveiled as the countdown ensues. Stay tuned for more updates, and don't forget to follow us on @kumuph on Instagram and Facebook. 
Don't have the kumu app yet? It's easy! Download the app at Google Play or the App Store, and join the kumunity! 
kumu is a powerful social media platform that brings the voices of Filipinos from all over the globe at the forefront. Aside from presenting users real-time earning opportunities as a live streamer, chances to win cash in various game shows, and engagement in campaigns, kumu also fosters communities that ignite relevant discussions among Filipinos.