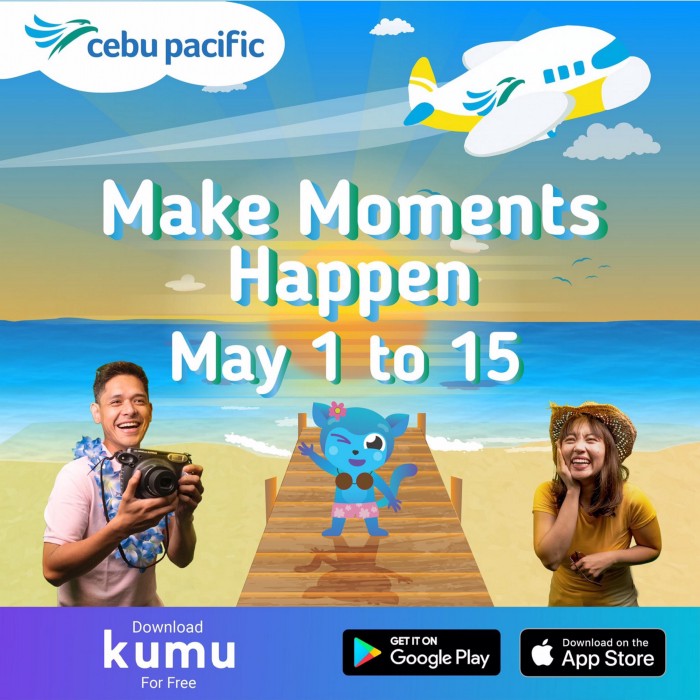 If I told you you could earn a basic monthly salary in under two hours from the comfort of your own home, you would want to know "how'. If I told you an app could send you on your dream summer escapade in the beautiful island of Marinduque and the scenic city of Bacolod – all for free – then you would probably think I'm pulling your leg. Well, I'm not. All that and more is far from impossible.
Cebu Pacific recently launched their direct flights to Marinduque, and they want you to experience a 3-day getaway to their newest destination in partnership with livestreaming app Kumu. By simply livestreaming on the Kumu platform, you can receive Cebu Pacific-themed gifts from your viewers that will earn you a spot in the campaign. The Cebu Pacific plane gifts are equivalent to coins, so the more number of planes, the better! And the cherry on top is that you can win 2 ROUNDTRIP TICKETS to Marinduque or Bacolod with a total of 3 pairs winning!
The livestreamer to win the most number of Cebu Pacific event gifts will secure roundtrip tickets from Manila to Marinduque for two, complete with a 3-day, 2-night accommodation in a hotel and a P10,000 cash prize. The tier 2 category winner will receive 2 roundtrip tickets from Manila to Marinduque, with a 3-day 2-night hotel accommodation, plus P7,500 in cash. Lastly, the tier 3 category winner gets to fly from Clark to Bacolod (and back!) with a plus one of his/her choice, and a P5,000 cash prize.
You no longer need to wait for a seat sale, you can get coveted tickets to these awesome places in the Philippines for free by simply joining the KUMUnity and streaming in front of the camera. You can also earn when you start receiving livestream diamond gifts from your viewers because 50 diamonds equal 1 peso. You can pay your tuition and your rent, and earn a basic monthly salary from the comfort of your own home! Now get on Kumu and Make Moments Happen. The campaign runs from May 1 to May 15, but after the 15th an even bigger campaign is coming your way!