Since  2018, kumu has been breaking barriers and stretching the imagination of what a social platform can do.
 More than just a livestreaming app, kumu offers a safe space where people can explore passions, discover themselves and connect with others from all around the world. All this, while also providing entertainment and rewards for its Kumunity. Within its piloting years, kumu has collected a treasure of success stories from its users, how they found kumu, and how kumu became part of their lives. 
To spread the love and inspiration, we share here some of the amazing accounts of global kumu livestreamers, who have found their success and space in the app. 
FINDING YOUR COMMUNITY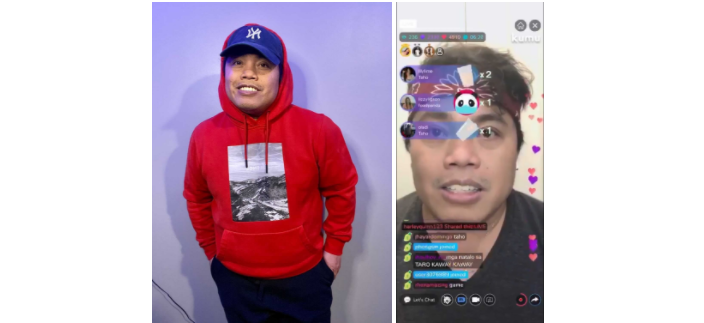 For 45-year-old Filipino Romel Edullantes (@edullantes), he joined kumu out of curiosity and the persistence of a friend. As a vlogger, Edullantes was intrigued about what else kumu could provide for him as a content creator. And soon enough, he discovered new, bigger audiences on the app. 
"As a Filipino living in Canada, I was happy that I could share my life on my channel. Though I shared similar content on other platforms, I was happy to discover more people who enjoyed my stuff on kumu. It feels good to be appreciated for who I am and what I do," he shares.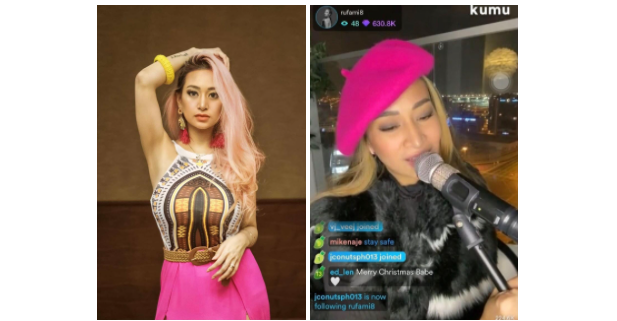 While others like Edullantes use kumu to share glimpses of their lives, there are those who joined the platform to share their unique talents and skills, like powerhouse singer Maria Krista Aguila (@rufami8). 
The 32-year-old Filipina, based in the Middle East, has found a stage wherein she can be heard, and to entertain others. "I lost my job as a club singer during the pandemic, and kumu helped me get over the stress." The diamonds earned from her streams have helped Aguila to augment her income. But she insists that this perk is only secondary, as she finds greater fulfillment in doing what she loves. "kumu is for everybody to enjoy," she reminds, "whether or not you have diamonds to drop. The secret to being a kumu figure is to enjoy what you do, and to make sure your viewers enjoy as well. Diamonds come in second."
While kumu has its communities of singers, dancers and performers, it is important to note that kumu welcomes all diverse interests and passions.

Twenty-nine-year-old artist, Kay Averil Valdeviezo (@kay.averil), is one such person, who has found her niche on the app as an art streamer; she specializes in live digital portraits on her channel. "I would definitely recommend kumu to others who want to try live-streaming, as it is a good platform to discover yourself and your passion as an artist.. kumu is not just for singers, but for people with all kinds of talent," she explains. 
A SENSE OF HOME
Like many other Filipinos around the world, there is a sense of longing to be home, which kumu has helped address. As a young professional in North America, Dessa Hipolito (@missbtcramps) shares that "kumu has definitely helped me lessen my homesickness. The Filipino community in kumu reminded me of a lot of great memories I had while I was in the Philippines. The connection that I have with the people I've met on kumu has made me proud as a Filipino. I have become happier, laughing everyday while I catch up with friends on kumu. This app has definitely helped me keep a positive mindset in my everyday life."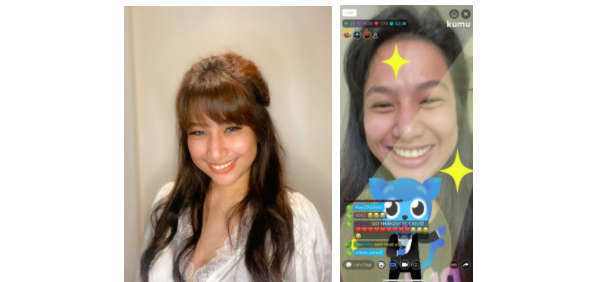 Asides from helping one rediscover their roots and to appreciate their home culture, kumu also has the power to connect and help audiences see worlds different from theirs. This is what Europe-based streamer Maria Anthonette Santos (@ellasantosoffial) appreciates most about the platform. "kumu helped me to communicate and understand different cultures and personalities around the world. kumu is like a red string that connects us all as one."
At the heart of kumu is an appreciation for the global; how one's voice and unique perspective can contribute to the greater conversation. On top of highlighting more thoughtful dialogue and engagement, kumu has also evolved to become a social platform that aims to empower and influence.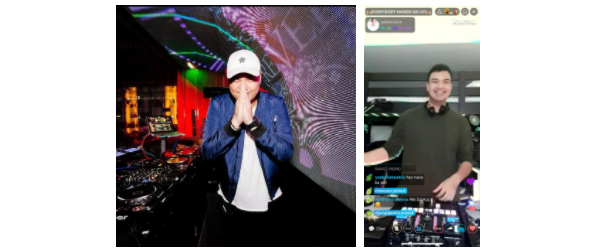 Patrick Rizarri (@patrickrizarri) experienced this first-hand when he joined kumu as a guest DJ for a benefit concert. The proceeds from the digital event were used to finance the treatment of his dear friend, DJ Benny Rock. In this case, kumu became an instrument to help others in a very practical and critical way. An avid kumu livestreamer since July 2020, Rizarri shares, "Instead of earning diamonds all by yourself and for yourself, you can share your diamonds with other amazing people and give back to the Kumunity!"
kumu is a truly wonderful and powerful platform, enabling people from all around the world to express, explore, and entertain one another. Now, you, too, can find your tribe and use kumu how you wish – whether it's to meet new people, showcase your talents, entertain others, or just to help out in a way you enjoy.  
As a kumu livestreamer, you can find your own path to success, and it all begins by downloading the app. Join the Kumunity today! 
 Download kumu on this app link here.You can also follow @kumuph on Instagram, Facebook and Twitter to keep up to date with all the latest events, and surprises from your favorite Pinoy livestreaming platform. Check back here at the kumu blog for more interesting insights into the Kumunity. Tara na! Kita-kits sa kumu!