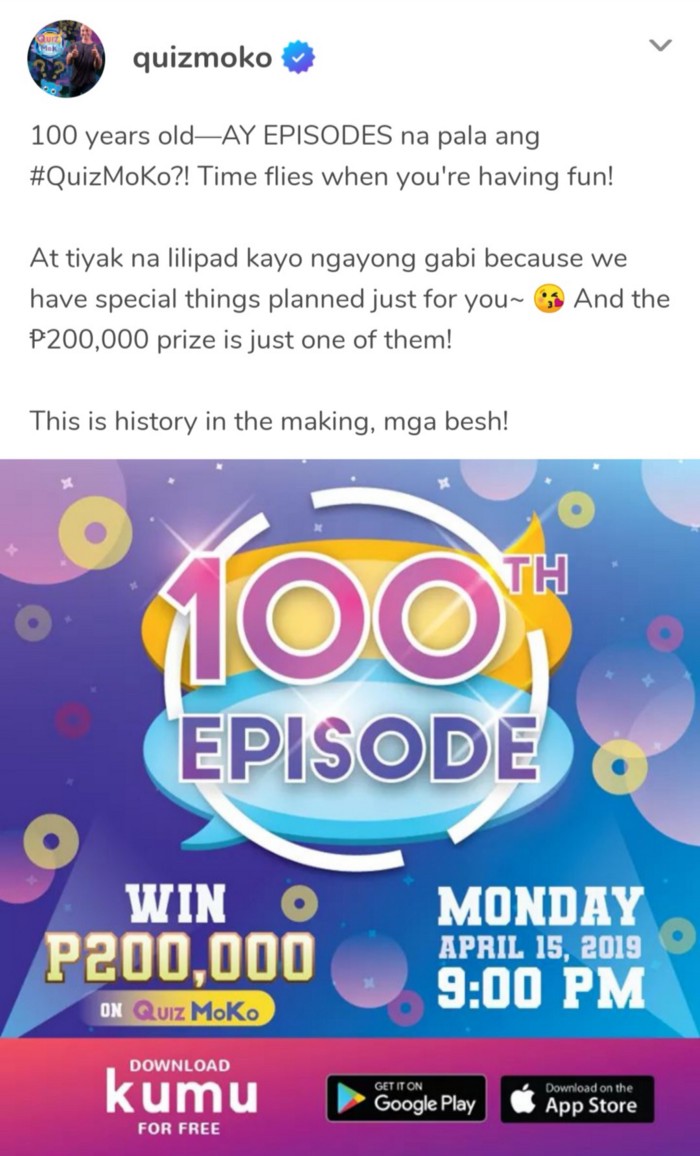 The evening of April 15th saw Google Play Store's No. 3 top grossing app Kumu celebrate the 100th episode of their popular game show Quiz Mo Ko, giving away P200k worth of prizes to some 500 winners. It was a special feat for the content platform and livestreaming app as it is the first of its kind to be founded here in the Philippines, opening new avenues for a social TV network that is made by Filipino, for Filipinos.
Regular hosts Carla Cab, Maui Manalo, and KC Montero (who is also the VP of Marketing of Kumu), joined forces for the 100th episode to bring extra fun and excitement to their avid viewers. The quiz show asks 10 multiple choice questions that the participants may answer within 10 seconds. Prizes at stake usually ranges from P10,000 to P50,000, sometimes even as much as P1 Million, like in their February 1 episode where Christine Reyes made a guest appearance.
Quiz Mo Ko has a serious following on the app, with thousands of participants joining per episode. And it is not the only game show they produce over at Kumu: there's also The Nosebleed Show, Multiple Chos, Pinoys Doing Stuffs, SingTanong, May Tama Ka!, Winner Winner Lechon Dinner, and Bilang Go!, the latest addition to their livestreamed games.
The Nosebleed Show is a mix of the talk show and game show formats. Hosted by Margaux Sue, this segment is all about pop culture, advocacy projects, and meaningful causes. They invite guests to talk about their passion projects, after which the viewers can compete for prizes by answering questions related to the talk show. The title is a jab at the Filipino joke about nosebleeding upon hearing someone speak in the English language, as the host only speaks in English throughout the episode.
Another quirky yet certifiably addicting game show is Pinoys Doing Stuffs that airs every Tuesday and Thursday at 6 pm. Pinoys Doing Stuffs does exactly what it says on the title: livestreamers showcase their talents and try out crazy challenges dished out by the host. Its appeal to the audience lies heavily on Filipinos' love for entertainment, especially the kind that pits others on wild and funny dares. These two shows are just a few examples of why Kumu is such a hit for Filipinos, who are naturally inclined to interactive entertainment.
Kumu produces all these shows and even invites top active content creators to host and facilitate the games, such as singers Ffyona and Earl who now host SingTanong. "We make our homegrown content creators a top priority. They already have the passion for livestreaming, so it would be really nice to see them host our shows and observe how the viewers interact with them organically," said Rexy Dorado, co-founder and Chief Strategist of Kumu.
The app celebrated more than just Quiz Mo Ko's 100th episode last Monday. For the team behind Kumu, it was a realization of their vision of connecting Filipinos here and abroad. Victoria Herrera, the Director of Partnerships at Kumu, said that they have created a "real network" out of the hundreds of thousands of regular users they connected to each other via livestreamed games like Quiz Mo Ko and their user-generated content.
"Kumu opened the door for the next generation of content creators to be heard. Aside from being an avenue for people to express themselves, these content creators also find happiness in finding like-minded creators who are in the same journey in creating amazing content," Herrera said. "In some way, it's like finding your tribe," she added.
Quiz Mo Ko airs every Monday, Wednesday, and Friday at 8 pm in the Kumu app.