Soon, the heroes will emerge from the war—the Kumunity District Wars, that is. This February 28, the grand finale of the Kumunity Teams all-out event will take center-stage. During which, the Big 5 districts will battle it out to be the "Ultimate Heroes of War", with a total of 1 million kumu coins for the winning district. Inspired by the Hunger Games  set-up, the Kumunity District Wars is  ultimately a challenge concept to foster "bayanihan" spirit among Kumunity Teams, and of course, to have fun!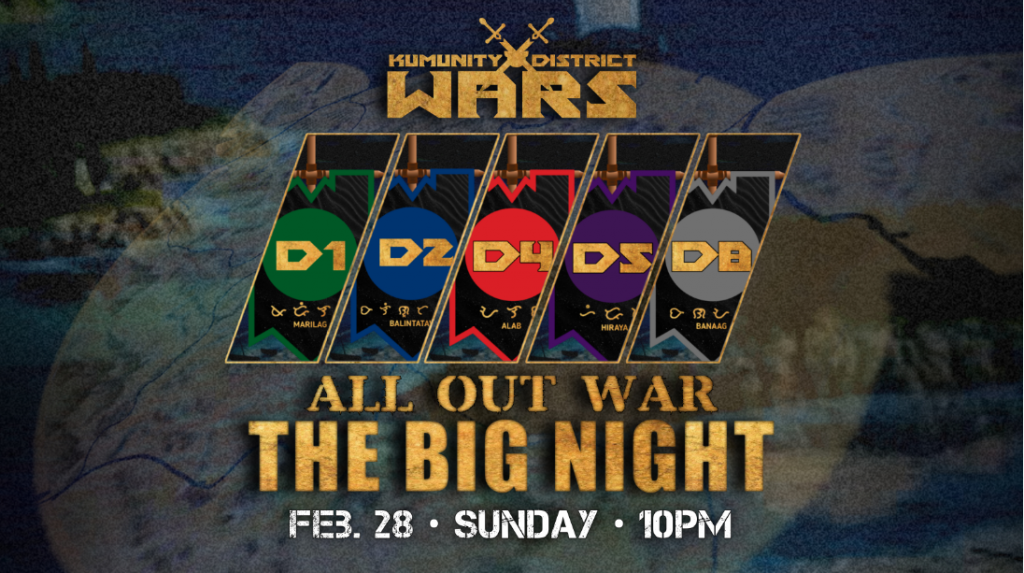 The Kumunity District Wars officially launched January 28, with a total of 20 tributes representing the 400 Kumunity teams. There are 10 districts all in all, and each district sends 2 tribute teams. Each week, the districts are given a task to complete, requiring intense collaboration and strategy. "The event is actually very demanding in a way that the teams really need to work together, and come up with a great strategy to win!", comments Denise de Jesus, the Sr. Kumunity Manager for Teams. 
As a kumu challenge that's meant to make fellow members connect, the Kumunity District Wars has clearly achieved its goals. "I saw teams who usually don't talk, or aren't that close become amazing allies, helping each other win!" says Denise, who expressed her genuine admiration for all the teams who joined the Kumunity District Wars. 
After all the intense tasks, the Kumunity District Wars has boiled down to 5 districts, each with their 2 tributes. These teams are: Team Pakners and Ube Family from District Banaag; Team Paolita and Tribu Uno from District Alab; Unified Squad and Team Wisdom from District Balintataw; New Generation and Unbreakable Squad from District Marilag; and Dazzle Team and Respectable from District Hiraya. 
Given the success, and fun of the Kumunity District Wars, there is currently talk to have it hosted as a regular event, which the Kumunity is seriously thinking about. Denise ponders, "Maybe we'll host it every other month?" She laughs with surprise, given the intensity the weekly challenges have presented. Time will tell, especially as we look forward to the finale of the Kumunity District Wars!
The ultimate battle for the Kumunity District Wars will be held on February 28, at the @kumunitystage channel on kumu. 
Don't have the kumu app yet? It's easy! Download the app at Google Play or the App Store, and start adding to cart! Visit our website kumu.ph for more information and insights into the exciting world of kumu.
You can also follow @kumuph on Instagram, Facebook and Twitter to keep up to date with all the latest events, and surprises from your favorite Pinoy livestreaming platform. Check back here at the kumu blog for more interesting insights into the Kumunity.