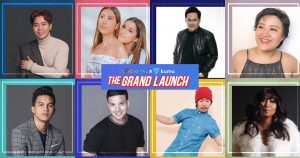 MANILA, PHILIPPINES – The country's leading social media app KUMU is making waves in the live streaming industry with plenty of Pinoys carving a name for themselves online and earning money. A powerful social media platform that brings the voices of Filipinos from all over the globe at the forefront. Aside from presenting users real-time earning opportunities as a live streamer, chances to win cash in various game shows, and engagement in campaigns, KUMU also fosters communities that ignite relevant discussions among Filipinos. A home not only to aspiring live streamers and a variety of vibrant Filipino kumunities, KUMU has established itself as the go-to platform where aspiring Pinoys in the entertainment industry can also showcase their talents and share their own stars to audiences. To date, KUMU has redefined itself as an all-in-one platform that can create engagement via special campaigns, allow users to win big via interactive game shows and earn their own money, involve Pinoys in relevant discussions, and real-time entertainment. But KUMU is not just home to the best live streamers this side of the world but where celebrities and influencers also converge to reach wider audiences.
This September, Cornerstone Entertainment, Inc. via CS Digital jumps into the KUMU bandwagon by featuring 40 superb and exemplary artists from their roster. Known as one of the leading talent managements, creative agencies, and content providers in the country that handles the blossoming careers of music icons, veteran actors, top recording artists, and concert performers, not to mention a promising line up of artists and personalities in film, music, television, live events and digital media, Cornerstone Entertainment, Inc. recently discovered KUMU's magic and how both can catapult the careers of their pioneer and fast-rising stars.
Unleashing the wide array of Cornerstone artists joining the KumuNiverse:
Come Saturday, September 5, join in "CS DIGITAL x KUMU: THE GRAND LAUNCH"! Let's celebrate this exciting partnership via 2-hour showcase of music, stories, games, and more from these 40 artists! That's from 7 to 9 pm exclusively on KUMU.
Cornerstone x KUMU partnership is set to provide users more stars on their mobile screens with guestings in the app's regular games shows and primetime slots. Another great news! You may also catch the episodes of Cornerstone's variety of shows, just follow CSTV on Kumu. Stay tuned for more updates on the KUMU and Cornerstone Entertainment, Inc. https://app.kumu.ph/cornerstoneentph tie up and brace yourselves for more exciting shows and content on the app!
Be part of the Kumunity now and download the app for free at Google Play or the App Store!
Original post on adobo magazine September 4, 2020 —
Events: Cornerstone x KUMU's grand launch – unleashing the wide array of CS Digital artists joining the KumuNiverse